High-end 2019 Apple iPhone lineup may shift to 'Pro' branding
A leaker with a brief but proven history is predicting that Apple will move the "Pro" name to at least one model of the 2019 iPhone lineup.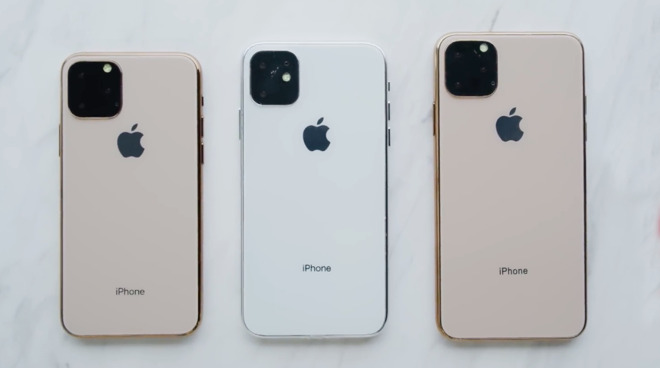 Predicted rear camera extrusions seen on dummy models of Apple's expected new iPhones
Twitter user "CoinX" has said that Apple will move the "Pro" marketing term over to one of the 2019 iPhone models. IF accurate, clearly the "Pro" model will be the highest-end model, but beyond the name, the leaker didn't provide any more information on what would make it so.
"Pro" for iPhone? Crazy naming schemes over the past few years.
The leaker does not have a long history, but has a generally accurate one. CoinX pegged the iPhone naming, the resurrection of the iPad mini line, the iPhone XS mass, and the symmetry differences between the iPhone XS Max and iPhone XR.
There are expected to be three models of whatever the 2019 iPhone lineup is called. So far, it is predicted that Apple will retain Lightning in the new model.
The range is thought to include one LCD iPhone and two OLED ones, and a
recent render from a case manufacturer
suggests a modification to the mute switch.
The new model is rumored to have a square camera cutout. The replacement for the iPhone XR is predicted to have two camera lenses, with the higher-end models having three, including a regular lens, a telephoto one and, new to the range, a wide-angle lens.
As well as the well-reported camera system, the higher-end new iPhones are expected to feature the ability to charge other devices. This is said to be similar to the functionality in the
newly-announced
Galaxy Note 10.
Apple is expected to reveal its new iPhones in September, as it generally does. Reports by Ming-Chi Kuo and others, suggest that Apple will wait until the release of the
September 2020 iPhones
to introduce 5G, and at the same time it will reduce the size of the notch needed for Face ID.