Apple TV+ 'Dickinson' not shying away from sex in NYC premiere
Stars Hailee Steinfeld and Jane Krakowski alongside creator Alena Smith introduced the new Apple TV+ series "Dickinson," in New York City on Saturday night, and AppleInsider was there.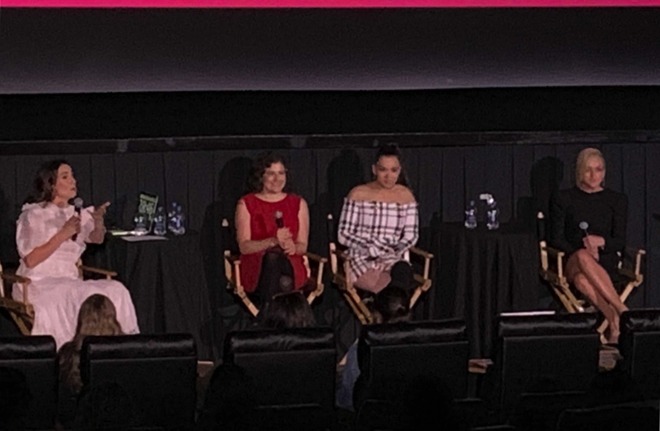 The Dickinson panel: Moderator Hillary Kelly, creator Alena Smith, and actresses Hailee Steinfeld and Jane Krakowski
The Apple TV+ era officially kicked off Saturday night at a Lower Manhattan movie theater, with the first public screening of an
Apple TV+
original series. The first episode of
Dickinson
, the Apple streaming service's modern-day take on the early life of the 19th-century poet Emily Dickinson, premiered Saturday night at the Regal Battery Park theater, as part of the Tribeca TV Festival.
The series, which has the look of a costume drama but also offers quite a bit of comedy, was well-received by an audience in a very-nearly full theater. There was applause at the end, albeit not a standing ovation, for the 30-minute episode.
The conceit of the show, which received a straight-to-series order from Apple back in May of 2018, is that it's set in Emily Dickinson's actual time, and follows the lines of her actual life. The difference is, the characters speak in modern language, and the show also features contemporary pop music.
Two stars of the show, Hailee Steinfeld and Jane Krakowski, were on hand for a post-screening panel, as was the show's creator and showrunner, Alena Smith.
There's a song by pop star Billie Eilish in the first episode, and rapper Wiz Khalifa shows up as a version of the Grim Reaper. Smith, the creator, called it "our crazy psychedelic version of the 1850s."
"If Emily wasn't understood in her own time, maybe we can understand her in ours," Smith said on the panel, about the show's main idea. Dickinson, famously, did not become a well-known poet until after her death, in 1886.
"The reason why Dickinson was the right figure to use for a crazy world like this again, is that she broke all the rules of her time, sort of in secret," the show-runner added. "Her life was boring. Like, not a lot happened the action was up here [in her head]."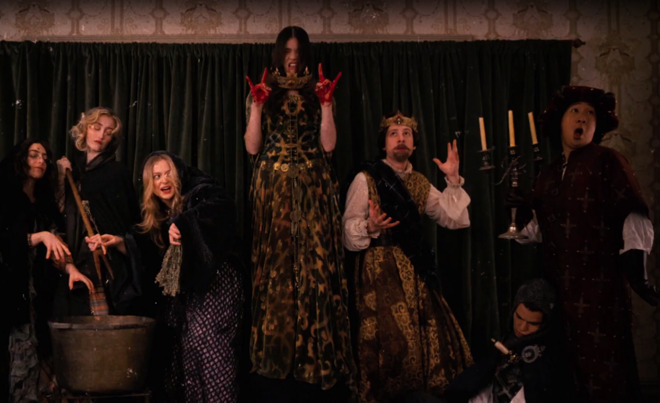 Steinfeld, who starred in the Coen Brothers'
True Grit
, the second and third
Pitch Perfect
movies, and the indie hit
Edge of Seventeen
, plays Dickinson.
30 Rock
veteran Jane Krakowski co-stars as her mother, also named Emily. Veteran character actor Toby Huss plays Emily's father, putting on a New England patrician accent when he nearly always plays Southern characters.
There will also be guest stars on some episodes, most of them playing historical figures. Comedian John Mulaney, who made a memorable joke about Emily Dickinson in one of his stand-up specials, will portray Henry David Thoreau.
Steinfeld is among the executive producers of the show, as are Smith and veteran Hollywood and TV director David Gordon Green, who directed the first episode.
The star said on the panel that the script was "unlike anything I've ever read, as a whole this was a character that was written in a way that I've never seen," Steinfeld said. "That Alena was able to take what we do know and also sort of explore the imagination of what this person who wrote these incredible things might be, and show that in a show overall, it's so different, and so wonderful."
Smith got her start as a playwright, and has been a writer on TV series such as
The Newsroom
and
The Affair.
Sex and portraits
In the opening credits, Dickinson is referred to as "An Apple original," although there's no new Apple logo or production company graphic.
It's often been discussed, in the run-up to the launch of Apple's streaming service, that the company was seeking to downplay risque language and sexuality in its original shows. However, the first episode of
Dickinson
includes both a memorable curse word and a brief scene of a sexual encounter.
It's also clear that the show won't be shying away from the belief among most historians that Dickinson had a long-running same-sex romantic relationship with her sister-in-law, Susan Gilbert. A theatrical movie released earlier this year,
Wild Nights With Emily
, was primarily about that relationship.
Additionally, Smith said that a future episode of
Dickinson
will deal with the painting of a portrait, in a plotline meant to echo modern-day controversies about nude selfies.
While the actresses spoke a lot about the difficulty of wearing corsets on the set, Krakowski did specifically thank Apple for being generous with its costume budget for the show.
A new song
Steinfeld, who is also a pop singer, announced on the panel that she has recorded a new original song for the show, called "Afterlife," which will arrive on Thursday, Sept. 19. The singer said that this is her return to music after a hiatus of a couple of years.
"For me, what's really special, is working on this with Apple, and Apple Music," Steinfeld said. She called the new tune "a song that I am incredibly proud of, and I feel that after embodying this character I have a more fearless approach."
Krakowski added that she had heard the song earlier that day and described it as "awesome."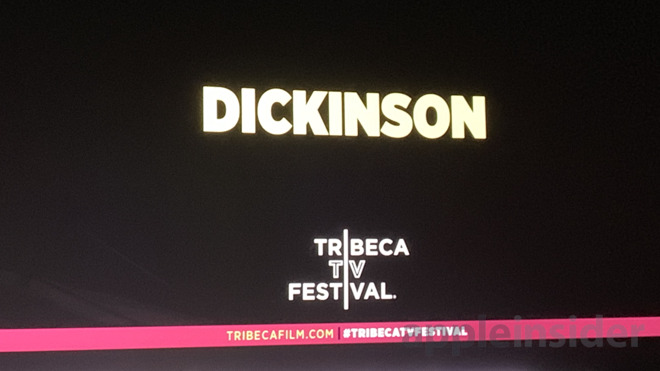 The screen at the Dickinson premiere
Here for Hailee
Quite a few people at the premiere were there as fans of Steinfeld's. It's clear that Apple and the show's producers are counting on her to draw fans to the series when it launches.
Krakowski said she hopes "a generation of young, feisty women" discover and appreciate the show. Smith told a story about how a young girl in Manila recently saw Steinfeld and quoted a line from the trailer of the show -- "I'm nobody- who are you?" -- back to her.
Apple has not announced whether it will be releasing the episodes of its series all at once, the way Netflix does, or if they will come out once a week or in some other configuration. However, Smith said on the panel that she hoped a future episode featuring Louisa May Alcott would coincide with the release of this year's new
Little Women
film, which is set to arrive at Christmastime.
It is known that
Dickinson
is one of nine pieces of content that will be available at the launch of Apple TV+. It will join
The Morning Show, See, For All Mankind, Ghostwriter, Helpsters, Snoopy in Space,
the documentary
The Elephant Queen
and Oprah Winfrey's untitled new TV series.
When the Apple TV+ service debuts, it will cost users $4.99 per month. Purchasers of a new Apple TV,
iPhone
,
iPad
, iPod touch, or
Mac
will get one year of the service for free. Apple TV+ content can be watched across an entire family, with Apple's Family Sharing feature.