How Apple has designed the iPhone 11 for everybody
Last year's iPhone XR was a good phone, but the 2019 iPhone 11 is a standout. It has enough new features that it's going to tempt people who would otherwise have gone for the more expensive models. Here are our pick of the top reasons why iPhone 11 is superb.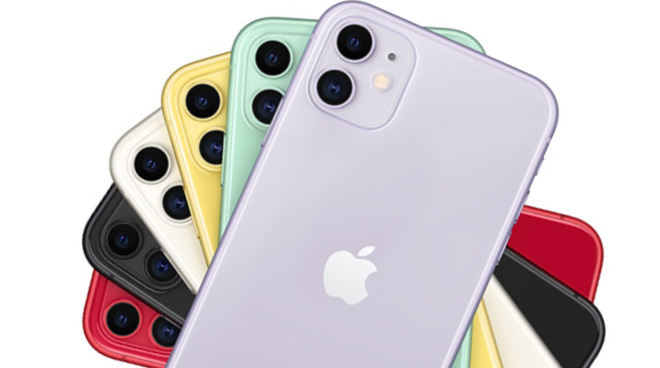 Apple's new iPhone 11 comes in multiple colors.
Whether you bought it because you just needed a new phone, or you upgraded because you wanted the latest hardware, you're going to be glad you got the
iPhone 11
. Apple's new entry-level iPhone is more capable and has so many more features that this year, the difference between it and the more expensive models is far less.
That said, there are things about the iPhone 11 that are immediately, clearly pleasing -- and there are others that it will take a little longer to really show themselves.
So whether this is for you to learn about them, or for when someone asks you why you paid all this money for a phone, here are the
AppleInsider
top features of the iPhone 11.
These are the best features, these are the ones that you will appreciate and even talk about. They're just not in a particular order. Let's explore around the iPhone 11 to see how Apple has improved every aspect of these phones.
Stronger glass and durability
There have already been YouTube videos with the new iPhones being smashed into concrete to see if they break and, eventually, they do. Amazing. Assuming that you have better things to do with your phone than repeatedly whack it against concrete until bits fall off and you lose the use of your camera, you can still take some comfort in how these models are strong.
Apple is touting this year's iPhone 11 line as the most durable yet. They would say that, and it seems they do say it every year, but this time there is specific reason to make the claim.
That's because the front and back of the iPhone 11 uses a new double ion-exchanged glass. It's even difficult to believe that the back is glass at all as it lacks the shiny, quite slippy surface of last year's iPhones. Instead, you get a matte finish which is easier to grip.
That grip alone might cut down on some the drops and damages that people have had, but this combination of feel and stronger glass is easily the first top feature of the iPhone 11.
Ultra-wide lens
We already had a wide-angle lens on last year's iPhone XR, and in fact that same lens continues right here. So you might not have had a second wide lens on your wishlist, but now that it's here, you will use it a lot.
That's because the
new ultra-wide lens makes a startling difference
to your images. It's a 13mm equivalent lens, which means it captures 120 degrees. You of course get that this is wide, but it's when you actually take a shot with it that you really see what a difference it makes.
It's a 2X optical zoom out, which means it's like stepping much further back to take your photo. If you normally move in closer to take something, you still will, but there is something just gorgeously cinematic about seeing your subject in a wide-open landscape.
Plus, you get that effect even when you physically cannot step backwards, such as when you're in an apartment and already pressed up against the wall.
Battery life
When we say that some of the best features take time to reveal themselves, we usually mean that because they're ones you see when you use the camera in real-life situations instead of just testing it out. Or because they're quite subtle, because Apple perhaps hides them a little bit.
This one is literal. It will take time for you to see how excellent this feature is because that feature is the battery life. It will take you an additional hour in the day to appreciate it because that's how much longer battery life you get.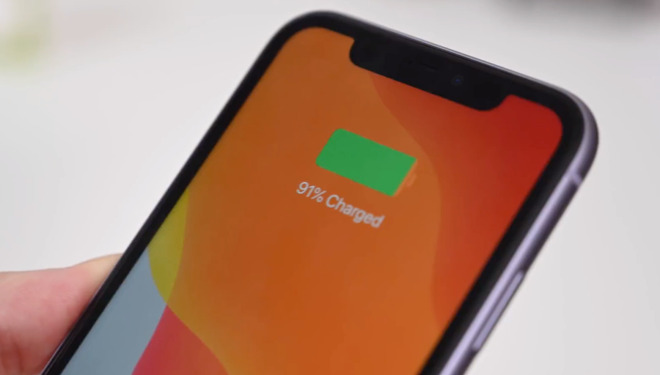 Last year's iPhone XR had long battery life, but the iPhone 11 goes an hour longer
That's according to Apple, and in our use so far we've no reason to quibble about it, but everyone's use varies, and we are continuing to test it out.
Nonetheless, if you were stressing out the old
iPhone XR
with continuous video playback, it was rated to last up to 16 hours on a charge. The new iPhone 11, doing the same thing, is rated for up to 17 hours.
Colors
While the battery life literally takes time to appreciate, this one does not. If you hesitated over your choice when you were ordering the iPhone 11, it was probably because you were trying to pick which color.
That's because this year Apple has offered the new iPhone in a larger range of colors and this is a device you are going to be staring for hours every day, it's worth getting something you like the look of.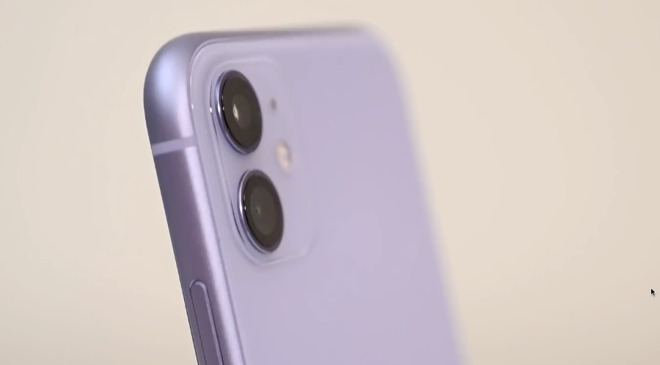 Purple is one of the new colors for iPhone 11, but it and all the rest are now done in a softer, pastel shade.
In theory you've seen most of these before on various different model iPhones, with just purple and green ones being brand new. However, all of these colors are now presented in a more subtle pastel shade that looks excellent.
Until you put your phone in a case, anyway.
Improved wide-angle lens
We've separated this feature from the new ultra-wide lens, because in theory it's a bit old hat. The iPhone XR had a wide lens, you may well be used to it, and there isn't a lot you can say about the angle of this lens when you've just enthused about the much more startling ultra-wide one.
Except, we also weren't kidding when we said Apple has improved everything.
Even though this is ostensibly the same wide lens we're used to, in truth it isn't. Apple has upgraded it so that this lens now has what's called 100% Focus Pixel coverage. The practical benefit to you is that auto-focusing on your subject is now up to three times as fast -- even in low-light situations.
Night Mode
Overall, the iPhone 11 is better at taking photos in low light than ever before, but just saying that doesn't convey just how much this feature will change the way you take images.
Go take a photograph at night. The result will be a photo that is unquestionably shot at nighttime, yet is just about as clear as day. The photo you take will be ridiculously clearer than what you saw with your own eyes at the time.
Night Mode is a combination of a hardware and a software feature. It comes on automatically when your iPhone 11 senses that light is low enough that it's necessary. However, when it comes on, you can manually adjust the exposure to get the result you want.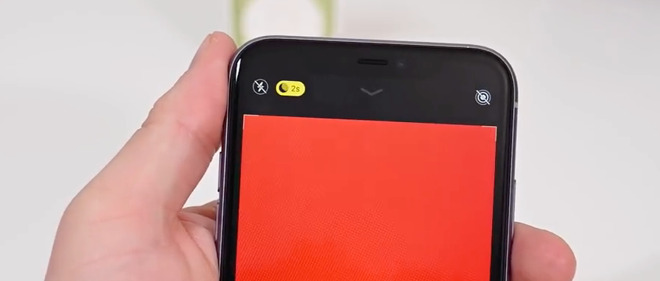 So that you can see what happens, we've simulated nighttime by covering up the camera lens. The iPhone 11 then automatically offers you Night Mode.
One thing to note, though, is that you will get the best results if you use a tripod. When the light level is low, cameras have always compensated by leaving the shutter open longer to capture more light. You move and that's why your handheld low-light photos look blurry.
The iPhone 11 might be quite unbelievably better at doing this than cameras before it, but the principle is the same and you'll see a difference if you use a steady tripod in place of your unsteady hand.
Portrait mode
Last year's iPhones had this Portrait Mode, but you had to buy the more expensive iPhone XS or iPhone XS Max in order to properly use it.
That's because they had dual cameras and so could take true stereoscopic images. The old iPhone XR had a single camera, and while Apple included a form of Portrait Mode, it was limited.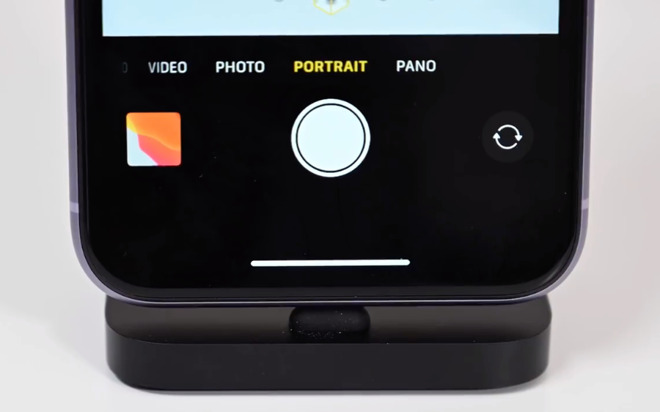 If you've never used the Portrait option before, you surely will now.
Instead of a fully optical process, utilizing the two lenses, it was a computational one where software attempted to perform the same action. It was also attuned to human faces and simply could not be used for anything else.
Now with its two cameras, the iPhone 11 has a Portrait Mode that works not only with people, but objects and animals as well.
QuickTake
If you've been around Apple for a very long time, this term will bring you back to the 1990s and
Apple's first-ever digital camera
. Today, though, the name is now used to describe how you can very rapidly switch between taking photos and shooting video.
Previously, you were able to do the reverse. As you shot a video on your iPhone, you could tap a button in order to take a photo.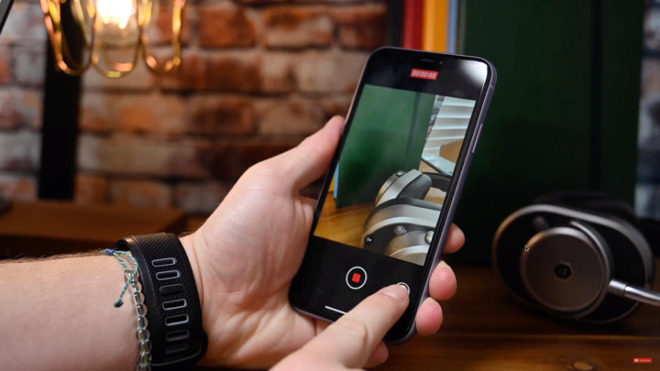 When taking a photo, press and hold the centre white button and swipe to the right. That first makes your iPhone 11 start to take video, and then locks it into that so you don't have to keep pressing.
Now when you press the button to take an image, you can keep pressing and the iPhone starts recording video.
You don't have to hold the button forever, though, and we have not lost the old Burst mode which used to be what happened when you kept pressing.
Now you can press down but swipe to the right. That both switches to video and keeps the phone shooting. Press down and swipe to the left instead, and you enter Burst mode.
Slofies
It's anyone's guess whether Apple's word "slofies" will take off, but we're betting that the feature itself definitely will.
This uses the newly updated front-facing camera and lets you capture slow motion selfies at up to 120 frames per second.
Water resistance
We're only slightly less likely to deliberately throw our iPhones into a swimming pool than we are to drop them onto concrete. Nonetheless, if you haven't already accidentally dropped your phone into water, you know someone who has.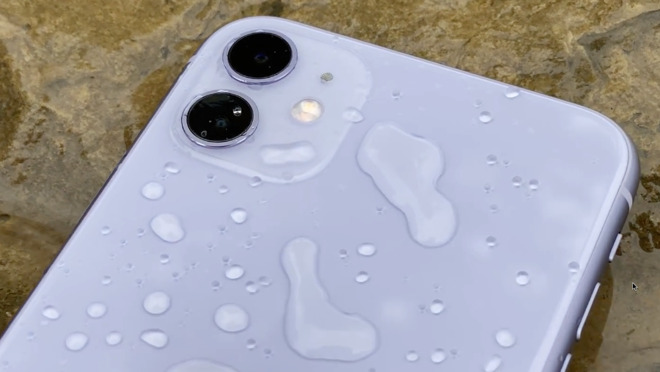 We did this so you don't have to. But you can get your new iPhone 11 quite wet.
And now while it's not something you should try out, you can get the iPhone 11 much more wet and it will simply dry out.
To be specific, the new iPhone 11 is twice as water resistant as the iPhone XR. It can be submerged in up to two meters of water for 30 minutes and still function properly.
A13 Bionic
You've already seen Slofies, Night Mode, Portrait Mode, QuickTake and more. Each of these is a demanding function and Apple can support them as well as it does because of its new processor.
With the
A13 Bionic
, the iPhone 11 is far faster than the iPhone XR. Alongside all the new features you can see, there is background processing and Machine Learning that you can't -- but which contribute to make this iPhone 11 powerful.
Apple U1 chip
Alongside the A13 Bionic processor, the new iPhone 11 has an Apple-designed U1 chip which brings ultra-wideband technology. What this does is give the phone the ability to precisely track objects around you. Think of it as very good GPS but inside your house or other buildings.
Right now, you're not going to see a great deal of evidence of this feature, but you will. Apple says that with
iOS 13.1
, you'll be able to point your iPhone 11 at another U1-equipped iPhone when using AirDrop and it will move that user to the top of the list.
We wouldn't be surprised to see Apple build some other features around this in the future.
Wi-Fi 6
Whether you see the benefits of this one immediately or not depends on your network and router. But Apple has improved the iPhone 11's Wi-Fi speed, particularly in crowded networks, by utilizing the new Wi-Fi 6 standard.
Also known as 802.11ax, Apple says that a Wi-Fi 6 network will get you up to 38-percent faster download speeds.
Faster LTE
Alongside faster Wi-Fi, the new iPhones have faster cellular connections too. It's not as good as having 5G, but it is capable of delivering 4G LET at up to 18% faster than it did before.
That difference will depend on your network, but it's never going to be slower, so it's a win and any improvement in cell speed definitely warrants a place in our top 15.
Capture Outside the Frame
The last in our pick of the best iPhone 11 features may also be our favorite. That's because as well as just being quite impressive, we can think of times when it would've made all the difference to our photography.
For some reason, you have to choose to switch this feature on, but do. Switch it on right now. Go to
Settings
,
Camera
and tap to turn on
Photos Capture Outside the Frame
.
This is why you should do it. With that feature turned on, the next time you take a regular photo, your iPhone 11 will also take an ultra-wide version. At the same time.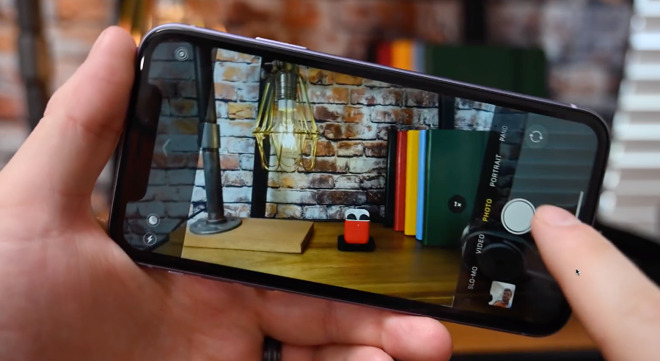 Capture Outside the Frame gives you choices later for correcting angles or cropping
This means that when you come to check out the photo later, if you somehow missed something, or your subject moved a little away from your perfect composition, they'll be in the wide version.
Plus, you know that you can rotate an image to, for instance, straighten it out if you took it at an angle. To do that rotation and not make it visible that you have, the image has to be cropped. If you've got one of these second ultra-wide angle takes, you have much more room to crop in to what you need.
You are going to use this a lot. If you don't, though, if you never edit your photos or choose to use the ultra-wide version, your iPhone won't force you. After 30 days, it will simply delete that ultra-wide image.
All these features mean one thing
You may have gathered that we like the iPhone 11. Considering that this year we were expecting Apple to make only minor upgrades -- it's next year that we should see 5G and more -- we're surprised just how good the iPhone 11 really is.
That's the point, though, that it's good in reality. You can compare specifications and make quite informed decisions, but it's when you actually use an iPhone 11 for real that you know how good it is.
iPhone 11 deals
Apple's new iPhone 11 and iPhone 11 Pro are already
discounted
at top wireless carriers. Highlighted below are current specials at press time, with additional details available in our
iPhone deals roundup
. Please note: terms and conditions apply to each offer; please see the corresponding retailer's site for additional details.
Need the device right now? For fast delivery from third-party sellers, be sure to check out
eBay
for listings with expedited shipping.
iPhone 11 savings
Keep up with AppleInsider by downloading the AppleInsider app for iOS, and follow us on YouTube, Twitter @appleinsider and Facebook for live, late-breaking coverage. You can also check out our official Instagram account for exclusive photos.