Apple releases 13.2 update for HomePods with music handoff, user identification [u]
The HomePod 13.2 update included with iOS 13.2 adds the ability for HomePod to recognize different voices, play high-quality ambient soundtracks, and handoff music, podcasts or calls from iPhone.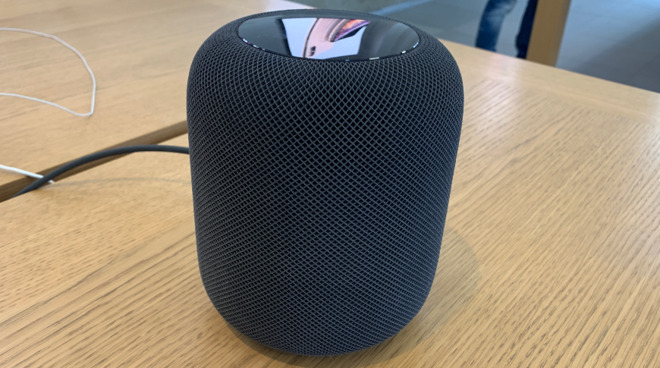 A HomePod on show in an Apple Store
Apple
has released the new 13.2 update for
HomePods
, bringing much-awaited
iOS 13
functionality to the smart speaker. Chief among the new features are ones to do with making HomePods work more seamlessly with
iPhones
and within families.
HomePods can now differentiate between the voices of the members of your family. This lets the speaker offer each person a personalized experience, such as the correct New, Chill and Favorites music mixes in
Apple Music
.
When 13.2 is installed, users can bring their iPhone close to the HomePod and hand off music to it. Music, podcast or even phone calls on the iPhone will immediately be passed to the HomePod where users can continue listening or speaking.
The new 13.2 release also lets users add music to
HomeKit
scenes for the first time, and can play high-quality Ambient Sounds too.
It's now also possible to set a sleep timer, so that when listening to music or the new Ambient Sounds, the HomePod will stop playing off after a specified time.
HomePod updates are done automatically via the Home app on iPhone. If the automatic update is switched off, updates can be done manually by tapping on the house icon at the top right of the screen, then scrolling to
Software Update
.
Update:
Apple has retracted the update after reports of
bricked devices
.