Apple Maps, Weather app now shows Crimea as Russian territory
Following months of pressure from Moscow, Apple recently updated its Apple Maps and Weather apps to display Ukraine's Crimean Peninsula as part of Russia, inviting swift condemnation from Ukrainian politicians.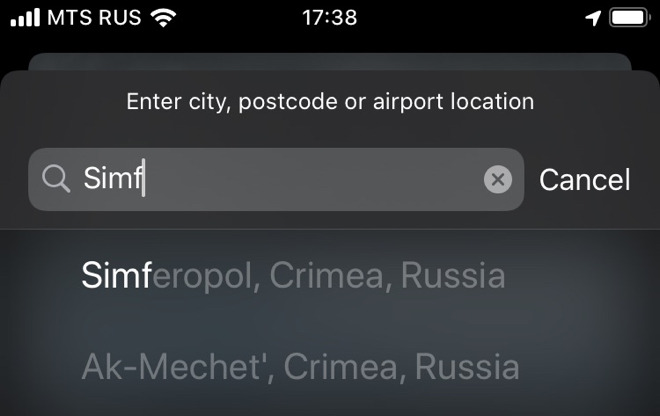 Source: BBC News correspondent Will Vernon via Twitter
Russia's lower parliamentary house, the State Duma, confirmed the change
in a statement
on Wednesday, reports
BBC News
.
"Crimea and Sevastopol now appear on Apple devices as Russian territory," the terse statement reads.
Crimea, which was annexed by the Russians in a not-so-covert land grab involving military units in 2014, shows up as Russian territory only when viewing Apple Maps and Weather in Russia. Elsewhere, the peninsula is not attributed to any one nation.
Moscow has for months urged Apple and other technology companies to recognize the region as Russian territory, noting that failure to do so runs counter to Russian law. It was this argument that ultimately swayed Apple's thinking on the matter, according to chairman of the Duma security and anti-corruption committee Vasily Piskaryov.
Apple's Russia representative Daria Ermolina met with Russian legislators to verify the company's "inaccuracies" were corrected, the Duma said on Wednesday.
"There is no going back," Piskaryov said, as reported by the Interfax news agency. "Today, with Apple, the situation is closed - we have received everything we wanted."
Ukrainian foreign minister Vadym Prystaiko voiced his displeasure of Apple's decision in a
tweet Wednesday
.
"IPhones are great products. Seriously, though,
@Apple
, please, please, stick to high-tech and entertainment. Global politics is not your strong side.
#CrimeaIsUkraine
," the tweet reads.
Governments around the world decried Russia's aggressive move into Crimea. Political unrest in the region -- a situation many believe was fomented by Russia -- opened the door to an unofficial invasion on a sovereign nation that left thousands dead. Moscow denies the assertions, though it does admit "volunteers" assisted rebel forces in an ensuing separatist movement against Ukraine.
The U.S. and UK both leveled trade sanctions against Russian entities in 2014. As a result, Apple was forced to
terminate developer agreements
of coders living in Crimea.