Ricky Gervais roasts Apple as Golden Globes snub 'The Morning Show'
Golden Globes host Ricky Gervais praised the Apple TV+ drama series, but then as Tim Cook watched, accused Apple of running sweatshops. "The Morning Show" won none of its three nominated awards.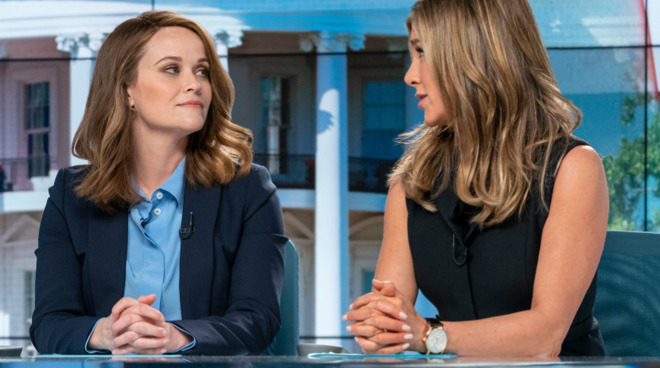 The Morning Show
Apple
CEO
Tim Cook
was among the Hollywood stars attending the 77th Golden Globes presentation last night, as
Apple TV+
drama "
The Morning Show
" had been nominated for three awards. The series won none, but Apple was also the target of considerable criticism from host Ricky Gervais about allegations that Apple uses sweatshops.
Gervais began by praising "The Morning Show," and got applause from the audience, but then in mid-sentence changed to an accusation as Tim Cook watched.
"Apple rolled into the TV game with a superb drama about the importance of dignity and doing the right thing," he said, "made by a company that runs sweatshops in China."
Gervais is known for making controversial statements when presenting awards but then tried to bring in more technology firms and simultaneously turn the heat onto all of the celebrities present.
"So you [the celebrities] say you're woke, but the companies you work for, unbelievable," he continued. "Apple,
Amazon
,
Disney
, if ISIS started a streaming service, you'd call your agent, right?"
That did sound as if he meant Apple and the other firms would call their agents, but Gervais's final points on the issue were unambiguously focused on Hollywood stars.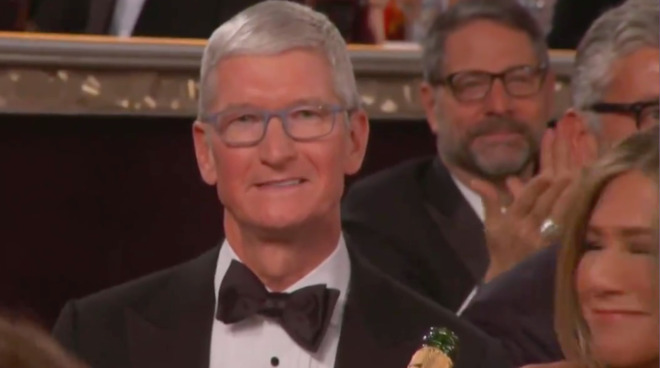 Tim Cook, and, far right, Jennifer Aniston, at the Golden Globes
"If you do win an award tonight, don't use it as a platform to make a political speech," he said. "You're not in a position to lecture the public about anything."
"You know nothing about the real world," he continued. "Most of you spent less time in school than Greta Thunberg. So if you win, come up, accept your little award, thank your agent and your God, and f*** off."
"The Morning Show" had been nominated for best television drama series, but the award went to HBO's "Succession" instead. Both Jennifer Aniston and Reese Witherspoon were nominated as best actress in a television drama series, but that award went to Olivia Colman for "The Crown."
A full list of
all the winners and nominees
is on the official Golden Globes site.
The Golden Globes are awarded by the Hollywood Foreign Press Association, an organization representing all of the journalists that cover US entertainment news for other countries. It's seen as precursor to other ceremonies such as the Emmys.
"The Morning Show" has also been nominated for two awards from
the Screen Actors Guild
. Those results will be announced at a ceremony on January 19.