Apple TV+ Review: 'Amazing Stories' gets off to a middling start
About a year after headlining the event that debuted the Apple TV+ service, "Amazing Stories," executive produced but not directed by Steven Spielberg, is rolling out one episode at a time with a very slow start.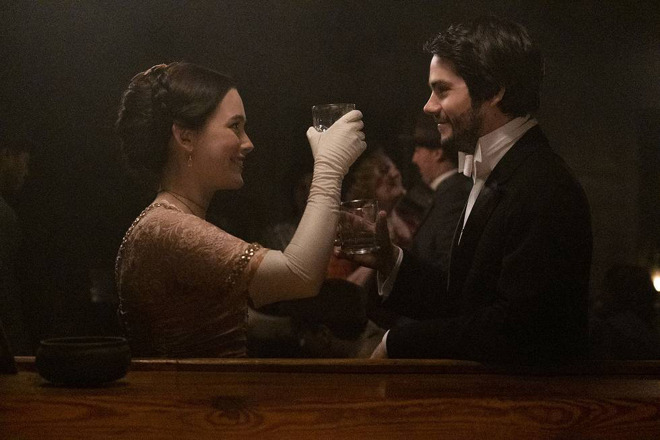 Victoria Pedretti and Dylan O'Brien in Amazing Stories (courtesy of Apple)
Even before Apple officially announced the launch of Apple TV+, the company began touting that some big creative names would be producing high-profile shows for their new content effort. And one of those names, going back to 2017, was one of Hollywood's most powerful and revered filmmakers, Steven Spielberg.
The Wall Street Journal
reported, in October of that year,
Apple had reached a deal for a revival
of
Amazing Stories
, the Spielberg-created anthology series that aired for two seasons on NBC between 1985 and 1987.
Spielberg appeared on stage at
Apple's "It's Showtime" keynote
in March 2019, when Apple TV+ was formally announced, along with Oprah Winfrey, Reese Witherspoon, Jennifer Aniston, J.J. Abrams, Big Bird and others. Spielberg, that day, talked about how an old magazine, also called
Amazing Stories
, was his first-ever exposure to science fiction.
"It's the universal human trait to search for meaning, so in these disconnected stories, we think the audience will find that one compelling narrative that will make the first season of
Amazing Stories
into a single thematic experience for them, and I hope for all of you too," Spielberg said at the Steve Jobs Theater, in what he said was the first time he had ever visited Apple.
Amazing Stories
has finally arrived on Apple TV+ March 6. Based on the one episode
AppleInsider
has viewed, it's a promising premise with room to grow. However, there are more than a few reasons for concern.
Into The Cellar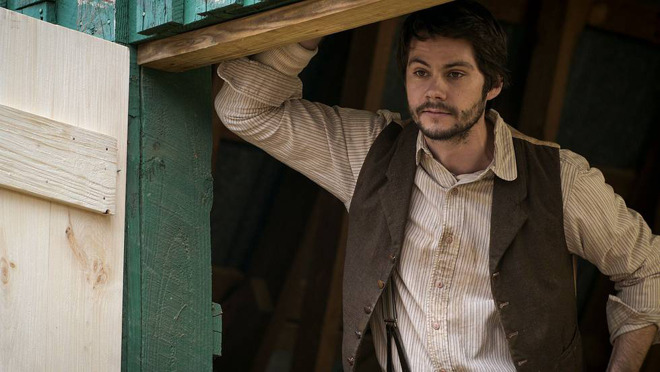 Dylan O'Brien in Amazing Stories (Courtesy of Apple)
The first episode of
Amazing Stories
, "The Cellar," is decent, if somewhat forgettable. It's directed by series television veteran Chris Long, whose credits include
The Americans
and
The Mentalist
, and written by Jessica Sharzer. "The Cellar" is an epic romance, set across generations and eras and incorporating time travel.
Dylan O'Brien (from
The Maze Runner
) and Micah Stock star as Sam and Jacob, a pair of brothers in the present day, who are working to restore a rundown old farmhouse in Iowa.
We see O'Brien's character fiddling with a Tinder-like app, indicating that he's love-crazy, but it doesn't take long before he's transported to a time way before Tinder. A circuit breaker in the basement of the old house sends him back a hundred years in time, to the same house. There, in 1919, he falls in love with Evelyn (Victoria Pedretti), a woman of that time who's facing an unhappy impending marriage, starting up the first of the time travel-based missed connections.
While the 57-minute episode gets off to something of a slow start, it picks up once the romance does. It can be difficult to tell a story about lovers separated by time periods or dimensions, but this episode pulls it off. There's even a fine punchline at the end, involving a famous old baseball card.
The premiere episode has its virtues, starting with the solid promise and the romantic chemistry between the leads. Visually, however, it's not exactly dazzling.
Also,
Amazing Stories
arrives just a week after the premiere of AMC's
Dispatches From Elsewhere
, another anthology series with oddball elements. Thanks mostly to the visual inventiveness, that's not a comparison that's especially favorable to
Amazing Stories
.
Where's Steven?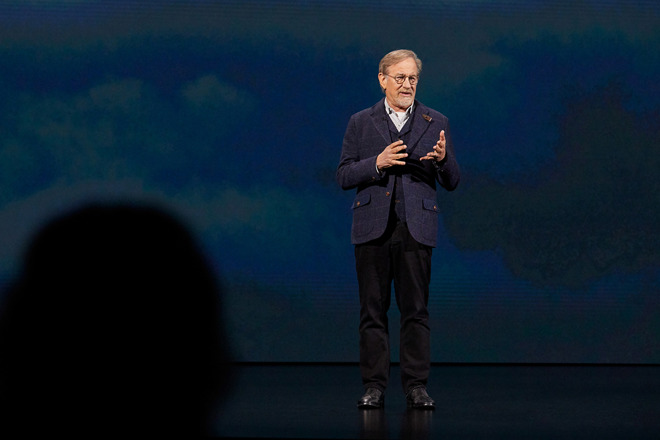 Steven Spielberg at the Apple keynote in Cupertino in the spring of 2019.
An
Amazing Stories
revival had been in the works as early as 2015, originally at NBC, with
Hannibal
's Bryan Fuller running it. But Fuller exited shortly after Apple took over development, with the
Once Upon a Time
team of Edward Kitsis and Adam Horowitz taking over as show runners.
While Steven Spielberg is one of several credited executive producers and the show bears the logo of his company Amblin Television, he is not the showrunner of
Amazing Stories
, nor is he credited with writing or directing any of the episodes.
Spielberg directed two episodes of the 1980s version of
Amazing Stories
, including the pilot, and received "story by" credits on several others. And while other episodes of the original series were directed by big names like Robert Zemeckis and Brad Bird, all of the directors of the new series are lesser-known television veterans. There's not a great deal of star power in front of the camera, either.
While certainly more positive and less dystopian,
Amazing Stories
is similar structurally to
The Twilight Zone
. That classic series was also recently rebooted by a streaming service, CBS All Access. And like
Amazing Stories
, that show made a big-time filmmaker (Jordan Peele) the face of its marketing efforts, even though he wasn't the showrunner and he didn't direct any of the episodes.
Servant
, the Apple TV+ show that debuted last year, used M. Night Shyamalan's name in most of its marketing materials, even though he wasn't the showrunner. However, Shyamalan did direct two episodes, including the pilot, and
Servant
felt very much, both visually and thematically, like Shyamalan's work. "The Cellar" doesn't feel particularly Spielbergian.
Beyond questions related to Spielberg's level of involvement, the series consists of five episodes, down from the ten that
were originally reported back in 2017
. In a break from the Apple TV+ model to date, the service is releasing one episode a week out of the gate, rather than debuting all at once or several at once, even though
an Apple press release in January
had stated that all five episodes would debut on March 6.
Unlike every other series on the service since its launch, Apple only made one episode available to the press in advance, while also placing the embargo on review publication on the day of the show's release, rather than the week before, as it has for nearly every other show. Apple has not been advertising the show heavily, and most of the chatter online about the series seems to be coming from Dylan O'Brien fan accounts.
And, while Apple has quickly given second seasons to several of its early crop of original shows, it has not yet done so for
Amazing Stories
.
It's unknown whether the change in release plans is due to a lack of confidence in the show on Apple's part, or to episodes not being completed on time, or some other reason. But embargoes for reviews lifting on the release date of the show or product is almost never a positive sign.
More Stories to come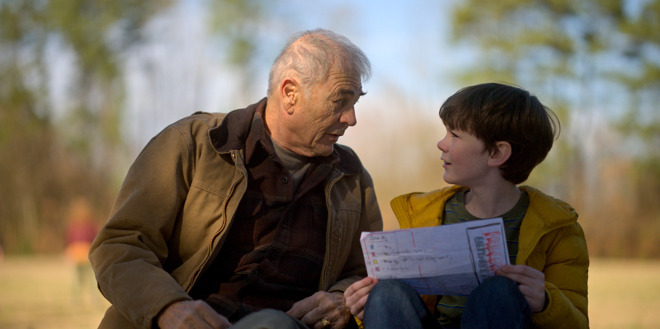 Robert Forster and Tyler Crumley in "Amazing Stories" (Apple)
It's likely too early to write off
Amazing Stories
. Subsequent episodes will arrive on Apple TV+ each Friday between March 13 and April 3.
The second episode, "The Heat," follows a pair of high school track stars (E'myri Crutchfield and Hailey Kilgore) trying to overcome tragedy. The one episode likely to draw the most attention is the third, "Dynoman and the Volt," which features the final performance by the respected character actor Robert Forster, who passed away last October.
In the opening six months of Apple TV+, has clearly managed to get into business with some impressive names. But whether it's Oprah, M. Night Shyamalan or J.J. Abrams, that doesn't mean those names are the primary creative voice behind their projects.
As for
Amazing Stories
, it seems destined to join such Apple TV+ series as
Servant
,
For All Mankind
and
See
, in which for whatever virtues they possess, they never became part of the larger cultural conversation.