Apple sources 20M face masks, designs and ships face shields for medical workers
Apple has sourced over 20 million face masks it aims to donate to governments to fight the spread of COVID-19, with the iPhone maker also working on designing and producing face shields for use by front-line medical workers.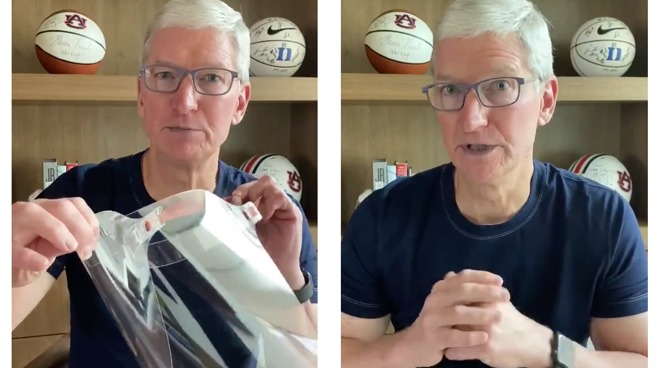 Taking to Twitter on Sunday, Apple CEO Tim Cook offered a pair of updates to his followers on Apple's attempts to help combat the
coronavirus
pandemic. The updates revolve around face masks and face shields, vital tools in protecting medical teams from infection and in preventing the spread of the virus.
In the two minute video, Cook advises Apple has managed to "source through our supply chain" over 20 million face masks around the world. "This is a truly global effort and we're working continuously and closely with governments at all levels, to ensure these are donated to places of the greatest need," the CEO explained.
Apple is dedicated to supporting the worldwide response to COVID-19. We've now sourced over 20M masks through our supply chain. Our design, engineering, operations and packaging teams are also working with suppliers to design, produce and ship face shields for medical workers. pic.twitter.com/3xRqNgMThX
A second effort involves a "company-wide effort" involving product designers, engineering operations, packaging teams, and suppliers for the design and production of face shields. Rather than being a fabric covering for the mouth, the face shield covers the entire face with a clear plastic panel.
Apple has already delivered its first shipment of the face shields to Kaiser hospital facilities in the Santa Clara Valley in the last week, and has already received "positive" feedback from doctors, according to Cook. "These pack flat. 100 per box," Cook told the camera. "Each shield is assembled in less than two minutes and is fully adjustable. We're sourcing materials and manufacturing in the US and China."
Apple plans to ship over a million of the face shields by the end of the week, and then to continue with similar levels or higher shipments in the following weeks. Apple is working with medical professional sand government officials across the US to determine where the shields are most needed, and is looking to expand distribution beyond the United States soon.
"For Apple this is a labor of love and gratitude, and we'll share more of our efforts over time," Cook continued. "In the meantime each of us can stop the spread of the virus by following expert advice to stay home, and practice social distancing."
Cook ends the video thanking viewers for "all you're doing to help in your own life," then thanking those "on the front line of this fight," before urging those watching to "stay safe and stay healthy."
The mask effort is the latest in a number of initiatives Apple has undertaken to do its part to combat the coronavirus outbreak. The company has
offered donations
to a number of organizations, and revealed on March 24 it had donated over
9 million masks
to US health facilities, and more to other parts of the world.