Apple Watch Series 6 may add anxiety monitoring and sleep tracking
A new leak claims that the Apple Watch Series 6 will add mental health features, longer battery life, and an expansion of existing sensors so the device can measure blood oxygenation.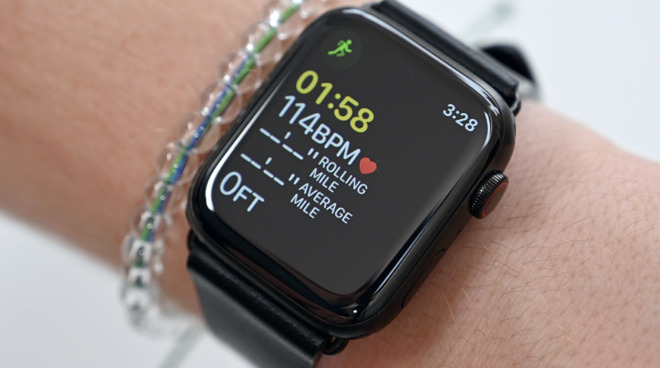 Apple's current Apple Watch Series 5
Apple's forthcoming update to the
Apple Watch
, presumed to be called the
Series 6
, is now rumored to include features to do with monitoring users for mental health issues, including anxiety. Twitter user
Nikias Molina
has no known previous track in Apple information, but has now details which have tersely confirmed by prolific leaker Jon Prosser.
EXCLUSIVE leaks about the upcoming #AppleWatch Series 6 features.

Sleep Tracking

Longer Battery Life

Pulse Oximeter

S6 Chip

Mental Health Abnormalities Detection

Stay tuned for more. pic.twitter.com/fN0j6xmOMA
Molina says that the Apple Watch Series 6 will contain a long-rumored sleep tracking, plus a previously unknown series of mental health abnormalities detection. These will be in part an extension of the current heart rate monitoring, and look for signs of unusual anxiety in users.
Asked about this plus Molina's claim that the Series 6 will feature longer battery life, a pulse oximeter, and run on an S6 chip,
Jon Prosser
tweeted "Yep!" with no more details. Molina claims he has more to follow at some unspecified time.
The Apple Watch, as it stands, has a heart rate sensor that has been used
as a pulse oximeter
in other medical-grade devices. The functionality is not enabled at this time, and would require FDA approval for use by consumers as a health monitoring device similar to what it had to get for the electrocardiogram technology.
The addition of sleep tracking to the Apple Watch in 2020 has been
rumored before
. Addition of sleep tracking would require more battery life, as most users presently charge the device at night. Alternatively, a low-powered implementation, and Apple shifting to some kind of faster Qi-related charging than it currently uses could only mandate a quick charge in the morning.
Such monitoring could be implemented as an extension of the existing
Bedtime feature
that was introduced in iOS 10.