M1 benchmarks prove Apple Silicon outclasses nearly all current Intel Mac chips
Apple's new M1 System-on-Chip in the
13-inch MacBook Pro
has the potential to be a performance powerhouse, but how does it fare against other Macs? From our testing, it could well be your next upgrade.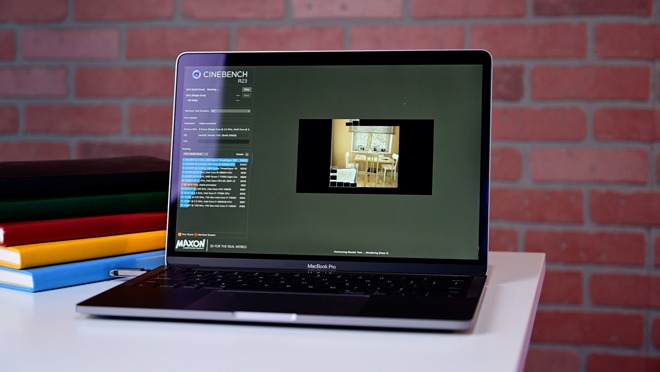 Cinebench R23 running on the M1 13-inch MacBook Pro
Apple's "One More Thing" November special event saw the launch of its new Macs housing Apple Silicon, the company's shift away from Intel processors to chips of its own design. The first three Macs using
M1
, the first chip in the effort, were announced as the
Mac mini
, the
MacBook Air
, and the 13-inch MacBook Pro.
Throughout the event, Apple was touting the M1's processing performance as being multiple-times better than the previous model of the same device. Given that Apple has considerably more Mac models on the roster, it becomes a little difficult to directly compare it against other stablemates.
This is especially true when you consider that Apple's M1 isn't going to be the fastest chip the company produces. By Apple's own admission, the M1 is meant to be a power-efficient chip, and one that occupies the value-end of the entire Mac spectrum.
The M1 versions of each model have effectively replaced all of the options for the MacBook Air and Mac mini in the Apple Store. For the 13-inch MacBook Pro, the M1 has taken over from the variant equipped with the 8th-generation Intel processors, and is being sold alongside the more current 10th-generation Intel chip-equipped versions.
Even with Apple's
declarations about performance
, it isn't easy to directly compare the M1 chip against the versions used in other models. Other Macs in the range include more powerful Intel chips, as well as discrete GPUs that take over from Intel's integrated graphics when raw power is required.
So, in an effort to assist,
AppleInsider
has run a series of benchmarks, putting an M1-equipped 13-inch MacBook Pro against Macs used by its editorial staff. This is with the intention to see how much of an upgrade the M1 could be in other models.
What is the Apple Silicon M1 chip?
Apple's M1 is a
system-on-chip
, namely a single chip that houses most of the main processing-related components in one place, including the processor, GPU, and memory. Made using a 5-nanometer production process and housing 16 billion transistors, the chip uses Apple's chip design experience with its A-series line for iPhones and iPads to create a desktop-class SoC.
A total of eight cores are included in the M1, with four high-performance cores accompanied by four high-efficiency cores. While the former may be used for intensive workloads as fast as possible, such as for demanding apps, the efficiency cores are instead employed for lower workload tasks, such as web browsing, while minimizing power usage.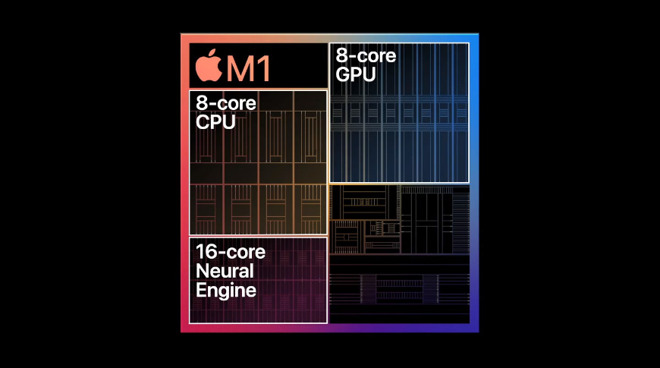 An illustration of the main components in the M1 SoC.
Interestingly, Apple has made it possible for all eight cores at once, rather than limiting the number. While not offering the same performance as a true eight-core processor that has identical cores, the use of all cores will still give the chip a performance boost when needed.
As part of the same SoC, Apple includes a seven-core or eight-core GPU, depending on the Mac model. Claimed to be the "world's fastest integrated graphics," the eight-core version of the GPU can handle nearly 25,000 threads, has 128 execution units, and can work at up to 2.6 teraflops per second.
Borrowing the concept from the mobile device lines, the M1 also includes a 16-core Neural Engine, capable of up to 11 trillion operations per second. Furthermore, it is also said to have 15 times faster machine learning performance than previous Macs.
Apple also employs a unified memory architecture, consisting of high-bandwidth, low-latency memory in a single pool. Instead of separating and duplicating data into different data pools, Apple instead intends the different technologies in the SoC to access the same data from the single large pool.
Why isn't this full benchmark comparison in the review?
Apple has never put a strong emphasis on the gigahertz race. With the Apple Silicon M1 chip in the new Macs, this is more notable than ever before, with absolutely no discussion of chip speed at all.
And, Tim Cook put a fine point on why. At the reveal, Cook noted that about half of the last year's Mac purchasers are new to the Mac -- most of which also don't care about X.Y Gigahertz spec races. And, our review of the M1 MacBook Pro approaches it more from that standpoint, than it does the performance-over-all crowd.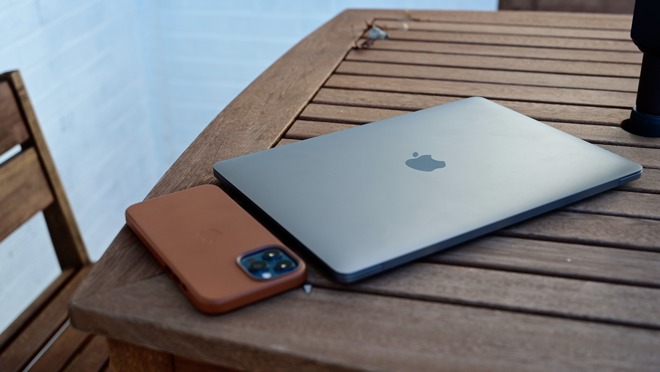 The iPhone 12 Pro and the 13-inch MacBook Pro now share similar processor designs.
But, it should be addressed, in a tailored piece for those looking for that information. Performance is a factor for a segment of the population, including devout
AppleInsider
readers -- so, here we are.
All benchmark results in this article are taken from staff members' machines and other machines on-hand in an operating environment temperature of between 20C and 22C (68F to 72F). None were pulled from benchmark aggregators -- but we did sanity-check our results with machines listed by the benchmarking software developers.
Apple Silicon M1 lineup
The 13-inch MacBook Pro's M1 has a wide array of competitors in this benchmark roundup of Macs used by
AppleInsider
writers, one that may be considered unusually wide.
On the more modest end of the scale are a pair of 2018 Mac minis, equipped with a 3.2GHz 6-core Core i7 and a 3.6GHz quad-core Core i3, as well as 8GB of memory on both.
13-inch MacBook Pro
(M1)
Mac mini
(Core i3, 2018)
Mac mini
(Core i7, 2018)
15-inch MacBook Pro
(Core i7, 2018)
15-inch MacBook Pro
(Core i9, 2018)
16-inch MacBook Pro
(Core i9, 2019)
Mac Pro
(2019)
Processor
Apple M1
Core i3
Core i7
Intel Core i7
Core i9
Core i9
Xeon W-3223
Cores
8
4
6
6
6
8
8
Clock Speed
3.2GHz
3.6GHz
3.2GHz
2.6GHz
2.9GHz
2.4GHz
3.5GHz
macOS version
11.0.1
11.0 Beta
11.0.1
10.15.7
11.0.1
10.15.7
11.0.1
Memory
16GB
8GB
8GB
32GB
32GB
32GB
384GB
Graphics
Apple M1 8-core
Intel UHD Graphics 630
Intel UHD Graphics 630
AMD Radeon Pro 560X 4GB,
Intel UHD Graphics 630
AMD Radeon Pro 560X 4GB,
Intel UHD Graphics 630
AMD Radeon Pro 5500M 8GB,
Intel HD Graphics 630
AMD Radeon Pro 580X 8GB
Moving to the same product category, there are three MacBook Pro models being tested, aside from the M1 version, including two
15-inch MacBook Pros
from 2018. One has a six-core 2.6GHz Core i7 while the other has the 2.9GHz 6-core Core i9, but both have an AMD Radeon Pro 560X 4GB discrete GPU and 32GB of memory.
The third is a
16-inch MacBook Pro
from 2019, using an 8-core 2.4Ghz Core i9 and a Radeon Pro 5500M 8GB GPU.
Rounding out the list on the high-end is a 2019
Mac Pro
, fitted with an Intel Xeon W-3223, an 8-core processor clocked at 3.5GHz, and supported by an AMD Radeon Pro 580X 8GB. While the model has a vast amount of RAM, weighing in at 384GB, this isn't really much of a bonus as most benchmarking software will easily run at more conventional memory capacities, leaving the majority of the Mac Pro's allocation unused.
Apple Silicon M1 Macs versus Intel Macs - Geekbench
The first bout of testing was performed using Geekbench 5, a cross-platform benchmarking tool that works across processor types. The same tool can be used to benchmark both desktop-class processors and mobile chips, making it an ideal tool for examining the ARM-based M1 against the x86 architecture of the other Intel chips.
We are employing Geekbench's single-core and multi-core testing for this section, as a basic test of how each type of workload is handled by the processors.

The single-core results for Geekbench hints at the M1's performance capabilities.
In terms of single-core performance, the M1 MacBook Pro outshines all of the Macs on test, with a score that is a clear 54% better than its nearest rival, the 16-inch MacBook Pro. This makes it faster than a relatively-recent Intel Core i9, and even the Mac Pro's Xeon, a chip family generally considered to be a workhorse of processing.

The M1 shows fine form in Geekbench's multi-core test.
It's a somewhat similar story when you turn to the multi-core test, as the 7,395 achieved by the M1 is very impressive and beats the vast majority of the field. While it narrowly beats the 7,067 scored by the Core i9 in the 16-inch MacBook Pro, the Mac Pro's Xeon-W retakes the lead with 8,632.
For multi-core tasks, this demonstrates the M1 can outpace many Macs available today, and can keep pace with the high-performance processors used in the more premium end of the market.
13-inch MacBook Pro
(M1)
13-inch MacBook Pro
(M1, Rosetta 2)
Mac mini
(Core i3, 2018)
Mac mini
(Core i7, 2018)
15-inch MacBook Pro
(Core i7, 2018)
15-inch MacBook Pro
(Core i9, 2018)
16-inch MacBook Pro
(Core i9, 2019)
Mac Pro
(2019)
Single-core
1705
1210
878
1103
1012
1086
1104
1022
Multi-core
7395
5416
3135
5397
5092
5707
7067
8632
Apple Silicon M1 Macs versus Intel Macs - Rosetta 2's impact
You may also notice in the graphs that there are two sets of Geekbench results for the M1, with one considerably higher than the other. This is because the benchmarks were run twice: natively and through
Rosetta 2
.
Rosetta 2 is Apple's automatic software translation tool included in
macOS Big Sur
, which performs real-time translation of code from one that would be used on an Intel processor into a form that is compatible with the M1. The tool was created to enable the majority of apps made for Intel processors to be compatible with the M1 until developers recode and recompile the software for the new chip line.
Using Rosetta 2 does have an impact on performance, as resources have to be used to perform the just-in-time translation, which in turn hits speed.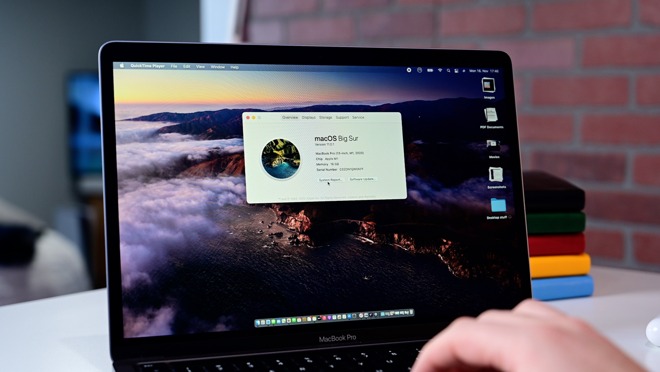 About This Mac no longer shows an Intel processor in the new 13-inch MacBook Pro
Comparing the Rosetta 2 results of the M1 against the non-Rosetta version, there's an obvious difference in performance, with the M1 managing to do 40% better in the single-core test and 36% better for multi-core when not using Rosetta 2. Obviously, this does equate to a similar performance hit in everyday use, but not as much as you may think.
Even with the lower scores, the Rosetta 2-affected M1 is still faster than all of the in-test Intel processors for single-core performance. While it's nowhere near the Mac Pro and the 16-inch MacBook for multi-core, it still manages to be in the same performance ballpark as the rest of the group, with the further exception of the core i3 Mac mini.
What does this mean to you? Rosetta 2 will keep apps you want to use working for a while longer and at a comparable speed to what you're already used to. At least, until the app's developer creates a new version that doesn't require it.
Apple Silicon M1 Macs versus Intel Macs - Cinebench R23
A second benchmark suite Cinebench relies on technologies used by Cinema 4D to measure how single and multi-core processing functions. The R23 version of the benchmark tool added support for Apple's M1 SoC, allowing it to be compared against its Intel counterparts.

Cinebench's single-core test seemingly mirrors the Geekbench one as far as M1 is concerned.
For the single-core results, its the same story as observed in the comparative Geekbench testing, with the M1 storming away from the rest of the pack with 1,510. This is a closer fight than under Geekbench, with the M1 being 28% better than the second-place Core i9 15-inch MacBook Pro, narrowly followed by the 16-inch MacBook Pro and the Core i7 Mac mini.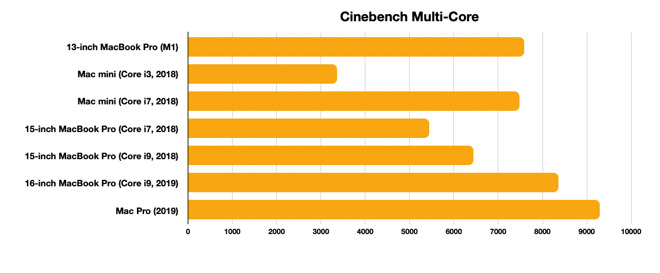 The M1 still manages third place in Cinebench's multi-core benchmark.
The multi-core results fare similarly, with the M1 appearing in the top half of the table with 7,691 points, narrowly beating the Core i7 Mac mini. Again, it is beaten by the Mac Pro, though this time the Core i9 16-inch MacBook Pro is comfortably in second place.
The varying result can easily be put down to how each benchmark functions and compiles scores, but the big takeaway here is that the M1 still performs well.
13-inch MacBook Pro
(M1)
Mac mini
(Core i3, 2018)
Mac mini
(Core i7, 2018)
15-inch MacBook Pro
(Core i7, 2018)
15-inch MacBook Pro
(Core i9, 2018)
16-inch MacBook Pro
(Core i9, 2019)
Mac Pro
(2019)
Single-core
1510
917
1146
1059
1178
1167
970
Multi-core
7691
3363
7485
5442
6437
8359
9294
Apple Silicon M1 Macs versus Intel Macs - Affinity Photo
Affinity Photo is, as the name suggests, professional-level photo editing software. As an image-manipulation tool, it can put hefty demands on the processor, as well as relying on the GPU and Metal to accelerate the processing of some tasks.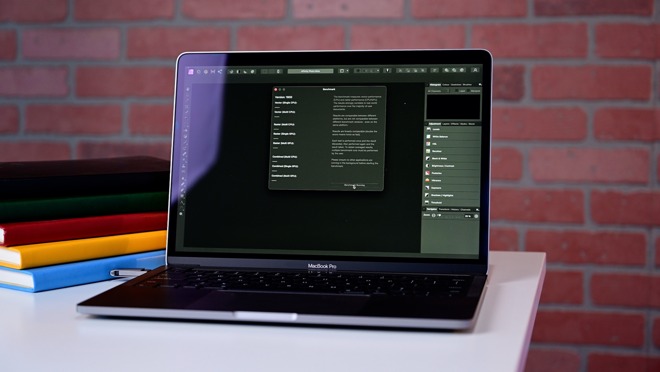 Running benchmarks in Affinity Photo
As it also includes a benchmarking tool and has been updated to work on both Intel processors and the M1, it can also be used for our comparison.
Apple Silicon M1 Macs versus Intel Macs - CPU tests
This first group of results relates to how each of the systems managed on processing power alone. Vector-based calculations and raster processing are tested, two types of processing task that are required for image manipulation.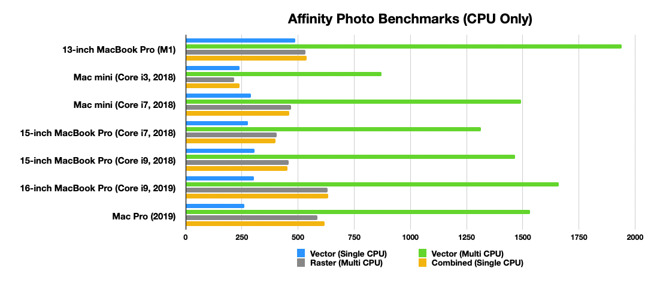 The M1 excels in Affinity Photo's multi-core CPU vector processing benchmark.
Given what was shown during the Geekbench tests, it's unsurprising to see that the M1 has done well for single-core processing, once again beating all others in the test with a wide margin, scoring 487 points while its nearest rival managed 304.
It's the same story for vector multi-core processing, with the M1 again leading by about 16% over its closest competition, the 16-inch MacBook Pro.
For multi-core raster processing, the Mac Pro and 16-inch MacBook Pro both do better than the M1, but the new chip still manages to show itself to be extremely capable.
The "Combined" test is where the benchmark uses a mix of both vector and raster-based content at the same time. The result here is pretty similar to that of multi-core raster processing, which again shows the M1 can hold its own in this area.
13-inch MacBook Pro
(M1)
Mac mini
(Core i3, 2018)
Mac mini
(Core i7, 2018)
15-inch MacBook Pro
(Core i7, 2018)
15-inch MacBook Pro
(Core i9, 2018)
16-inch MacBook Pro
(Core i9, 2019)
Mac Pro
(2019)
Vector (Single CPU)
487
239
290
276
305
304
260
Vector (Multi CPU)
1941
870
1492
1313
1465
1661
1533
Raster (Multi CPU)
532
216
469
404
459
632
585
Combined (Single CPU)
539
240
460
400
454
633
619
Apple Silicon M1 Macs versus Intel Macs - GPU tests
This group focuses just on GPU performance for raster processing, without taking into account the CPU.
Normally, this sort of test would be a landslide victory for Macs with a discrete GPU installed rather than just relying on integrated graphics. However, Apple's bold claims of graphical performance have been proven to not only be true, but also very impressive when put against the usually powerful discrete competition.
The GPU in the M1 manages to beat the discrete AMD Radeon Pro 560X 4GB included in the 15-inch MacBook Pro models, by scoring 6,835 points in the single GPU test. That score is not far behind the AMD Radeon Pro 580X 8GB GPU included in the Mac Pro, while the 16-inch MacBook's AMD Radeon Pro 5500M 8GB sits out in the very front with 9,239.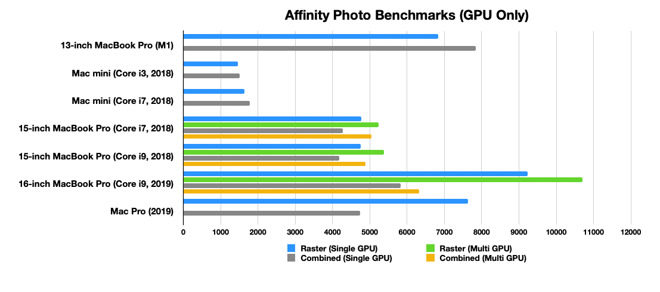 The GPU in the M1 also shows itself to be quite powerful, even against discrete GPUs.
As both the discrete and integrated GPUs can be used together in Affinity Photo, the benchmark also accounts for that with some of the models.
While the M1 still cannot compete against the 16-inch MacBook Pro, which pushes its lead further forward to 10,695 points, the M1's single integrated GPU still manages to keep the 15-inch MacBook Pro pair's Radeon Pro 580X and Intel UHD Graphics 630 at bay.
On the combined content scores, the M1's GPU manages to score the highest for a single GPU, beating all discrete-based versions by a hefty margin once more. Its score of 7,847 is 34% better than the 16-inch MacBook Pro's second-place result, which again is quite a lead over the pack.
The improvement to the 16-inch MacBook Pro's score from using both discrete and integrated GPUs still isn't enough to catch the M1, which maintains a 24% lead.
Most users would expect integrated graphics improvements to do well just against older integrated graphics systems, but here the M1's GPU is actively beating powerful discrete GPUs. In some cases, it's even beating the discrete GPU being assisted by integrated graphics, a feat which underscores what Apple has managed to pull off here.
13-inch MacBook Pro
(M1)
Mac mini
(Core i3, 2018)
Mac mini
(Core i7, 2018)
15-inch MacBook Pro
(Core i7, 2018)
15-inch MacBook Pro
(Core i9, 2018)
16-inch MacBook Pro
(Core i9, 2019)
Mac Pro
(2019)
Raster (Single GPU)
6835
1462
1636
4768
4749
9239
7633
Raster (Multi GPU)
-
-
-
5239
5381
10695
-
Combined (Single GPU)
7847
1504
1778
4270
4186
5823
4734
Combined (Multi GPU)
-
-
-
5042
4880
6328
-
A massive leap forward
The question that crossed many existing Mac owners' minds when the first batch of M1 Macs surfaced would have been "how does it compare against what I have already?" It's a valid question, as people with Macs and MacBooks that are a few years old may be considering an upgrade, and need to know if the M1 is viable.
In these benchmarks, it is plain to see that the M1 is certainly one of the best options on the market. In practically all of the tests, it either outpaced the incumbent Intel-based processors or kept pace with the top end of the group.
Even in the tests involving Rosetta 2, the M1 managed to score admirably. To those concerned that there would be too much of a performance hit for compatibility purposes, the results indicate that there is one, but not enough to make it feel too slow.
The results may also be a bit of a shock to those who hold faith in traditional powerhouse systems like the Mac Pro, which the M1 manages to beat in some of the tests, at least with this particular configuration of processor and GPU.
While the main thing to take from this is that the M1 is certainly an upgrade option, consider that this is Apple's first M-class SoC release. Down the line, it will most likely come out with the "M2," "M1X," or whatever it will call the next chip, one which it will most likely cover the middle and upper end of Apple's product catalog.
If the M1 does this well against seemingly powerful Intel processors, the next release could be a barnstormer.
Deals on M1 Macs
Discounts are already in effect on the new M1 Apple hardware, with exclusive promo code offers driving down
13-inch MacBook Pro prices
,
MacBook Air prices
and
Mac mini prices
.
For the latest
deals
and up-to-date pricing, check out the
AppleInsider
Mac Price Guide
.