Microsoft pits Surface Pro 7 against MacBook Pro in new ad
Microsoft's latest attempt to promote its Surface tablet lineup has it comparing the Surface Pro 7 against Apple's
MacBook Pro
, despite the iPad Air potentially being a closer rival device.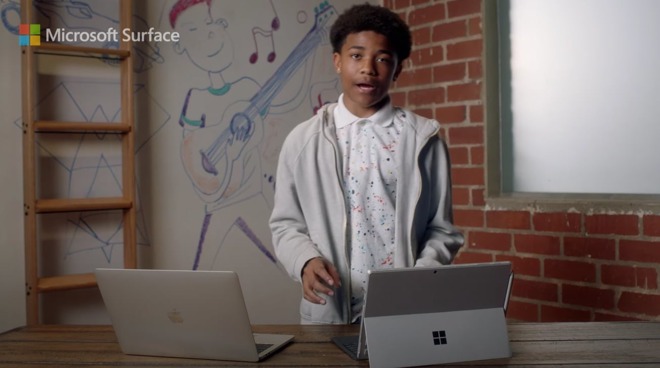 Released on Friday, the YouTube video "Microsoft Surface Pro 7: The Better Choice" attempts to frame
Microsoft's tablet
as a suitable productivity competitor to Apple's MacBook Pro lineup. The 30-second ad spot sticks to a few talking points that the Surface seemingly excels at, rather than a more in-depth analysis.
Seemingly set up to look like a generic tech comparison video, the spot starts off by arguing the Surface is better for having a Pen and a touchscreen, before complaining about the MacBook Pro's "little" Touch Bar. "Why can't they just give me a whole touchscreen?" the on-screen actor declares in the video
reported
by
iMore
The "Design" section references the detachable keyboard of the Surface Pro, while "you're kind of just stuck with what you got" on the MacBook Pro. Under "Power," the actor mentions how users can "run your favorite apps" on the Surface, and that it is a "much better gaming device."
Lastly, Microsoft mentions pricing, where the MacBook Pro is shown to be $1,299 while the Surface Pro is price-marked down from $1,130 to $890.
The ad spot seemingly takes on the MacBook Pro as an easy target with its fairly simplistic talking points, but at the same time it seems disingenuous as it isn't really comparing like-for-like hardware. To do that, the ad producers would have to go down the route of comparing the Surface Pro against an
iPad
, like the
iPad Air
or
iPad Pro
.
In all cases, the iPad range offers touchscreen support as well as the
Apple Pencil
, and can work with a variety of different keyboard-equipped covers, like the
Magic Keyboard
. Since many apps and games work in
iPadOS
, Microsoft's software mention is fairly moot.
As for price, while the iPad Pro line is fairly expensive for comparison, the iPad Air offers the styling and most of the benefits, at a cheaper rate. As it starts from $599 for the base model, adding the Magic Keyboard brings the price up to $899, practically equalling Microsoft's quoted price.
The ad surfaces roughly a month after a
report claimed
Microsoft was considering going down the same route as Apple in producing in-house processor designs that could be used in future Surface models. This would bring Microsoft in line with Apple for both the A-series chips used in the iPhone and iPad ranges, and the
Apple Silicon
chips used in the latest Macs.