Tim Cook to talk Facebook, 'Tim Apple,' more in interview airing Monday
Apple CEO
Tim Cook
took part in a remote interview with journalist Kara Swisher this week, with the pair discussing topics ranging from App Store policy to the now infamous "Tim Apple" incident.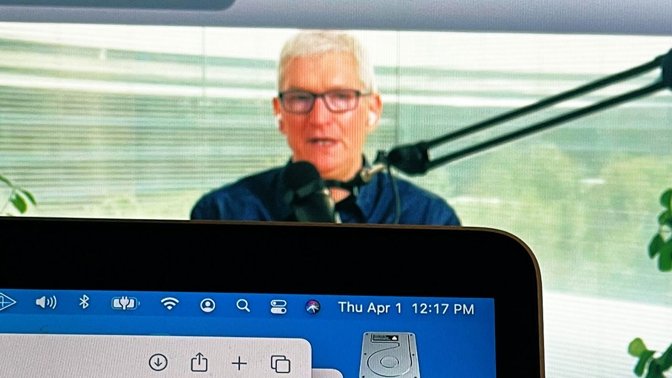 Source: Kara Swisher
Cook's virtual sit-down will air on
The New York Times
podcast "
Sway
" next Monday. The show is hosted by Swisher and regularly features high profile players in tech, politics, entertainment and beyond.
According to a
tweet
from Swisher, the interview covers a number of topics including Apple's
decision to yank
right wing social app Parler from the
App Store
in January. The app was pulled on concerns that it was used to help "plan, coordinate, and facilitate" the storming of the U.S. Capitol and remains off Apple's marketplace, as well as Google's Play Store and Amazon's servers. Republican lawmakers are currently
scrutinizing the removal
.
Cook will also speak about user privacy safeguards coming to
iOS
, namely a new feature called App Tracking Transparency that requires developers to gain permission before tracking a user's device advertising identifier, or Identifier for Advertiser (IDFA) tag. Many users are expected to opt for more privacy, potentially leaving companies that rely heavily on ad targeting in the lurch.
Facebook is perhaps the most outspoken critic of ATT and has
persistently
derided the move as an attack on its business. Cook addressed the issue with Swisher:
Swisher asked: "What is your response to Facebook's response -- which is quite vehement -- calling you essentially an existential crisis to their business?" Cook answered: " All we're doing, Kara, is giving the user the choice whether to be tracked or now. And I think it's hard to argue against that. I've been -- I've been shocked that there's been pushback on this to this degree."
When asked what impact ATT might have on Facebook, Cook said, "Yeah, Kara, I'm not focused on Facebook. So I don't know."
Cook was also asked about an American Workforce Policy Advisory Board meeting
in 2019
, at which then-President Donald Trump called him "Tim Apple" in an apparent gaffe. He had a "good answer," Swisher says.