Apple exterminates USB-C troubleshooting port on Apple TV 4K, adds Gigabit Ethernet
The new Apple TV 4K is getting faster network connectivity with the addition of a Gigabit Ethernet port, but the company has also removed the USB-C port previously used for troubleshooting and screenshot capture.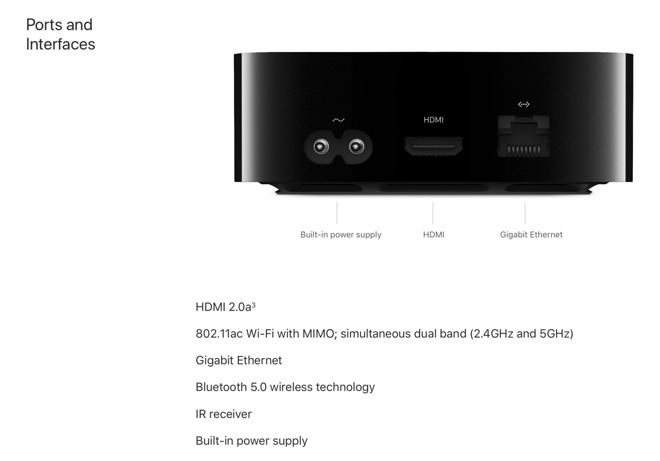 The fourth-generation Apple TV had a trio of ports -- HDMI, 10/100 Ethernet, and USB-C. It is unclear what Apple will do to supply direct connectivity for developers and device managers going forward, but network loading of software and configuration profiles seems probable.
This isn't the first time Apple eradicated ports from the Apple TV. Analog component connectors departed the unit during the shift from the first to second generation, and the optical audio connector was killed when the fourth generation Apple TV debuted.
The
Apple TV 4K
was shown briefly
during Tuesday's array of announcements. The device is powered by the A10X processor, as found in the refreshed iPad Pro.
HDR 4K content will be available from Apple in short order. Users with films from six major studios,
minus Disney
, will get free updates to 4K movies if they have purchased those movies from Apple in the past.
The Apple TV 4K will be offered alongside the existing fourth-generation Apple TV from September 22, with pre-orders starting September 15. Two different capacities will be offered, with the 32-gigabyte model priced at $179, and the 64-gigabyte version at $199.