Apple's new 16-inch MacBook Pro is built to blaze through pro workflows
Apple continues to deliver on its commitment to Mac professionals in 2019 with the Wednesday debut of the 16-inch MacBook Pro. The new high-performance model is designed to replace the company's legacy 15-inch MacBook Pro at existing price points, while delivering a larger, enhanced display, a new a Magic Keyboard, superior sound, and Intel Coffee Lake processors in a package tuned for developers, video editors, photographers, and other professional creative workflows.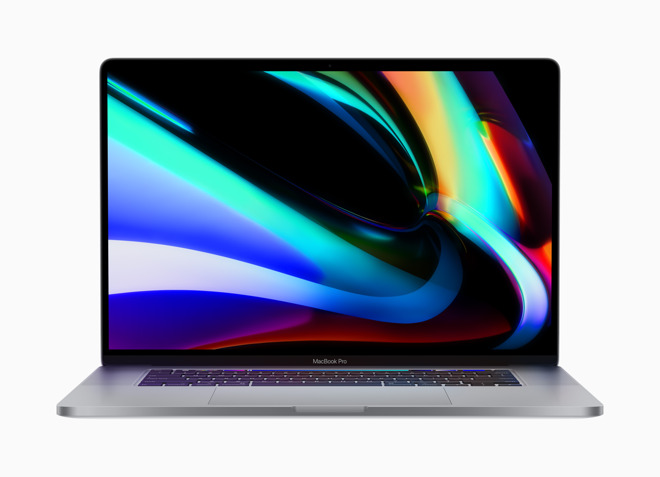 Apple's new 16-inch MacBook Pro
A new high-end performance for MacBook Pro
This summer, Apple delivered a refresh of its
MacBook Pro
line taking advantage of Intel's latest Coffee Lake processors with up to 8 cores. The company is now going even further with a new
16-inch MacBook Pro
that enhances and enlarges the display within a similar form factor to the 15-inch model it now replaces, using a slimmer bezel around the display.
The new MacBook Pro's Retina display features brightness of 500 nits and a P3 wide color gamut, now at a higher pixel density of 226 ppi at a resolution of 3072 x 1920 pixels, versus the 2880 x 1800 in the 15.4-inch MacBook Pro that debuted in 2016. Apple states the new model provides "next-generation graphics" supplied by an AMD Radeon Pro 5000M GPU--the first mobile discrete graphics to reach a 7nm process node--paired with up to 8GB of VRAM.
Apple says that customers who choose the standard configuration will see 2.1 times faster graphics performance than the previous standard configuration.
The new machine now supports up to 64GB of RAM and debuts an advanced thermal design. It also boasts longer battery life with a 100Wh battery-- the largest ever in a laptop, delivering up to 11 hours of wireless web browsing or Apple TV app video playback.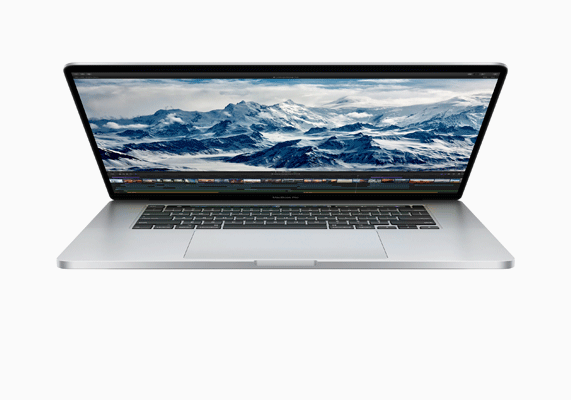 Bigger battery on the new 16-inch MacBook Pro
The new high-end MacBook Pro also delivers a big upgrade in audio reproduction with a new six-speaker audio system and "studio quality" microphones, in line with the continual improvements Apple has delivered across its product line since acquiring
Beats Electronics
and making serious new investments in audio technology.
Apple says it is using "patented force-canceling woofers" in place of dual opposed speaker drivers, in order to reduce unwanted vibrations that can distort sound. The result is more "clear and natural" and Apple says the new notebook can produce low frequency bass "half an octave deeper."
An array of new high quality microphones results in a 40% reduction in hiss, and an improved signal-to-noise ratio that Apple said "rivals that of popular professional-grade digital microphones," resulting in "super-clean recordings that capture even the quietest details."
Support for two Pro Display XDRs
Up to two Apple's Pro Display XDR can be connected to the MacBook Pro via two of the four Thunderbolt 3 ports that are on the machine. Alternatively, up to four 4K displays at 60Hz can be connected through Thunderbolt 3 as well.
Apple has also redesigned the thermal management system in the new model. The new fan design features a larger impeller with extended blades paired with bigger vents. This results in a 28 percent increase in airflow paired with a heat sink that is 35 percent larger. Apple claims that this allows the unit to dissipate up to 12 more Watts of heat during extended workflows.
A new thermal footprint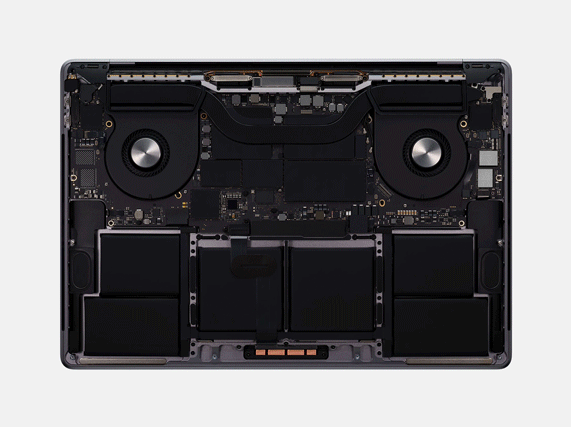 Thermal condition with fan location on the new 16-inch MacBook Pro
The 16-inch MacBook Pro is 0.64 inches thick, 0.03 inches thicker than the 15-inch MacBook Pro -- about the thickness of a piece of paper. It is also a bit larger in every other dimension at 14.09 inches wide, 9.68 inches deep, and 4.3 pounds. For comparison, the 15-inch MacBook Pro that debuted in 2016 was 13.75 inches wide, 9.48 inches deep, and weighed 4.02 pounds.
Configurations start at $2399 with a 2.6GHz i7 processor, the Radeon Pro 5300M, 16GB of RAM, and 512GB of SSD storage. The new 16-inch MacBook Pro will be available for preorder on Wednesday, and will be arriving in stores as early as Friday. Build-to-order models with a i9-9980HK processor, up to 8TB of storage, and 64GB of RAM will be available at additional cost, with a maxed out configuration retailing for $6,099.
A replacement 96W power adapter retails for $79. Existing 87W docks and power adapters should work, but will charge slightly slower, and may not maintain the battery at full charge under periods of maximum load.
Apple has also released a leather sleeve for the unit, with that selling for $199.
Magic Keyboard comes to MacBook Pro
The new 16-inch MacBook Pro now incorporates improvements that were first developed for iMac Pro's Magic Keyboard. Apple says that the keyboard has been specifically designed in response to research on how humans type, with the intent of delivering a responsive, reliable experience.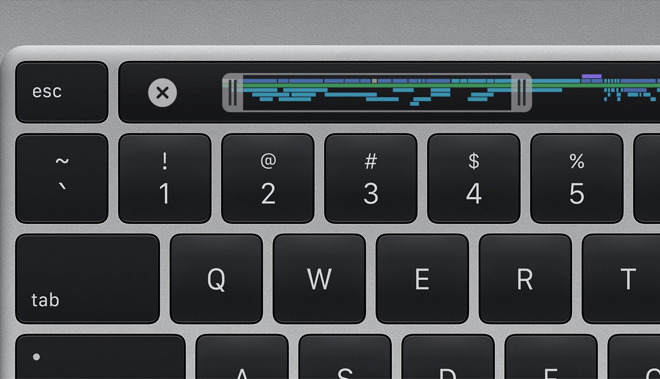 New keyboard on the 16-inch MacBook Pro
The new 16-inch MacBook Pro Magic Keyboard brings back a physical escape key, rather than it being a virtual button in the Touch Bar. Another common request Apple is addressing on the new notebook is a return of the classic arrangement of inverted-T arrow keys.
The keyboard replacement comes in response to
three years of complaints
about the butterfly keyboard
first seen
in the
MacBook
, and migrated to the MacBook Pro in 2016. User issues ranged from an unpleasant typing experience, to
issues with reliability
.
The 2016 MacBook Pro had the worst failure rates in the line. Apple made
incremental changes
in successive generations, accompanied with a
repair extension program
extending free repairs for impacted keyboards to four years past the first purchase of the device.
Apple also announced that its
Mac Pro
desktop and its companion Pro Display HDX will be
available for purchase in December
.
Fruits of the Pro Workflow Team
The new machine's creative performance aims a tight focus on pro users, specifically optimized to the real world needs of professional workflows. That's the result of a
Pro Workflow Team
at Apple that's been working under John Ternus, vice president of Hardware Engineering, over the last three years to shape the design of products that are not just computationally fast and deliver high performance specifications, but are specifically tuned to fit the real world needs of buyers.
Apple's Pro Workflow Team architects began working with professional customers on location to understand their real-world workflows with apps including Logic and Final Cut. Apple even contracted with a series of award-winning artists and technicians to bring them in-house to shoot real projects. That helped the team identify pros' real world issues and the friction points they run into in both hardware and software.
"We've been focusing on visual effects and video editing and 3D animation and music production, as well," Ternus
said in an interview
, "and we've brought in some pretty incredible talent, really masters of their craft.
"And so they're now sitting and building out workflows internally with real content and really looking for what are the bottlenecks. What are the pain points. How can we improve things. And then we take this information where we find it and we go into our architecture team and our performance architects and really drill down and figure out where is the bottleneck. Is it the OS, is it in the drivers, is it in the application, is it in the silicon, and then run it to ground to get it fixed."
The first result of that work was
iMac Pro
, followed by the new design of
Mac Pro
unveiled in summer 2018 at Apple's Worldwide Developer Conference. The new 16-inch MacBook Pro also benefits from Apple's Pro Workflow Team research and refinement.
In the summer of 2019, Apple's product manager for the new Mac Pro, Doug Brooks,
called
the Pro Workflow Team "a deep investment on what we're doing here in the pro space," adding that "it goes well beyond just Mac Pro to MacBook Pro and even iPad Pro. You're going to see the benefits and the implications of that team across all of our Mac products and our pro products."
Brooks said the Pro Workflow Team Brooks includes "artists and creatives who came out of the industry, in the video, audio, and 3D space," along with "system architecture people" and "deep computer scientists" that work with them on projects.
How to save on the 16-inch MacBook Pro
Apple resellers are accepting orders for the
new 16-inch MacBook Pro
with a variety of incentives.
Expercom
is knocking up to $438 off the new laptops with coupon code
appleinsider
, while
Adorama
is taking up to $150 off with promo code
APINSIDER
. Details can be found in this
16-inch MacBook Pro deal roundup
.
Meanwhile, at B&H, shoppers can select between
no interest financing
when paid in full within 12 months with the B&H Financing Card or a
sales tax refund
in eligible states with its Payboo Credit Card. The latter can save many shoppers anywhere from $200 to $500 on average.
Be sure to check out the
AppleInsider
16-inch MacBook Pro Price Guide
for the latest
deals
and product availability on Apple's newest hardware.