Apple's new 16-inch MacBook Pro reveals its future direction
Apple's decision to radically redesign its largest and most powerful MacBook Pro just six months after its last refresh tells us a lot about how the company plans its hardware strategy and what factors drive its engineering.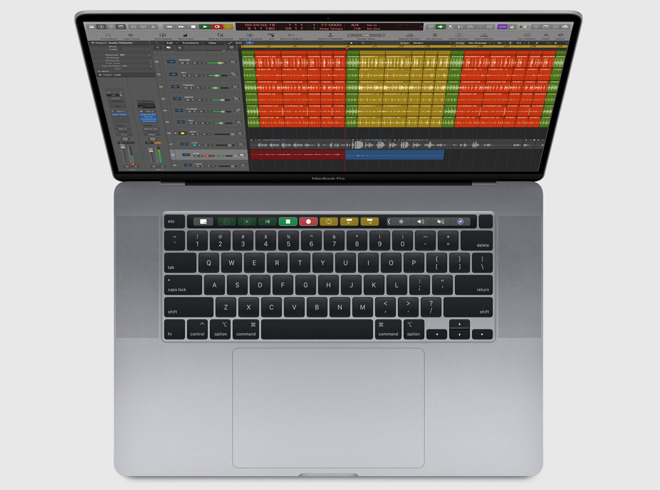 The most important Mac
It's easy to calculate why Apple updates its
MacBook Pro
lineup every year-- sometimes twice a year-- while its other Macs sometimes languish for years between updates. The majority of Mac buyers are opting for notebooks, a trend that has only increased over the past decade. MacBook Pro is also Apple's most profitable portable Mac.
For Apple to continue to attract discerning buyers who are willing to pay more for a premium experience, it has to deliver regular, practical technology updates. The MacBook Pro gets more attention for the same reason that airlines assign more flight attendants to their first-class passengers.
Yet Apple can't simply just throw money at its engineering teams to produce the right product for its customers. In some cases, the company is held up by partners-- such as in the availability of Intel chips and the features Intel chooses to support. In other cases, the issues might be simple physics or Apple's own previous design choices.
Apple has been working in parallel for years on how to deliver its new
Mac Pro
, a task that required working to
gain a better understanding
of what its customers need, rather than simply delivering a processor speed bump or other general new feature.
Apple's Craig Federighi acknowledged "we designed ourselves into a bit of a thermal corner" with the compact, cylindrical heat sink design of the 2013 Mac Pro. That problem was based on expectations that a dual-GPU architecture would serve Pro users best, before it turned out that, as Federighi stated, "workloads didn't materialize to fit that."
Apple has to speculatively engineer hardware solutions to the market
several years out into the future
, making assumptions about what software will be developed and in use by that time. The 2013 Mac Pro was delivered more than a year before Apple's new
Metal graphics architecture
was finished for Macs.
And while it's easy to bash Apple for delivering a Mac that didn't perfectly please the entire market, it was making its plans for the 2013 Mac Pro in parallel with the development of its own
A-series custom silicon
for iPhone and iPad. On mobile devices, Apple could optimize its custom silicon to serve iOS. On the Mac, it has to optimize its operating system and other computer hardware to work with outside chips from Intel and AMD.
It appears that Apple's MacBook Pro ran into similar issues as its Mac Pro. The company has also had to balance what consumers are interested in buying with what it can deliver in a notebook, thin enough to carry yet large enough to deliver an ideal display workspace and typing experience.
The new
16-inch MacBook Pro
has to make a series of complex engineering decisions to accommodate a larger display and higher quality audio while also being faster without running hot, and delivering mobility without giving up the keyboard experience it created for its desktop Macs.
Simple criticism
To blogger critics who have never done anything apart from writing their opinions on a subject, the solutions are simplistic: stop making light and thin machines, go back to using a keyboard from 2015, and add more RAM! Also, be faster with less heat and don't spin those fans up! Physics are not a problem when you ignore them.
However, Apple is tasked with actually building and selling its MacBook Pro and other Mac models. The $25 billion in annual Mac revenues is needed to sustain the development of macOS while also charting out the future of the platform.
As much as some critics would love Apple to become just like their favorite PC cloner, if Apple were to deliver every model category imaginable and offer every feature option-- including making every feature optional-- it would also experience the same commercial results of its PC competitors. It would earn far less money and have a tiny shred of its current profits to invest in developing its custom optimized OS, software, and a refined overall experience.
Microsoft has similarly unlimited resources to throw at hardware design, but its engineering decisions haven't created similar business generating double-digit billions of annual revenues for both tablets and conventional PCs. Further, Microsoft has ground its OS development to a halt and delegated the future of its mobile devices to Android. Let's not wish that level of crowd-pleasing complacency on Apple.
Rather than throwing out a wish list of demands completely detached from reality, take a look at the engineering decisions Apple made and what they tell us about the future of Macs.
Faster
Running CPU benchmarks on the new 16 inch MacBook Pro
suggests that it isn't much faster
. But CPU benchmarks aren't a good or complete representation of what makes a notebook better.
Intel has shifted much of its recent efforts from simply delivering faster-clocked chips to engineering a processor that is power-efficient and can scale its performance to the task at hand. It has also packed on features to accelerate specific tasks, such as encryption.
To allow Intel's CPU and AMD's Radeon Pro GPU to achieve their full potential, Apple had to engineer a new thermal architecture for the MacBook Pro, allowing its processors to reach and sustain maximum performance without idling them back to prevent overheating.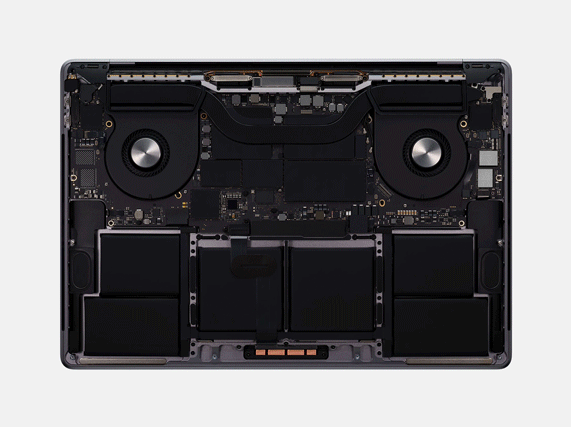 Thermal condition with fan location on the new 16-inch MacBook Pro
One way to do this is to run the fans faster, but this also results in a louder machine where fan noise might interfere with the work you're doing. Determining how to solve the problem is as difficult as actually solving it.
That makes it interesting that Apple goes into details of facets of its new cooling system, detailing larger heat sinks and noting a fan design with "larger impellers with improved fan blades for optimal airflow and more heat-dispersing fins for more effective cooling."
And more than just its processors, the new MacBook Pro aims to accelerate real-world tasks based on Apple's multiple-year study of workflows explored by its
Pro Workflow Team
. That includes expanding support for more memory for more efficient multitasking, loading hundreds of audio samples, editing billion-pixel images, or running multiple virtual machines.
Custom silicon
Storage responsiveness is just as important in minimizing wait times as computational speed. For pro users, the time spent waiting on any task can mean a disruption of their creative flow and an interruption that makes them less productive. So another important aspect of performance is SSD storage. Apple's custom controllers provide support for up to 8TB-- if you can afford it-- with up to 3.2GB/s sequential reads. That means pro users working with large files won't be sitting around waiting for data transfers to finish.
Along with its custom SSD controller, Apple has also addressed media encoding and encryption speeds on its custom T2 chip, which also handles modern Macs' security features and enables new productivity features including
Sidecar
and
Continuity Sketch
.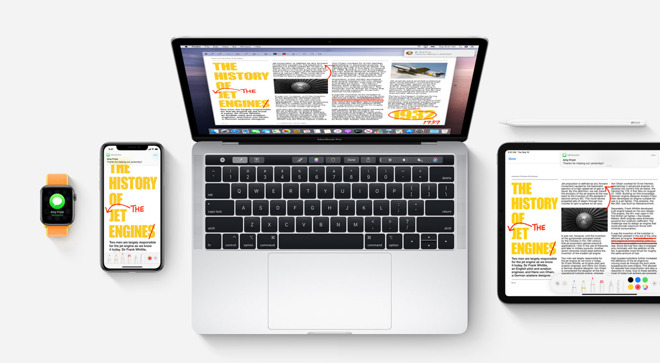 The T2 chip in the new 16-inch MacBook Pro enables new features like Sidecar and Continuity Sketch.
The T2 demonstrates that Apple can continue to add custom silicon features next to the third party CPU and GPU it builds into its systems. It also shows how Apple can continue to integrate the iPad with Macs. One of the features of the T2 is support for Touch ID and the Touch Bar, effectively an iOS device built into the MacBook Pro.
A few critics have dismissed Touch Bar itself, specifically mourning the loss of the escape key which Touch Bar turned into a virtual target. In response to that feedback, Apple has inset the Touch Bar between two physical keys: escape on the left and Touch ID on the right.
Some users have complained about not having a full row of physical Function keys as well, but if Apple were guided by the least imaginative of its customers, it wouldn't have Touch Bar at all differentiating its high-end notebooks, and Sidecar would be missing a major feature. As it is, Touch Bar has gotten significant third party developer support in pro applications, helping to enhance the experience of Apple's MacBook Pro machines while differentiating them from Ultrabook lookalikes.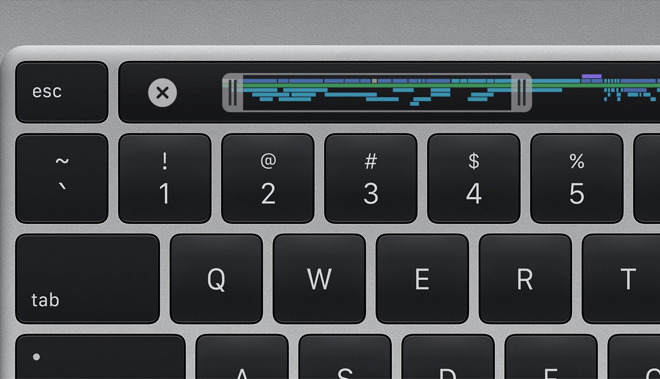 New keyboard on the 16-inch MacBook Pro
Keyboard
Another major design goal of the new MacBook Pro is its new keyboard, which Apple is calling by the name of its standalone keyboard created for desktop Macs: the Magic Keyboard.
The Magic Keyboard, in turn, got its name from the Magic Mouse, Apple's touch-sensitive mouse. There isn't any touch-sensitive "magic" in Apple's standard desktop keyboard, but it does serve as a way to magically shift the engineering direction away from the ultra-thin non-scissor butterfly keyboard that a variety of bloggers have worked to demonize based on anecdotal evidence of failures and personal feelings.
The truth is, we have
lots of data
on the reliability of MacBooks before and during the shift to what Apple itself called out as its new butterfly keyboard mechanism. This data shows that the initial MacBooks did have problems, but successive generations have minimized issues to the point where the entire machine is now more reliable, even considering keyboard issues.
Apple itself has claimed that the majority of its users are happy with its butterfly keyboard, and have no problems with it. But more importantly, we know that repairs to keyboards are so expensive that we don't have to trust Apple's claims -- the company would not be making any profits from Macs if it were servicing a significant number of its keyboards multiple times. Nobody had a greater motivation than Apple to make sure that its keyboards were working well.
That makes the campaigns by various bloggers to brand themselves as the saviors who would kill non-scissor keyboards particularly suspect. They refused to consider data or even basic logic, and continued to whip up a frenzy on non-scissor keyboards as ignorant or malicious as the campaigns to vilify vaccines. As a result, lots of users have been confused about the subject and grew to believe that there is something intrinsically defective with a keyboard that is "not scissor."
There are plenty of scissor keyboards that are known to be unreliable, including those used by Microsoft Surface-- which were rated by
Consumer Reports
as less reliable than average PCs. Yet anti-butterfly bloggers even recommended that users leave MacBooks and buy a Surface, achieving a new pinnacle of false reporting, largely just to gain a viral audience of followers.
The reality is that Apple developed its butterfly keyboard mechanism for MacBooks specifically to support a thin notebook design. As has happened when Apple and others have introduced new keyboard designs, some didn't like the change.
Keyboard feel is very subjective. If you grew up on an IBM Selectric style keyboard with big heavy keys, any compromise for getting thinner might be considered a negative. But things change. Younger generations are now comfortable typing on glass.
The war on butterfly has created the public perception, however, that Apple had to "fix" its keyboard. There were many ways Apple could have addressed this. It could have reverted to the scissor chicklet style keyboard, or it could make a series of improvements that delivered a better keyboard all around.
Apple started with its desktop keyboard and identified a series of improvements it could make to deliver the best typing experience, including locking the spring mechanism into the keycap to deliver a more stable key feel with less jiggle; a new rubber dome design to preserve the potential energy in a keypress, resulting in springier return; and a deeper travel mechanism.
The end result is a better keyboard, not just an older one. The new keyboard, a new thermal design, a new larger battery and a variety of other factors results in a slightly thicker machine, but the difference-- less than 1 mm-- seems like it would be difficult to notice. That slightly thicker battery does, however, support an extra rated hour of operation.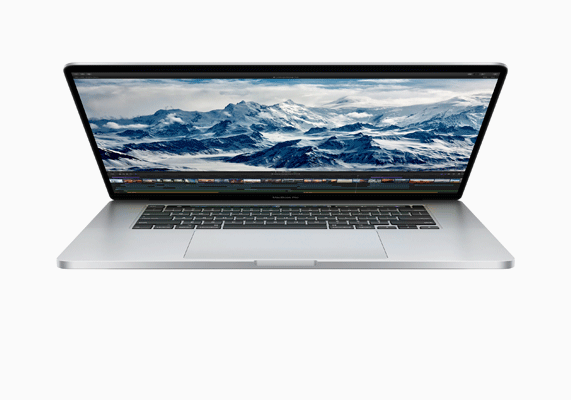 Bigger battery on the new 16-inch MacBook Pro
Display
The new 16 inch MacBook Pro delivers Apple's largest and highest resolution mobile Retina display. The jump in resolution to 5.9 million pixels, at 3072 x 1920 pixels-- versus the 2880 x 1800 in the 15.4-inch MacBook Pro that debuted in 2016-- is handled by the "next-generation graphics" supplied by an AMD Radeon Pro 5000M GPU with up to 8GB of VRAM.
AMD's GPU is specifically optimized for Apple's Metal graphics architecture, enabling it to handle nearly a million extra pixels with faster performance. The new, larger Retina display also features 500 nit brightness thanks to an enhanced reflector sheet in the backlight that reflects incident light to achieve high brightness while remaining battery-efficient. The display also uses a narrow-band LED backlight to deliver brilliant, realistic color across the P3 wide color gamut.
For even more impressive display capability, the new MacBook Pro supports connecting to a pair of Apple's upcoming Pro Display XDR panels via Thunderbolt 3. You can alternatively attach to four 4K displays. The high-speed expansion potential of Thunderbolt 3 and its familiar USB-C connector are an endorsement of a strategy a lot of people had doubts about several years ago.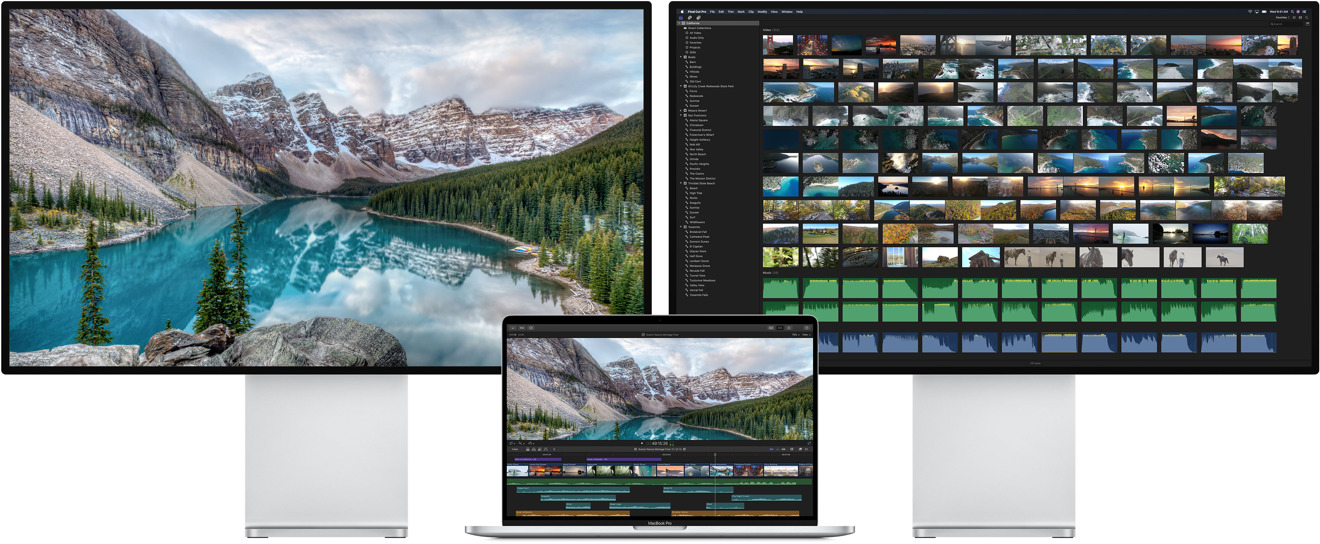 It's getting increasingly difficult to find anyone wishing that Apple had built in old style, slow USB A connectors on their device so they could continue to use old cables
The high-end audio and recording
Another set of changes Apple made relate to audio. Replacing the two tweeters and two woofers that delivered really good, wide sound on existing MacBook Pros, the new 16-inch model gets six speakers, including two additional woofers.
The problem with a low-frequency woofer in a mobile device is that to make deep sound, its speaker cone has to fire in and out forcefully enough to push air, potentially creating buzz or hum within the interior. Apple is now using two woofers in sets, positioned to balance each other out and damper that recoil.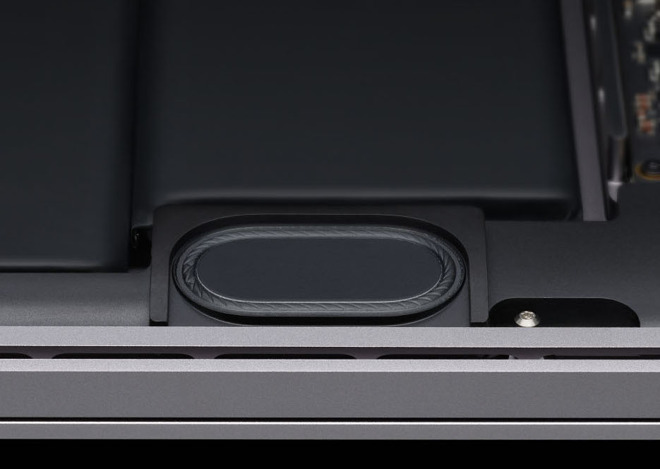 Apple's new 16-inch model has six speakers, including two additional woofers.
The new system supports Dolby Atmos, which creates a stereo soundstage calculated to match the audio positioning in space of the recorded source. That differs from standard stereo recordings, which simply record a right and left audio channel for playback in parallel. Atmos delivers a recipe for audio positioning that the MacBook Pro interprets using its speakers, and is a technology Apple has incrementally adopted across its devices, following its acquisition of
Beats Electronics
.
And beyond playback, the new MacBook Pro's microphones let you record audio with more clarity. Podcasters and videographers have qualified the mics as being about adequate for recording a podcast in a pinch, but not on the same level as a specialized mic, which is impressive given the difference between setting up a specialized studio mic and simply using your notebook as is.
On the other hand, Apple got some pushback for sticking with 720p FaceTime video, rather than increasing the quality of its video camera. Apple might someday enhance FaceTime on Macs, but it may also continue to be an area of improvement held for iOS devices, which people are more likely to be using to video chat with friends. Apple's enhancements to FaceTime and the apps platform that supports iMessages on iOS, including Animoji, is interconnected with iOS and the TrueDepth sensor.
So far, TrueDepth and Face ID have only appeared on Apple's high-end iPhone X models and its iPad Pro. Bringing this to the MacBook Pro line requires both new hardware and, more importantly, support for depth-based imaging and iMessage apps. There have been rumors that Apple is working to bring this over-- possibly using Catalyst-- but the fact that this software doesn't even exist yet helps to explain why it isn't introducing a marginally better FaceTime camera hardware on Macs.
Wireless and UWB
There are two other features to appear on Apple's latest and best iPhone 11 Pro phones that haven't made it to the Mac. One is support for the latest WiFi 6 802.11ax. The new MacBook Pro supports 802.11ac aka WiFi5. The new MacBook Pro does, however, support a dual antenna design, allowing it to maximize the data throughput of its hardware.
The other is Ultrawideband, which Apple has only partially introduced on its newest iPhones despite creating unique U1 silicon to handle it. There is likely to be a lot more coming down the road.
UWB was developed as an alternative to Bluetooth and is suited to location-aware features that may be somewhat less applicable to a notebook. However, as we've seen in the progression of the T2 chip, we may at some point see more iOS custom silicon moving to the Mac over time, particularly as valuable features emerge for taking advantage of it.
As it is, the new MacBook Pro continues to support Bluetooth 5, as well as the new Find My feature that allows users to leverage existing signals to securely locate a missing Mac notebook, even when it's sleeping.
Ambitious advancement of the state of the art
In the same way that Apple keeps finding new features for Bluetooth -- and for other existing hardware including the T2, which
macOS Catalina
uses to enable the encrypted virtual display stream that drives Sidecar--the new hardware advancements rolling out in new Macs will continue to
drive new features for years
after their launch.
The engineering decisions that Apple is making are not always unassailable. But the company's record of responding to its users, correcting mistakes, and even proactively studying in detail what it can do to make users' real-world workflows smoother, faster and less frustrating all make it clear why Apple is so dramatically ahead of its hardware competitors in every commercial metric.
The new MacBook Pro, and the upcoming Mac Pro, demonstrate a future direction for Apple that both aligns with the needs of its customers and is fully invested in continuing to refine and advance the state of the art.