Early macOS Big Sur adopters running into teething issues
Posted:
in macOS
edited November 2020
The release of
macOS Big Sur
has been problematic for Mac users in a number of ways, launch issues that Apple is probably already working to fix in upcoming operating system updates.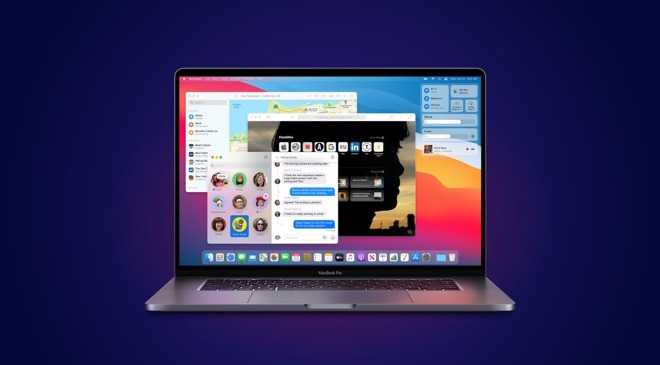 Despite the best efforts of development teams in improving software in lengthy beta tests before the release of a major version, problems almost always creep through to the final release. The story is the same for macOS Big Sur, a major update that Apple is not only making sure works properly across both Macs with Intel processors and those using the
M1
, but also one that introduces changes and new features.
Initial reports surrounding the release have dealt with bigger issues, such as the
troubled launch
and the privacy-related scrutiny that followed. However, posts to the Apple Support Communities indicates there's many other smaller issues with Big Sur that need to be addressed.
As with any initial release of an Apple operating system, the company is likely to introduce fixes and patches in future software updates to rectify the complaints. In some cases, the problems may seemingly fix themselves in a later update, without any confirmation from Apple that a fix took place.
What follows is a partial list of issues that appear in the support forum less than a week after release.
Bricked older MacBook Pro models
Some users are discovering the update to macOS Big Sur is failing on the 13-inch MacBook Pro, specifically covering the late 2013 and mid 2014 models. Attempts to update can get stuck and result in a
permanent black screen
.
Typical attempts to restart the MacBook, including using Internet Recovery or booting to Safe Mode, are either unavailable or do not work in such cases.
Apple has yet to officially comment on it publicly, but at least one user claims the issue has been escalated to engineering teams.
Apple Watch connectivity
An issue with the way
the Mac communicates
with the Apple Watch has been found, with users complaining the
Apple Watch Series 6
is no longer
being recognized
. One user reports enduring constant disconnections in the macOS update just before Big Sur's release, with the major update likely to have made the fatal blow.
Other users have the same issue, but between an iMac running Big Sur and an
Apple Watch Series 5
, with macOS no longer using the presence of the Apple Watch to
automatically authenticate
the user.
Mail
The Mail app has a wide variety of issues, including how attempts to use
IMAP times out
at login, with the problem being server agnostic.
Outgoing mail
has also failed for some, possibly under the same authentication issues.
Mail search
also fails, with lengthy search times and truncated results accompanied by complete failures to bring up results at all. Attempts to rebuild the database and redownloading messages once again didn't fix the problem for one user.
Other Mail complaints include the app using
100% CPU
when running, the loss of
all "Trash" mail
and the subsequent complete loss of deleted emails, and a missing
attachment paperclip icon
.
Menu and Interface
Some users are discovering the upgrade to Big Sur has resulted in an issue with the
main Menu Bar
, in that it is solid black in color. For one user, it remains the same regardless of changing between light and dark modes, as well as restarts.
Another discovered that all of the windows have
lost their transparency
, with each appearing as just white or grey. Replies suggested that the "Reduce Transparency" option in the Accessibility System Preferences menu may have been switched on by accident, though not necessarily an action performed by the user directly.
Smart Keys
One user complained that their YubiKey nano 5 they used for
smart card logins
in macOS Catalina was working for several months, but hit intermittent problems with the Big Sur upgrades. Attempts to perform actions requiring root privileges brings up the usual PIN entry dialog, but the dialog box hangs after the PIN is entered.
The issue only affected root privilege actions via the GUI, as the same dialog for terminal prompts works fine, as well as for logging in to macOS itself.
Screensavers
Some users are complaining about the
Classic Screen Saver
not working, regardless of whether the user's own photographs are used or Apple's collection. For one user, selecting images in the screensaver's menu will load the
first set of images
only, and not other sets.
Messages
For the messaging system, one user warns Messages asks for them to log in, then will load for 20 seconds
before quitting
and bringing the same log-in prompt again. Others complain that both FaceTime and Messages have
stopped working
entirely after the update, or is
generally slow
and unresponsive.
The keyboard shortcut to
quick-delete
messages, Option-Command-K, isn't working.