Charity auction offers lunch with Eddy Cue at Apple Park
Apple services chief Eddy Cue has followed CEO Tim Cook in offering a lunch date to the winner of a charity auction, with the latest Charitybuzz lot aiming to raise funds for the National Association of Basketball Coaches Foundation through the sale of a meeting with the executive at the new Apple Park headquarters.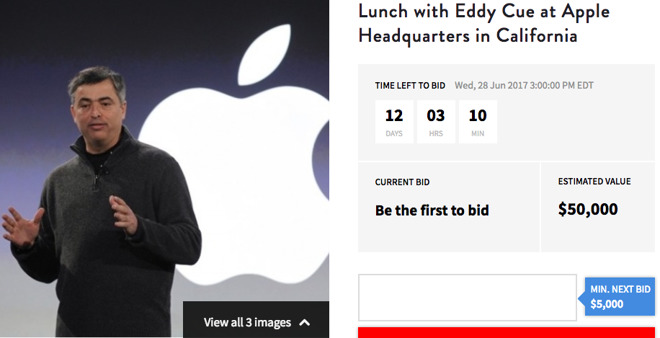 The
Charitybuzz auction
page reveals the winning bidder will have lunch at the 175-acre
Apple Park
in Cupertino, CA, engaging in a "one-on-one, in-depth conversation" with the executive. The lot is a private meet-and-greet for one person, including a meal and gratuity, to be scheduled at a mutually agreed upon date between the bidder and Apple before June 30 next year.
While the auction lot does include a visit to the campus, it is noted as not including a "formal tour" of the headquarters, and photography of the occasion is not permitted. The winner will have to make their own way to the headquarters, as travel and accommodation is not included as part of the lot.
The auction is currently underway, and will run until 3PM EDT on June 28. At the time of writing, there are no bids on the auction, but Charitybuzz has given it an estimated value of $50,000.
The auction benefits the National Association of Basketball Coaches Foundation, which supports charitable and educational programs in the NABC, including the TTRR national literacy program targeting middle school-aged youth.
Cue
is a major fan of basketball, and was recently
spotted courtside
after the Golden State Warriors beat the Cleveland Cavaliers to claim the NBA championship.
This is not the first time Eddy Cue has put his time up for auction in the name of charity. In 2014, Cue
raised $85,000
in a similar lunch auction, with the addition of a MacBook Air to the lot.
CEO Tim Cook's auction for a one-hour meal at Apple Park last month
raised $688,999
, beating the $515,000 raised last year, and the record $610,000 from the 2013 auction. Robert F. Kennedy Human Rights was the beneficiary of this year's Cook meal auction.