Look to the new Mac mini with Thunderbolt 3 to predict what the 'modular' Mac Pro will be
There aren't many users who have a real need for the internal expansion options that the old Mac Pro used to give us -- yet they are loud and there will probably be a roar of disappointment when the machine comes out, because we don't think "modular" as it refers to the forthcoming Mac Pro means what some of the devout want it to mean.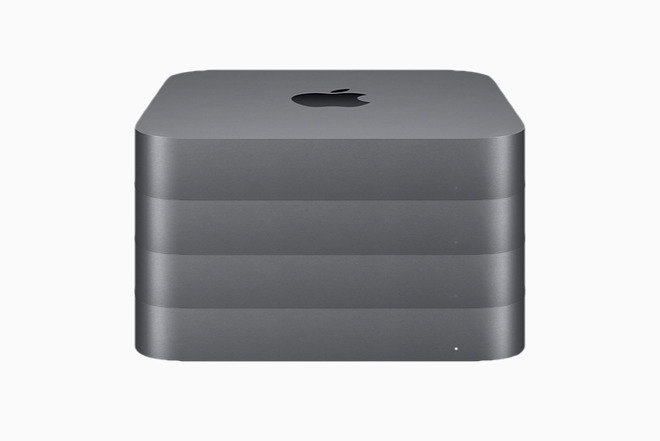 Mockup of future Mac Pro based on Mac mini
Here's a guarantee for you. When Apple launches the new Mac Pro some time in 2019, it will be later in the year than you'd hope -- and people will be disappointed. We're not saying the machine will be garbage, we're not saying that at all. What we're saying is that it is not going to be what so many appear to be expecting.
Specifically, if you're waiting for the return of the old Mac Pro cheese grater, you can start drafting your angry tweets right now. As much as we loved that old Mac too, it's gone and it isn't coming back.
You could guess this from the way Apple always works but in this case we're pretty sure that we know what's coming, and what isn't. There's no real need for leaks, no need to wait for analyst predictions or photos from the supply chain. Instead, just listen to Apple itself.
Apple is being clear
We all talk a lot about how the company says nothing it doesn't absolutely have to. We also have a good time puzzling over its cryptic event invitations but this time, there's none of that. This is as plain-spoken as Apple ever gets.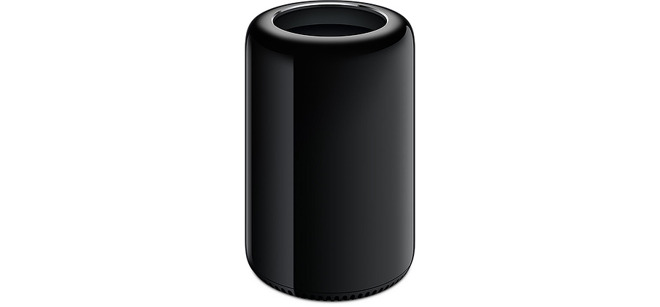 Exterior of the current Mac Pro
It's rare for us to have any information about future Macs but
back in 2017 Phil Schiller and others briefed journalists
on the future of the Pro line.
"With regards to the Mac Pro, we are in the process of what we call "completely rethinking the Mac Pro". We're working on it," said Schiller. "We have a team working hard on it right now, and we want to architect it so that we can keep it fresh with regular improvements, and we're committed to making it our highest-end, high-throughput desktop system, designed for our demanding pro customers. As part of doing a new Mac Pro -- it is, by definition, a modular system -- we will be doing a pro display as well."
You can take a hair and split it about what exactly the word modular means. Since you had to add a display to the cheese grater Mac Pro, that system was effectively modular.
Yet you know that one of the strengths of that machine was that you could pack it full of storage and graphics cards. And you know that a big criticism of the 2013 Mac Pro was that you couldn't pack it full of anything. Apple expected you to add storage and graphics and anything else you can think of hanging off its myriad ports.
No question: we prefer the ability to rip open the Mac and add what we need directly to it. Some of us have been doing it to Apple products since the '80s.
The shortest route from, say, SSD drive to Mac is best. The way you had to spin the 2013 Mac Pro around to plug in cables is worst.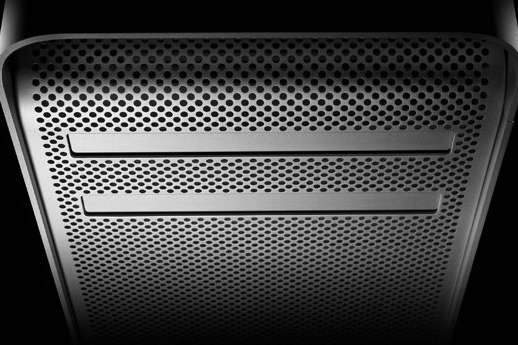 Detail of the old 'cheese grater' style Mac Pro
We've said it before.
Back in April
, we said that nearly every
AppleInsider
reader is not a typical Mac user.
"Wanting to upgrade your Mac doesn't make you a 'Pro,' and being a 'Pro' doesn't mean you want to upgrade your Mac."
In the absence of any figures from Apple, we made informed analysis about just how many of us ever upgrade our Macs and the most generous numbers in favor of upgrading came out as one person in five ever cracking the case for anything at all, including popping down that little door on the back of an 27-inch iMac to add RAM -- and this number goes back to the beige tower G3.
Ports reporter
If Apple wanted to reassure those of us who do want the ability to upgrade, it only needed to say one thing -- PCI-E. If the company had said that at any time in the many chances it's had to tell us anything further, we'd know so much more. Instead, we've still gotten "modular," repeated.
A Mac with PCI-E is a Mac that can be upgraded with internal graphics cards. A Mac without it is one that's going to use external graphics.
It's also one that is going to do this via Thunderbolt 3. Every Thunderbolt 3 port is functionally the equivalent of a single PCI-E 3.0 slot, except that it's for external devices. No Thunderbolt 3 port is ever going to be quite as fast as a PCI-E 3.0 x16 connection but in practice with an eGPU you don't lose a lot -- we've seen cards perform at about 80 percent of the speed that it would deliver on a native PCI-E connection.
We do still have to say that this is theoretical, though, because Apple is being unusually slow in supporting Nvidia graphics cards in macOS Mojave. So it's not unreasonable to suspect that there will be limitations on what will or won't work with the new Mac Pro.
The principle, though, is still that Apple now prefers the idea of you connecting what you need externally. In that same April 2017 briefing, Schiller summed it up by saying "we think it's really important to create something great for our pro customers who want a Mac Pro modular system."
Then skip forward to April this year when Apple announced that the new Mac Pro wouldn't ship until 2019. John Ternus, Apple's Vice President of Hardware Engineering,
mentioned a key word
. "There is absolutely a need in certain places for modularity," he said. "But it's also really clear that the iMac form factor or the MacBook Pros can be exceptionally good tools."
Begins with M
The 2019 Mac Pro will be like the current model and the new
Mac mini
. One system to which you can add what you need.
"There's many different types of pros and obviously they go really deep into the hardware and software and are pushing everything to its limit," said Ternus "So, one thing you have to do is we need to be engaging with the customers to really understand their needs. Because we want to provide complete pro solutions not just deliver big hardware which we're doing and we did it with iMac Pro."
Call us devout
To be clear, this isn't what we're looking for in the new Mac Pro. While we do agree that Thunderbolt 3 is a fantastic choice for the machine insofar as connecting high-speed storage and devices, we'd like to see m.2 slots, a pair of x16 PCI-E slots, and slotted RAM in an enclosure about the size of the eGPUs that we've reviewed.
We think we're just going to get the RAM, though, as the wider professional market that doesn't upgrade their machines probably speaks louder that we do.
Not listening
Again, Apple has been clearer about this than about any other product it has ever shipped. Unfortunately, it's as if we're so used to the company's secrecy that we can't process it when they open up their plans at all.
Look at this other example of Apple being straight with us. Right in that same 2017 initial briefing, Schiller also said: "Now you won't see any of those products this year; we're in the process of that." This is surely why in April 2018, Apple announced that "We want to be transparent and communicate opening with our pro community so we want them to know that the Mac Pro is a 2019 product."
The moment they did that, though, they got accused of changing the schedule, of pushing the release back.
"I don't think that the timeline has fundamentally changed," Ternus responded. "I think this is very much a situation where we want to measure twice and cut once and we want to make sure we're building a really well thought-out platform for what our pro customers are doing today. But also with an eye to what they're going to be doing in future as well."
Slapped foreheads
Only Apple knows for sure right now what they have planned. We do know that they read
AppleInsider
and on this topic, we don't know if they're nodding in agreement, or having a bit of a laugh behind the glass doors in the new headquarters.
It's been easy to see reports of the new Mac Pro and believe that we'll get what "we" want. But, Apple has very carefully crafted a message about what we should expect -- and what they aren't saying is as important as what they explicitly are.
Keep up with AppleInsider by downloading the AppleInsider app for iOS, and follow us on YouTube, Twitter @appleinsider and Facebook for live, late-breaking coverage. You can also check out our official Instagram account for exclusive photos.