Review: Apple's 11-inch iPad Pro is stunningly powerful, with a few key limitations
Posted:
in iPad
edited January 2021
Most reviews of the 2018 iPad Pro focus on asking if the new device can finally replace a laptop -- but that's the wrong question. The real question is, does Apple truly want the iPad Pro to replace a laptop?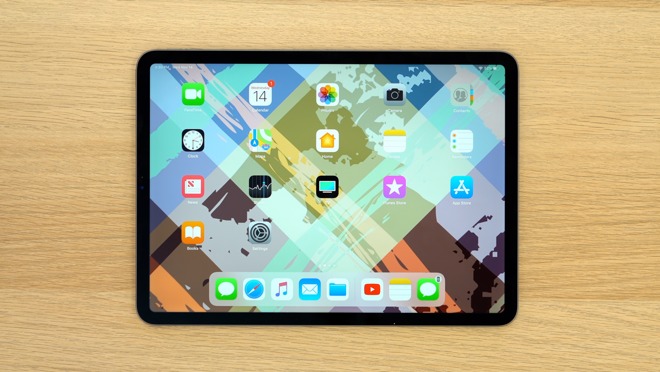 11-inch iPad Pro
What you get
The 10.5-inch version has a screen-size increase to 11 inches, with the bezel changes allowing it to fit in within the same-sized body without majorly changing the case dimensions. It is 5.9mm thick, and is one of the thinnest products Apple has ever made, with it weighing far less than the original iPad at just one pound as compared to 1.5 pounds.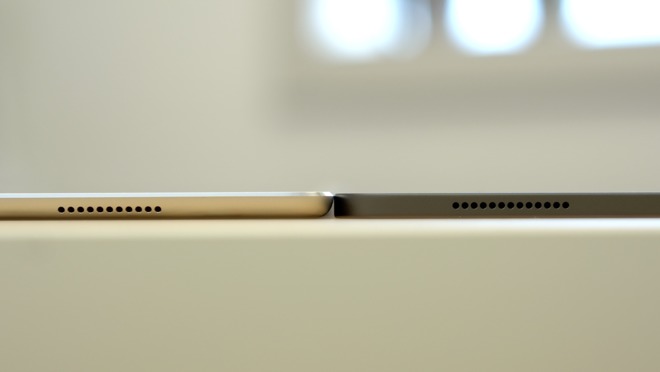 11-inch iPad Pro vs 10.5-inch thickness
The screens are now branded Liquid Retina and have rounded corners, using the same pixel masking techniques as used on the iPhone XR, as well as a new backlight design. Support for wide color, True-Tone, and the 120Hz ProMotion technology are also included.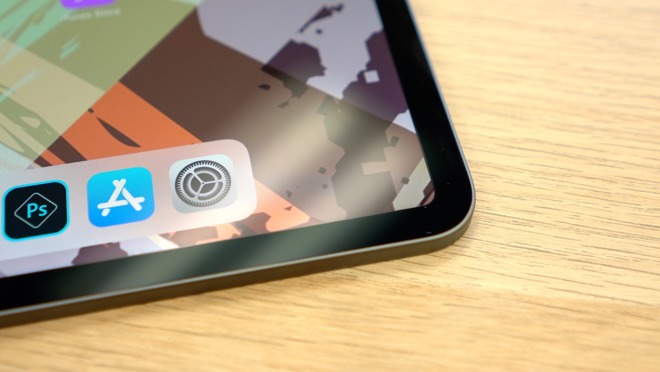 11-inch iPad Pro rounded display
Powering the two models is the all new A12X Bionic processor, produced on a 7-nanometer process and consisting of 10 billion transistors. The eight cores onboard include four performance cores and four for efficiency, with Apple claiming single core performance up 35 percent and multi-core workloads 90 percent faster than the previous model. Our own testing showed results in that ballpark.
Apple claims the new
iPad Pro
models are faster than 92 percent of all portable PCs sold in the last year.
The Apple-designed graphics processing in the iPad Pro consists of a seven-core GPU, which is said to be a thousand times faster than the original iPad. Apple claims the iPad Pro sports the equivalent of the graphics found in an Xbox One S, in a product that's 94-percent smaller.
The chip also uses the latest generation of neural engine, capable of 5 trillion operations per second.
These new models switch the front 7-megapixal camera for a similar-resolution TrueDepth camera, which means Portrait mode comes to the iPad for the first time, though it's limited to selfies. Those portrait photos do get all of the latest additions Apple has made to this feature such as adjustable Depth Control for the bokeh and background blur. The back camera, in comparison, gained only minor improvements, retaining the same 12 megapixels as before albeit losing a lens element in the assembly.
Apple hasn't highlighted the exact changes to the camera other than to say it has been "redesigned" but we can make reasonable guesses based on the corresponding cameras on the iPhone XS and iPhone XS Max. Based on the sample images we took which are a bit more vivid and slightly better in low light settings, Apple likely increased the pixel pitch to allow more light to be taken in by the sensor. Photos also fire off faster thanks again to that A12X processor and the new Neural Engine.
The camera is equipped with Smart HDR, a quad-LED True Tone flash, and an f/1.8 aperture. It records 4K video at up to 60fps which is double the frame rate from last year, with 120fps at 1080p and 240fps at 720p slo-mo video options.
The new models continue to use four speakers for audio, this time with woofer and tweeter pairs. This provides added stereo representation and definition to some already great speakers. There is also Gigabit-class LTE connectivity, as well as eSIM support for cellular network access.
What we think
The iPad Pro was long overdue for a reworking after carrying over the same general aesthetic since 2013's iPad Air. Apple clearly didn't want your revolutionary iPad Pro feeling like last year's old model, so it changed nearly everything.
The 2018 iPad Pro has a lot of firsts -- the first rounded corner display in an iPad, the first with Face ID, and the first with a USB 3.1 type C port. Beyond requiring more space for internal components like TrueDepth, an overhaul this major almost screams for a design refresh.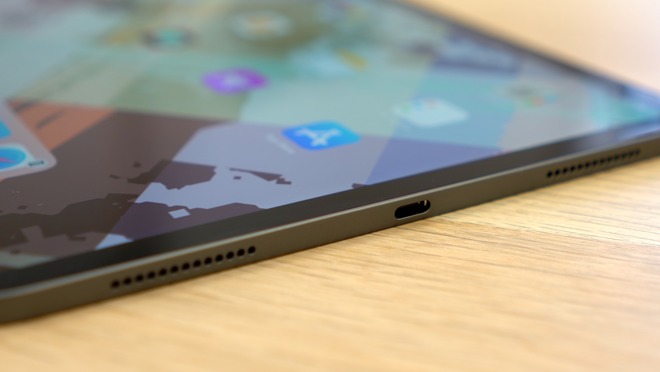 11-inch iPad Pro USB-C Port
It's pretty clear by the specs alone that the
11-inch iPad Pro
does everything better than the 2017 10.5 inch model. The bigger screen in the same footprint is obvious, and so is the performance.
Apple Pencil
On top of the larger design changes and additions, Apple Pencil gets its first redesign, one that replaces Lightning charging and pairing of the first version with a wireless system. Just bring the new Apple Pencil near the charging window on the side of the iPad, and it magnetically snaps into place. Within moments, it's paired and charging.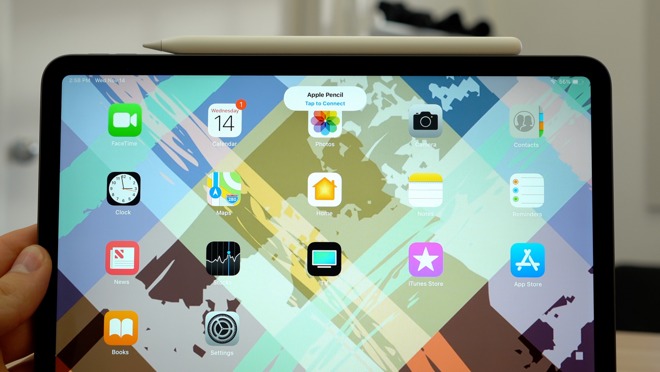 11-inch iPad Pro Connecting to Apple Pencil
The new Apple Pencil also features tap gesture controls, which we'll go in-depth with in our upcoming Apple Pencil version 2 review. We had to shake the iPad Pro like madmen to break the Apple Pencil's magnetic grip, so we're sure it won't fall off with regular use.
The new Smart Keyboard Folio now covers both the front and the back of the iPad Pro thanks to 102 magnets inside of the iPad and a relocated Smart Connector. While
we aren't excited
by the Smart Keyboard Folio, the Apple Pencil sits freely in its new home without being bothered by the new keyboard. Thanks to that, we expect third-party keyboards to accommodate a cutout for the new Apple Pencil's charging connector.
Retina display gets better
There are complaints that Apple stuck with LCD technology instead of shifting to OLED like the latest iPhones. It's true that an OLED panel would go a long way toward improving color accuracy and perhaps battery life, but iPad Pro's LCD is anything but antiquated and has features even the iPhone can't touch yet, such as ProMotion.
ProMotion allows the display to refresh up to 120 times a second for smooth animations and precise Apple Pencil tracking. Not only that, but it can dynamically adapt down to a refresh rate of only 24 times a second to match the content you're viewing so you're not wasting battery life.
Because of ProMotion, the Apple Pencil's input lag remains so minimal that it almost feels like you're using a pencil on a physical piece of paper.
Face ID benefits more than just authentication
Now that Touch ID is gone, iPad's massive top and bottom bezels are too, bringing the display closer to a user's hands in all orientations. Game user interfaces that have been updated for the iPad Pro are closer to the edge of iPad in landscape orientation for a much better experience.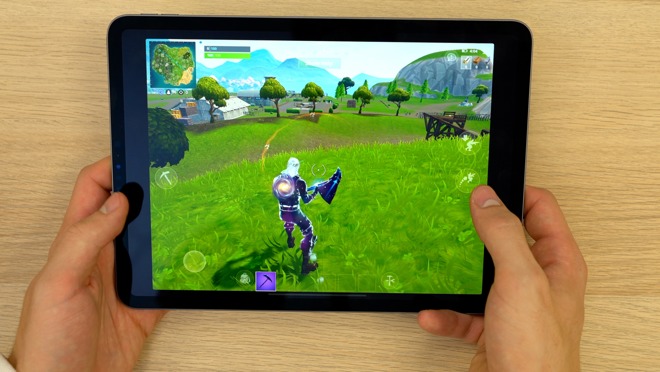 11-inch iPad Pro black bars with apps not supported the new display
Unfortunately, the
11-inch iPad Pro
creates yet another aspect ratio for app developers to deal with, and because of it, a large number of third-party apps and games have not been updated. At present, the iPad Pro is forced to scale most software presently available, resulting in unsightly black bars and unused screen real estate.
Blistering speed, to what end?
Apple's A12X Bionic breaks benchmark records.
In our initial testing
, it exported a 4K HEVC video in half the time it took the 10.5-inch iPad Pro to do so.
Games, apps, and the user interface all already run fantastically on the 10.5-inch iPad Pro. We only noticed a small difference between the new and the old iPad Pros in performance while editing photos in Photoshop, and there wasn't much of a difference when exporting them.
In the end it comes down to software. Right now, the new iPad Pro lacks the app support needed to take advantage of all of that power, whether it be a true multitasking interface or an easily accessible file system.
Does Apple truly want the iPad Pro to replace a laptop? It already has for a large segment of the larger computing audience. But, if you're reading this review because you're trying to decide whether it will work for you, Apple has made some specific, key choices that may well prevent it.
Your data, Apple's Files, and mass storage
Apple said that "A high-performance computer deserves a high-performance connector," which is USB 3.1 type C, but software support for that port and what it brings to the table in the iPad is extremely limited.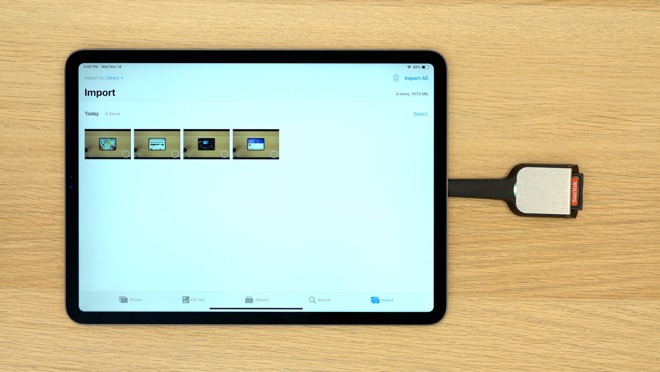 11-inch iPad Pro USB-C SD Card reader
Yes, you can connect a USB-C SD card reader and import photos and videos, but limitations abound when connecting a flash drive or hard drive. Without a supporting app, only photos/videos can be imported from these devices, and even then you must place them in a folder titled
DCIM
ahead of time.
Even if you could connect an external drive without restriction, Apple's Files app is limited and reliant on other apps that can handle the data. You can't edit photos or videos without first importing them into your camera roll, which then starts syncing them to your iCloud if you have that enabled.
We tried importing video clips directly from our Sony A7iii digital camera and they simply didn't show up. We discovered that iOS only recognizes and is able to import files that are within the DCIM folder and have names that are exactly 8 characters long with a three letter DOS-style suffix.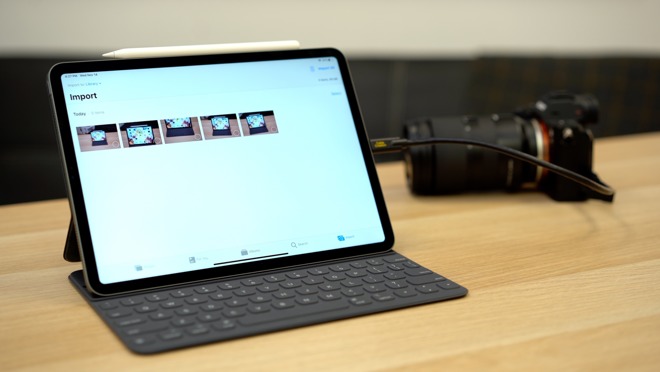 11-inch iPad Pro Connected to camera
To fix this, we had to go to our Mac and manually rename and move the video clips to the DCIM folder.
Going big, and external
Apple also showed off the ability to connect the iPad Pro
to an external display
, but with most software, it simply mirrors the iPad display. Regardless of what developers ultimately do with the ability, you still have to look down at your iPad Pro to control it.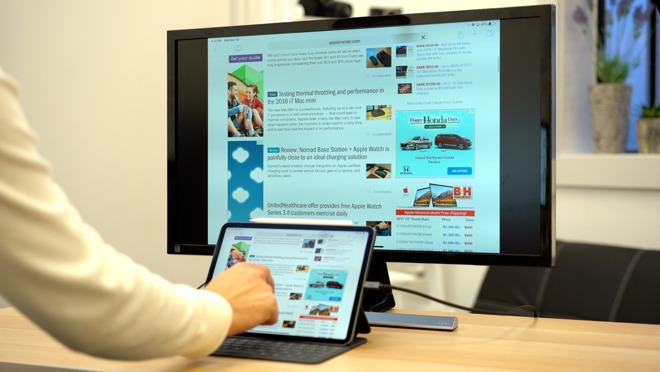 11-inch iPad Pro display mirroring
This is by design, and intentional. Apple doesn't appear to have any interest in the Samsung Dex concept, where users can plug in a monitor, keyboard, and mouse to a mobile device, and get work done that way.
Apple could do this, it has just chosen not to. Apple could also put macOS X on it, but it has also chosen to not do that nor is it showing any signs of doing so, at least in this device format.
Scoring the iPad Pro
The latest iPad Pro defies conventional scoring. There is no way to give it one numerical value spanning every possible use case, or aspect of creation or consumption.
Despite Apple's claims back in the '80s that the Mac was the computer for the rest of us, the actual fulfillment of that came with the iPhone, and then the iPad, and this extends to this, the most powerful iOS device that the company has created. This all comes down, again, to who is "us," though.
For the vast majority of
AppleInsider
readers, the iPad and iPhone won't replace our Macs or PCs. From a peripheral perspective, our workflows don't accommodate the lack of a mouse very well, to say nothing of overcoming inertia from using a "computer" for years if not decades.
However, the iPad, and iPad Pro can, and have, been able to replace this orthodox view of a "computer" for many years now. The iPad is a computer, and has always been. There is no one, true definition of computing, nor one universal direction that the future of it must go to.
Whether or not the iPad Pro fits into your personal workflow and can replace your MacBook Pro, PC workstation, or iMac is a matter for you to decide. It's got the horsepower to do so, it may just not have the flexibility. As the evolution has progressed, use cases that prioritize the iPad over other platforms are no less valid than any other, and there's no reason to look down or deride anybody who's made the shift to Apple's fondleslab full-time.
If you're primarily a content consumer, the new iPad will certainly fit the bill with a gross level of overkill for the chosen task. It is far more than capable of creating text, digital art, and animation, but falls down a slight bit on video creation not from a lack of power, but this lack of flexibility.
For the content consumer, the iPad Pro is a 4 out of 5 not because of what it can't do, but because of that overkill. For the content creator that has embraced iOS and all that it entails, the 10.5-inch 2018 iPad Pro is a solid 4.5 out of 5, with a slight ding for the ridiculous limitation on mass storage, reliance on the DCIM folder, and the weakness of the Files app. If you're a developer and are just going to use it for that -- or try to -- don't bother.
Where to buy
Apple authorized resellers offer a variety of perks on
iPad Pro
purchases, including no sales tax on orders shipped outside New York and New Jersey at
Adorama
, plus free shipping within the contiguous U.S. Shoppers can also take advantage of financing incentives with the Adorama Credit Card, such as no interest when paid in full within six months on iPad Pro orders over $500 -- or no interest when paid in full within 12 months on iPad Pros over $1,000. With the holidays fast approaching, having a little extra time to pay off the purchase can be beneficial.
For iPad deals across all lines, be sure to check out our
iPad Price Guide
.