The WSJ calling the iPhone XR a failure that 'can't sell' is ludicrously mistaken
The Wall Street Journal is telling stories of an arrogant fall from grace by the world's leader in smartphone profits, centering on the new iPhone XR -- a model that ostensibly failed to live up to its hyped expectations. However, that cyclical tale of Apple's impending doom is really a contrived bit of fiction that isn't based in facts.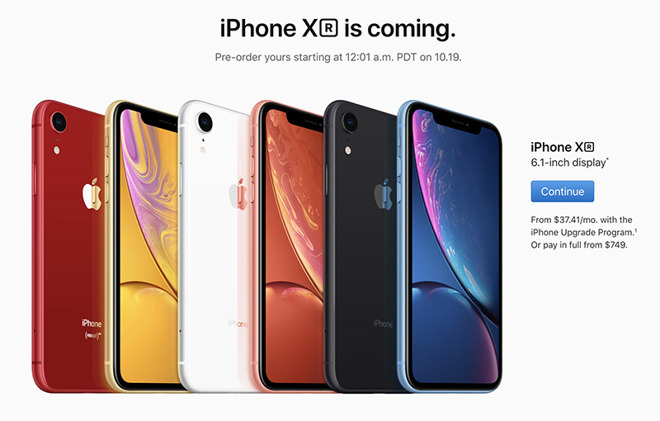 The dramatic XR story invented into existence by speculation
Writing for the
Wall Street Journal
, Yoko Kubota
invented
the idea that iPhone XR was specifically "The Phone That's Failing Apple," and supposedly the root cause of Apple's troubles in China and elsewhere. It portrayed the model as both not fancy enough and too expensive, resulting in it "being passed over by both price-conscious buyers and status seekers."
Despite the confidence implied in that headline, however, Kubota also stated that "it is too soon to call the XR a flop after only a few months," even as "sales have been weak," attributing both ideas to unnamed "analysts."
With Apple no longer reporting unit sales, even the total number of iPhones sold will be at best an estimate, and unit sales estimates for Apple have regularly proven to be
significantly wrong
. Analysts have regularly
wildly misinterpreted
even Apple's official sales estimates. So is there any way to know if iPhone XR is actually the unsalable failure that storytellers are claiming?
Of course there is.
Apple revenues, drawn and quartered
In his note to Apple investors, Tim Cook provided lots of details about the various causes contributing to a drop in expected revenues in the quarter but said
nothing specific
about iPhone XR failing to sell. Instead, Cook's only mention of iPhone models by name referenced the advanced launch of iPhone XS and iPhone XS Max at the end of calendar Q3 (Apple's fiscal Q4), in comparison to last year's fanciest iPhone X that first launched within the December quarter (fiscal Q1).
"Our top models, iPhone XS and iPhone XS Max," Cook noted, "shipped in Q4'18-- placing the channel fill and early sales in that quarter, whereas last year iPhone X shipped in Q1'18, placing the channel fill and early sales in the December quarter. We knew this would create a difficult compare for Q1'19, and this played out broadly in line with our expectations."
In other words, part of the drop in Apple's YoY iPhone revenues was simply because Apple's most expensive, revenue-generating flagship last year occurred entirely in the December quarter, while this year the launch revenues of its two most expensive models-- including preorders and the inventory shipped into the channel-- were booked before the quarter began, contributing to a record September quarter but only a second-place all-time high for the December quarter.
iPhone XR sales in the December quarter were also only generating about 75 percent of the revenue of the more expensive, higher-end iPhone XS models, so making a direct comparison between the two arbitrary 90 day periods fails to capture those details.
Apple's September quarter posted revenues of $62.9 billion, up 19.6 percent YoY. If you combine this with Apple's revised guidance for the December quarter, Apple's second half of calendar year 2018 will have generated a total of $146.9 billion, compared to $140.9 billion last year, an overall increase of 4.25 percent. Looking at that bigger picture, both the wild exuberance in September that contributed to a nearly 24 percent increase in Apple's stock price into October-- and the deathly gloom of the present that has fueled a greater than 36 percent drop into January-- were both misplaced exaggerations of reality.
Apple is simply solidly continuing to successfully, incrementally grow globally, despite the very real issues of a slowing economy in China, foreign currency headwinds and other factors. The market is failing to settle on a rational price for Apple, in large part due to misinformation being
whipped up into a frenzy
by clickbait content generators, with facts bent backward to create a compelling, dramatic story rather than just reporting "news." Apple's iPhone XR is only the latest victim of this "story making" practice.
The Junior Journal
The
Wall Street Journal
didn't source its latest iPhone XR story from a seasoned Apple writer. Its
author bio
only credits Kubota with writing about Apple since November, noting that the author previously wrote about the automotive industry.
Within just the last week, Kubota has rather impressively established media narratives that iPhone XR is "failing Apple," that Apple is "troubled" globally despite being the only electronics company making serious money and attracting a loyal installed base, and that Apple is "losing ground" to domestic Chinese production, despite acknowledging that "overall smartphone shipment volume in China has been falling for seven consecutive quarters," so that even though Apple's sales are down from last year, iPhone market share has actually increased. That's not what losing ground means, but it got printed anyway.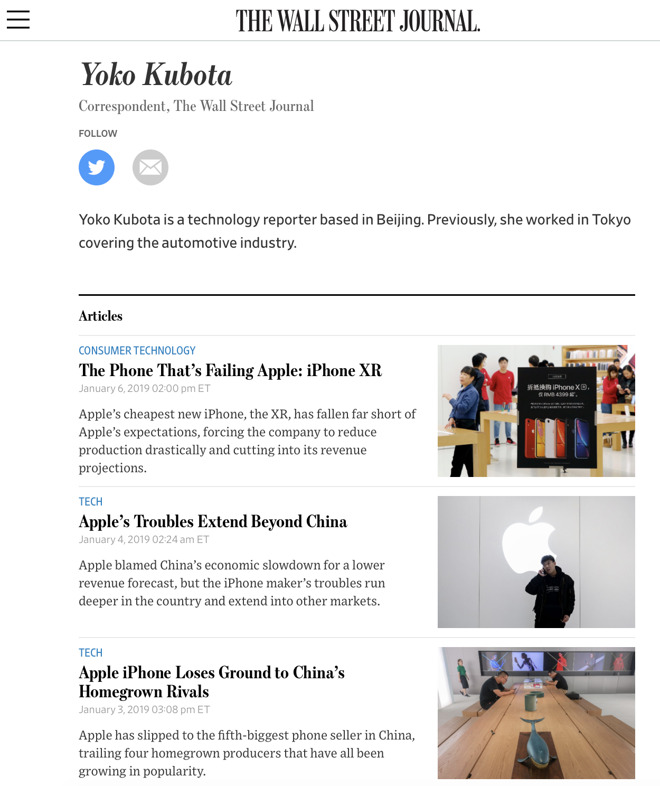 In just a week, Yoko Kubota has established a series of contradictory media narratives
The other Apple-related
Journal
articles Kubota has contributed toward-- across a less than two month career in covering Apple at the
Journal
-- include a problematic supply chain story also credited to ex-sportswriter Tripp Mickle transitioned into the role of a
very bad supply chain interpreter
that confused various issues in its efforts to craft the dramatic story of five "Apple Suppliers" who were all financially impacted by the slowing demand for smartphones -- and apparently also iPhones.
That story only briefly acknowledged that Apple's executives had explicitly told the
Wall Street Journal
that "trying to determine demand for its devices based on reports from suppliers can be misleading because the suppliers also make products for competitors," an idea its writers placed right before a subheading shouting "the slowdown has ripped throughout Apple's supply chain."
Another WSJ blogger also assumed iPhone XR isn't selling. Joanna Stern, who joined the
Journal
staff after blogging at
The Verge
and
Engadget
, wrote in parallel that she found Apple's iPhone XR to be her favorite new model, but
lamented
that despite its lower cost and competitive features in Apple's new lineup, it was "The Best iPhone Apple Can't Sell."
iPhone XR sales estimates indicate it's not an unsalable failure whatsoever
Counterpoint Research recently issued its
sales estimates
for November, concluding that "iPhone XR became the best-selling iPhone model." That's a strange observation to make if that model were actually a failure that Apple couldn't sell. But it's also problematic on its own that the
Journal
contradicted itself in saying iPhone XR was "failing Apple" while also stating that it was "too soon to call the XR a flop."
Counterpoint's statement wasn't even slightly controversial. Apple's Greg Joswiak, the VP of iOS, iPad and iPhone product marketing,
told
CNET
that the iPhone XR had "been our most popular iPhone each and every day since the day it became available" at the end of November. Apple had started selling the model on October 26. That means both bloggers at the
Wall Street Journal
were writing under headlines that were simply false, apparently because the truth was too boring to solicit clicks.
At the same time, Counterpoint itself issued a variety of observations that were also incorrect. The first was that "sale of new iPhones (XR/XS/XS MAX) launched in November were down over 20% YoY compared to last year's launches (8/8 Plus/X)."
None of those models were launched in November apart from last year's iPhone X. And as noted earlier, Cook explained that iPhone X's relatively late November launch last year shifted premium buyers' sales later in the year on a quarterly basis. By looking only at November and comparing the non-launch sales of new iPhone models against the debut month of iPhone X, Counterpoint delivered a "percentage of change fact" that doesn't tell us much of anything about the relative popularity or commercial success of these models.
The research group also compared iPhone XR with iPhone 8, "both being the cheapest new iPhone available during the month of their respective launches." However, that's also meaningless. iPhone XR wasn't Apple's cheapest iPhone on sale, wasn't launched in November and was radically different from iPhone 8. Last year, many iPhone 8 buyers including enterprise fleet buyers were selecting that model because of its conventional Home button, not just because it was the "cheapest new" model.
Lost in the noise: iPhone XR helped double the adoption of Face ID
Counterpoint also created a strange chart that compared "new models" sold in November over the past two years, purporting to show its "20 percent drop" in sales (counting only "newly released" models, for some reason). But all it really shows is that iPhone X performed the best across both Novembers because it was the only phone that was actually launched in November.
The only really meaningful comparison in the chart is the percentage of Apple's sales that moved to its Face ID models representing its
vision for the future
. It shows that adoption of Face ID has expanded rapidly-- even when comparing the launch month of iPhone X to the continued sales of Apple's three Face ID flagships this year.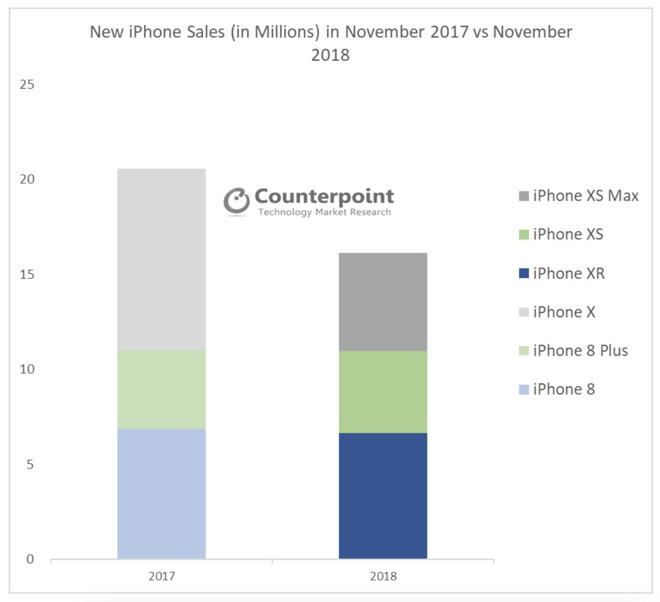 Sales of Face ID phones more than doubled this year, driven by Apple's best-selling iPhone XR
In fact, Counterpoint's data on November indicates that sales of Face ID phones more than doubled, driven by Apple's best-selling iPhone XR. That pretty clearly refutes the notion that the model is "failing Apple." It's doing the job it was designed to do: bring Face ID technology from the premium high-end to a mainstream audience.
A year ago, pundits were loudly expressing their concerns that Face ID might be a mistake and that Apple might have moved too quickly and might be forced to figure out how to put a Home Button back on iPhones in the future. The
Wall Street Journal
and other major publications worked hard to establish a false media narrative that insisted that iPhone X was not selling, even adamantly claiming to know why: it was too expensive for "many" to consider, and didn't involve enough "innovation."
That was clearly not true; both were incorrect speculations presented as fact. This year, it is again spinning a purely false tale that iPhone XR is a "failure" that Apple "can't sell," when it's pretty clear that iPhone XR is leading sales of iPhones-- which means it's also leading sales of all premium smartphones. And strategically, iPhone XR is successfully accelerating the upgrading of Apple's installed base to the Face ID future it first unveiled a year ago.
Compare this to Google's attempts to mimic the design of iPhone X by adding "notch" support to Android and giving it similar swipe gestures. This has not been well received. Even Android Enthusiast bloggers have derided Google's copy of Apple's implementation, and the new behaviors aren't quickly rolling out to users. Pixel phones aren't selling well, and the notches aren't dramatically expanding premium Android sales.
In fact, just over a week ago Counterpoint also
noted
that the shift toward premium phones occurring in the increasingly stagnant overall smartphone market was being "driven by new iPhones." So much so that Apple's share of all the world's phones selling for more than $400 inched up from 43 percent to 47 percent just in the last quarter.
Wall Street Journal frosted its iPhone XR failure fiction with fake Huawei icing
How could Apple be leading and increasing its share of premium smartphone sales if any significant number of potential iPhone buyers were defecting to higher-end phones from Huawei and other competitors? Kubota didn't try to explain but did simply float out the possibility the Chinese buyers were suddenly flocking to Android as an explanation for Apple selling fewer than expected iPhones there.
"Some Chinese consumers have perceived the [iPhone XR] sticker price of 6,499 yuan, or about $945, to be too expensive even though it is at least 25% cheaper than the higher-end iPhone XS and XS Max models. The XR's touted features, such as facial recognition and dual-SIM support, were already available on cheaper phones from Chinese rivals" Kubota stated as part of the
Wall Street Journal
story of "the phone failing Apple."
The article included the anecdote of Li Derong, "a Shanghai-based programmer," who "said he is thinking about changing his iPhone 7 to Huawei Mate 20 Pro."
However, the Mate 20 Pro is priced at 5,399 to 5,999 yuan in China ($777 to $863), meaning it is not outrageously cheaper than iPhone XR. It too is an expensive phone and does not represent any large proportion of Huawei's sales. Counterpoint stated that Huawei accounted for just 12 percent of the phones sold at the $400 price-point or higher. The majority of Huawei's phones are clearly being sold to the low-end of the market that wasn't even contemplating an iPhone, which is why its average selling price is around $250.
"Over the past year or so, Huawei has introduced competitive P20 and Mate series and Oppo and Vivo also offered premium models that are more affordable to the mass market than the XR," Kubota added, as if China hasn't had cheap phones available before. It has.
It's been over four years since the
Wall Street Journal
published its story on Xiaomi, where it
falsely claimed
the smartphone maker had earned profits of over a half billion on sales of phones, stating at the time that "Xiaomi's net profit nearly doubled last year, making it a lucrative business in an industry where most players selling cheap handsets struggle to break even."
Based on that figure, content generator
Business Insider
rushed to published "Xiaomi Is Creating An Uncertain New World That Apple Must Learn To Live In," a blog posting that gravely warned that "the news that Chinese smartphone manufacturer Xiaomi makes a healthy profit could horrify executives at both Samsung and Apple."
But that all turned out to be a huge mistake. The
Wall Street Journal
misread the "confidential documents" it claimed to have seen and was forced to admit that Xiaomi had only earned a tenth of that figure while selling its phones starting at $114, with a $327 flagship designed to look exactly like an iPhone. In four years, Xiaomi achieved peak sales but then fell back out of the spotlight as other brands took turns selling the most phones but similarly making almost no money.
All the while, Apple kept selling iPhones that were priced significantly above commodity Androids. The fact that Huawei is currently selling the most Androids in China at low prices is not a new, unprecedented situation for Apple to grapple with, and there is no evidence of a trend toward Android from Chinese iPhone users. From a slowing economy to subsidized batteries, the evidence points to delayed purchases, not Android switching.
Instead, there's evidence that China's iPhone buyers are driving record sales of apps and other Services, as well as looking to Apple for sales of Macs, iPads, Apple Watch and other products, which collectively grew in China by 19 percent even as iPhone sales dipped. If China's affluent users were being swayed by cheaper Huawei phones, why not also by cheap Huawei PCs, tablets, watches and other products?
Kubota just showed up to write about Apple in November and has probably never even thought of considering that.