Trump expects Apple to build manufacturing plant in Texas
President Donald Trump, in response to questions regarding a tweet on Friday proclaiming Apple will not receive tariff relief for its new Chinese-built Mac Pro, said he believes the tech giant will erect a manufacturing plant in Texas.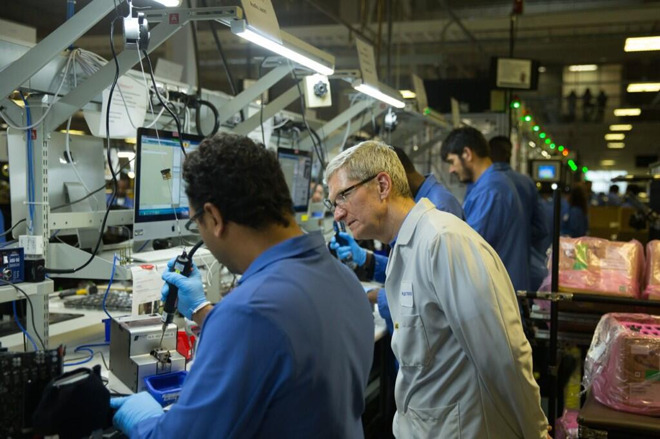 Apple CEO Tim Cook visits Austin, Texas, Mac Pro assembly plant in 2014.
In a brief aside to reporters gathered at the White House, Trump
again called on Apple
to build its products in the U.S. and said he believes the tech giant will announce construction of a new plant in Texas, reports
Reuters
.
While the president has in the past lobbed pointed comments urging Apple and other consumer electronics makers to pull manufacturing operations from Chinese contractors and put that work into American hands, today's comments alluded to a more well-defined plan. Specifically, Trump seems to be eyeing Texas as a domestic equivalent of Shenzhen.
Trump failed to elaborate on his hunch regarding Apple's supposed Texas plant, but the company does maintain a large presence in the state. Beyond existing office space, Apple last year announced plans to expand with a
$1 billion campus
in Austin. It should be noted, however, that the scope of existing and future facilities is at this point limited to research and development, operations, cloud computing and other areas not related to manufacturing.
Apple's current Mac Pro is assembled in Austin by contract manufacturer Flextronics, but its recently announced successor
will be built by Quanta Computer
in a plant near Shanghai.
The switch to Quanta exposed the upcoming professional-level desktop to tariffs imposed by the Trump administration, duties Apple is
attempting to sidestep
in a plea to the White House. Apple's official request is awaiting review, but Trump in a tweet on Friday
publicly opposed the request
.
"Apple will not be given Tariff wavers [sic], or relief, for Mac Pro parts that are made in China," Trump stated on Twitter. "Make them in the USA, no Tariffs!"
That said, Apple is unlikely to invest in U.S.-based production facilities anytime soon. Despite harrowing tariffs imposed as part of the U.S.-China trade war, Chinese manufacturing is in many ways superior to stateside counterparts.
Compared to the U.S., China offers relatively cheap, high-quality and, perhaps most importantly, responsive labor. Apple production partners like Foxconn can deploy tens of thousands of workers on short notice, and run production facilities around the clock to meet strict deadlines.
Apple CEO Tim Cook consistently touts China's workforce and at a recent economic development conference described the country's capacity to build technologically advanced products as unrivaled. Cook offered a more succinct explanation of Apple's reliance on Chinese suppliers in a 2017 interview.
"The popular conception is that companies come to China because of low labor costs. I'm not sure what part of China they go to, but the truth is China stopped being the low labor cost country years ago," Cook said. "That is not the reason to come to China from a supply point of view, the reason is because of the skill."
Whether Apple wants to -- or can afford to -- transfer production stateside as a cost-cutting measure remains unknown.