IBM's 200,000 Macs have made a happier, more productive workforce
IBM has published its latest study focusing on the benefits of Apple products in enterprise, and has found that a fleet of over 200,000 Macs leads to far lower support costs, smaller numbers of support staff, and happier employees versus a Windows deployment.

Mac@IBM kicked off in 2015
In the study presented on Tuesday, IBM says that employees that used Mac machines were 22 percent more likely to exceed expectations in performance reviews compared to Windows users. Mac-using employees generating sales deals have 16% larger proceeds as well.
"The state of IT is a daily reflection of what IBM thinks and feels about its employees," said Fletcher Previn, CIO, IBM. "I've said it before - when did it become OK to live like the Jetsons at home but the Flintstones at work? We aim to create a productive environment for IBMers and continuously improve their work experience, and that's why we introduced our employee-choice program to IBM employees in 2015."
Turning to employee satisfaction, the first-of-its-kind study shows that Mac users were 17 percent less likely to leave IBM compared to their Windows counterparts. Mac users also were happier with the software available, with 5 percent asking for additional software compared to 11 percent of Windows users.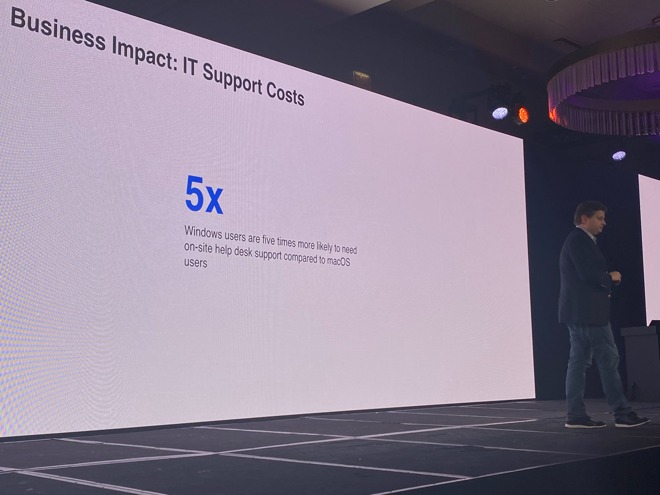 Previn touched on the cost to support the Macs in the workplace. A team of seven engineers is needed to maintain 200,000 Macs whereas a team of 20 is needed for that number of Windows PCs.
During setup, the migration process was simple for 98 percent of Mac users versus only 86 percent of those moving from Windows 7 to Windows 10. Windows users were also five times as likely to need on-site support.
Earlier this year
Jamf released
a study that showed reliability was the number one reason users preferred to work on a Mac rather than a PC.
IBM has made a number of announcements at JNUC in the past.
Last year at JNUC 2018
, Previn announced the computing behemoth was open-sourcing its
Mac@IBM
provisioning code as well as the huge returns it saw with its Mac deployment.
The Mac@IBM program
kicked off in 2015
where IBM was deploying 1,900 Mac devices per week supported by only 24 help desk staff members.