Mac Pro versus iMac Pro: how to choose the best pro Mac
Professional users may be drawn to the new Mac Pro, but depending on the circumstances, the iMac Pro may still be an excellent option for those who don't need all that upgradability or sheer power.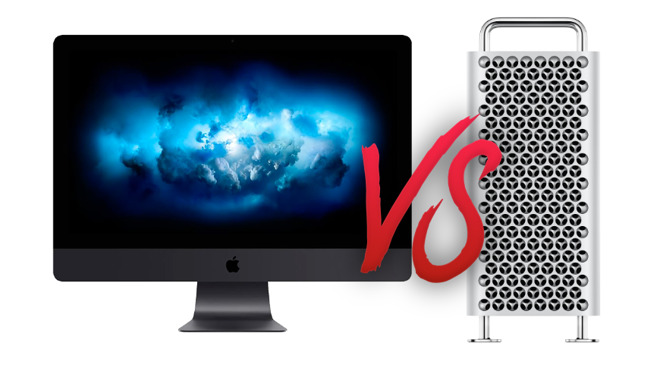 At introduction, the
iMac Pro
was Apple's most powerful Mac -- and its most expensive. Now, both the power and the cost have been blown away by the new Mac Pro. But even if you are a demanding pro user who needs performance to do your job, you shouldn't just assume you've got to save up for the Mac Pro.
You can debate whether the iMac Pro was ultimately an interim machine while Apple worked on the Mac Pro -- and we'll have to see whether the company ever updates it. The
iMac
line continues to be updated, however.
But not only is the iMac Pro capable, but there are also circumstances where this cheaper Pro Mac is the better machine for you.
Today's iMac Pro has advantages and disadvantages, but it also has that same hefty price tag it always did. And while there is a thousand-buck difference between it and the Mac Pro, once you start adding to the iMac Pro's specifications, that gap closes fast.
Plus, both the Mac Pro and the iMac Pro have compelling advantages and disadvantages compared to each other. So more than price, more than trying to bargain hunt, this is about choosing the machine that best does what you need.
Apple's iMac Pro today
The base model of the iMac Pro
costs $4,999
. If anything has changed since the 2017 launch, it's that we now see that price as affordable compared to the Mac Pro's
$5,999 and up
.
That launch date is an issue, though. The iMac Pro is now two years old, and it hasn't been updated. This perhaps doesn't matter at all today, right now, as it is as powerful a Mac as it always was.
But it becomes a concern later. Macs last a long time, and that's especially true of the Pro models, yet eventually, they all become unable to run the latest macOS. Even though that is still years down the line for the 2017 iMac Pro, it has to be even more years down the line for the newer and more upgradable 2019 Mac Pro.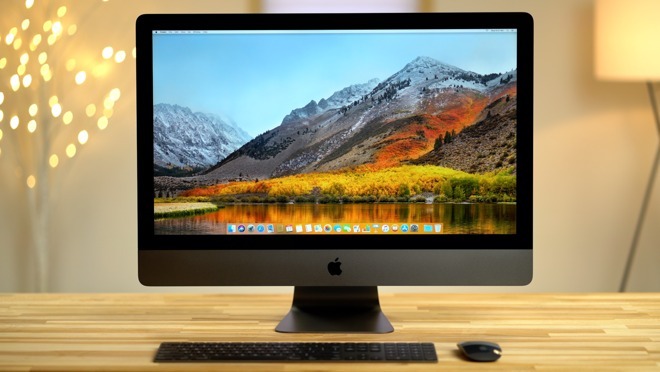 Plus, whenever a machine has gone this long without an update, you have to wonder whether Apple is going to refresh it soon. You can tell yourself that's fine if Apple updates the iMac Pro a day after you bought the old one, but you know it isn't.
Yet you can't spend your life waiting for the next big thing to come along. At some point, you have to buy a machine because you need it. Right now, the 2017 iMac Pro offers a lot.
For that
base $4,999
, you get a 3.2GHz 8-core Intel Xeon W processor with 32GB RAM and 1TB of SSD storage. It comes with a Radeon Pro Vega 56 GPU with 8GB HBM2 memory, and mouse and keyboard.
That's the official spec list of the base model. If you went to Apple's online store and clicked on "Buy," that is the description you would get of the machine.
Splash more cash, and you can upgrade the configuration, with processors including 10-core, 14-core, and 18-core variants, up to 256GB of memory, and up to 4TB of storage. GPU upgrades can be made to a Radeon Pro Vega 64 or Vega 64X with 16GB of HBM2 memory.
But this specification list misses out something huge: the iMac Pro comes with a particularly fine Retina 5K 27-inch display built right in. We've said before that you would struggle to buy a display that good without it coming wrapped around an iMac or an iMac Pro.
Technical disadvantages of the iMac Pro
There is also the issue that the iMac Pro presents a smaller footprint than the Mac Pro plus display. It is a sleek unit, and it can fit any desk or be mounted to float over it.
However, that same sleek case is also a problem because it affects upgradeability. You can upgrade the iMac Pro's RAM at any point, but in reality, it's just not that practical because you have to unglue the screen to do it.
So, for most users, to realistically upgrade the RAM in an iMac Pro, you have to take it to Apple for servicing. That's a lot less convenient than just opening a flap on the back and installing the RAM yourself, and it is is also unquestionably a lot more expensive.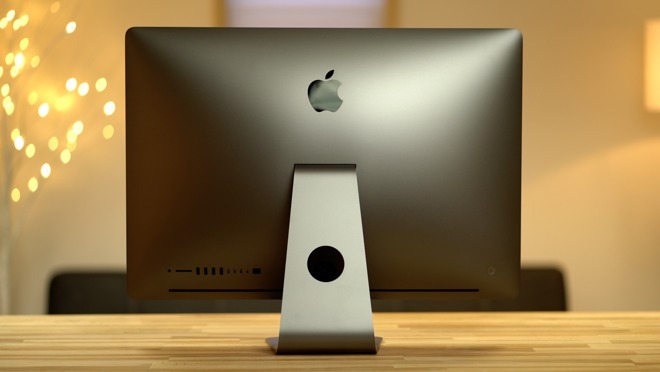 Alongside whatever labor cost Apple charges you, the company is, of course, only going to fit the RAM that it sells itself. And Apple famously marks up its RAM to far, far higher prices than just about anywhere else.
So unlike with a 27-inch iMac, you can't practically buy the base model and save hundreds of dollars buying RAM from another company. It's Apple's RAM, and if you need more than 32GB, your only choice is between paying up at the point of purchase or paying up later along with a service bill.
Plus, that's it for upgrades. You can't replace the SSD storage, and you can't replace the graphics card. This means if you opt for an iMac Pro, you have a vested interest in paying for upgrades at the time of purchase, as there is close to nothing you can do once you have the iMac Pro on your desk.
In theory, you could, later on, buy an eGPU. In our testing experience, it doesn't help that much with the iMac Pro's internal display -- there's just too much constraint in that single 32 gigabit per second connection looping back to the internal monitor. So you'd really only do that if you wanted to use the iMac Pro to drive an external monitor, or you're adding it for apps that will use the eGPU for calculations.
And if you're going to be doing that, you could well be better off buying a Mac Pro.
Apple's Mac Pro today
Most of the attention paid to the new Mac Pro has been spent on its higher-end models, but as we've pointed out, even the
base specification model is remarkable.
.
For $5,999, you get a 3.5GHz 8-core Intel Xeon W processor, with 32GB RAM and 256GB SSD. That's a whole 0.3GHz faster than you get with the base iMac Pro -- and you lose out on storage space compared that cheaper machine's 1TB SSD.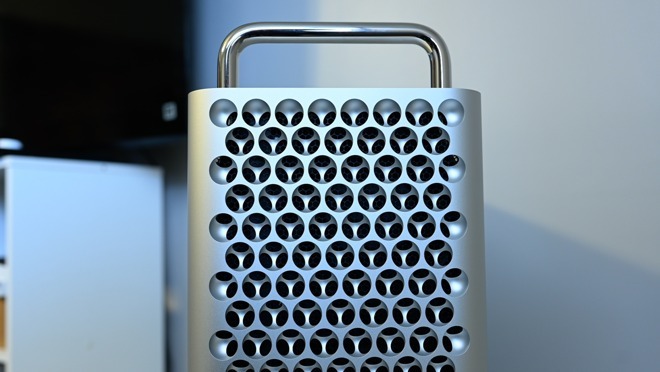 That decreased storage space is pragmatic. The majority of Mac Pro users are probably going to be working in environments where they're connected to high-capacity LAN or SAN networks. And you can upgrade it anyway. True, Apple will still charge you an arm, a leg and several fingers, but you can upgrade practically everything in a Mac Pro.
You can switch out the 8-core processor from the base model and instead have
12-
, 16-, 24-, or even 28-core processors, with the highest core count clocked at 2.5GHz with a 4.4Ghz Turbo Boost.
In comparison, the iMac Pro can be updated from an 8-core process to a 10-, 14- or 18-core one.
It's a similar case with RAM. The Mac Pro's 32GB starting amount can be upgraded to a maximum of 768GB in the 8-core to 16-core models, or 1.5TB for the 24-core and 28-core variants. That meager single 256GB SSD can also be upgraded to two 4TB modules at the high end if you so wish.
As it ships, the base Mac Pro comes with an AMD Radeon Pro 580X graphics card, but you can upgrade that, too. There are also options for the Radeon Pro W5700X, the Radeon Pro Vega II, and the Vega II Duo, which squeezes two GPUs onto a single MPX Module-based card.
What's more, not only can you choose to upgrade all or any of these things at the point of purchase, you can change it at any point later. Yes, even the CPU, but that's major surgery.
Requiring less surgery are the PCI-e 3.0 slots, and power connections to enable the use of expansion cards or supported aftermarket graphics cards. Then, too, there are SATA ports for adding more storage, above and beyond the built-in SSDs.
RAM is particularly easy to upgrade in the Mac Pro as well. It's not soldered into place, so it can just be easily pulled out and replaced as needed. The iMac Pro doesn't have RAM soldered into the motherboard either, but we've already discussed how much of a pain it is to get in there to upgrade.
Even the Mac Pro's new MPX module format, which uses two slots instead of just one for more power and enhanced data transfers, can be partially used as standard PCI-e slots if you were so inclined.
Most of the key components can be switched out for replacements or upgrades, using industry-standard connections for most elements.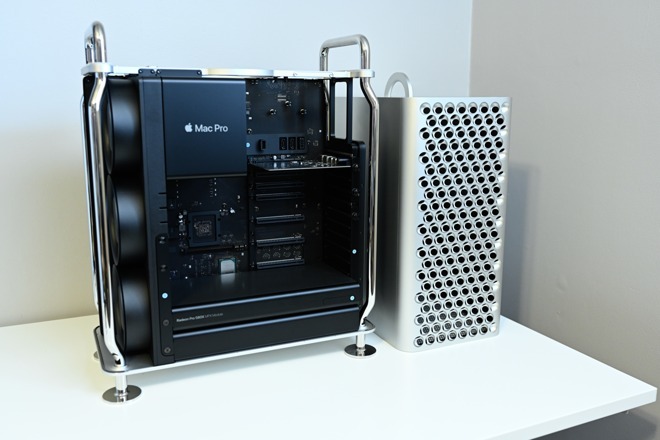 So while the iMac Pro is effectively a one-shot buy, a machine you have to spec out and live with, you can grow the Mac Pro. You can upgrade it as your needs change or as your budget allows. You can buy the perfect Mac Pro for you today, and you can keep it being the perfect one for at least the next few years.
That could be worth the extra grand to you, even if nothing else was. Except it's not one extra thousand bucks to get a machine that's better than the iMac Pro in every way -- it's a thousand bucks plus whatever the best price you can get for a screen is.
The screen's the thing
Let's not pretend either that we can all afford to buy
Pro Display XDR
screens -- or that we don't want to. Whether you're purchasing an iMac Pro or a Mac Pro, you want a great screen. The real difference is that with the iMac Pro, you've got one already.
You can shop around, and you can also get into issues such as whether you want an ultrawide screen or not. But just for comparison, Apple is currently selling the
LG UltraFine 5K Display
for
$1,299.95
.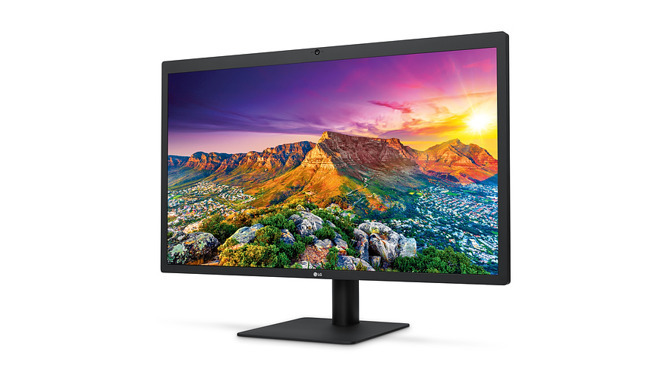 That's a 27-inch display with 5120-by-2880 resolution plus P3 wide color and 500 nits brightness.
It doesn't compare to the Pro Display XDR, which is a 32-inch screen 6016-by-3384 resolution, P3 wide color, and 1,000 nits sustained brightness or 1600 nits peak. The LG has a pixel density of 217.57 per inch, though, which is practically the same as the Pro Display XDR's 218 pixels per inch.
The iMac Pro screen has the same pixel density as that LG display -- but then it would, it's precisely the same screen.
Benchmarks
In terms of raw performance, the benchmarks indicate what the specifications lists already confirm: There's not really that much difference on paper between the Mac Pro and iMac Pro when comparing the base models.
Running Geekbench 5 on the Mac Pro twice for consistency, we saw single-core results of 1,038 and 1,029. This puts it at the same level as the iMac Pro, which scores 1,076 on average for single-core tests, according to the app's
publicly-collected
results.
It is a similar story for multi-core benchmarks, with the Mac Pro achieving 8,237 and 8,105, against the iMac Pro's public average of 8,120. Seeing as these tests are on relatively similar processors, it makes sense they would be roughly at the same level.
For the GPU, it's a slightly different story, as the Mac Pro's
Geekbench 5 Metal
scores on the Radeon Pro 580X were 39,329 and 39,566. These are actually a bit higher than the public average for the GPU, which is listed at 36,601.
Unlike the processor tests, the iMac Pro soars ahead of the Mac Pro due to its use of the Radeon Pro Vega 56, which has an average score of 56,674. This does mean the base iMac Pro is better for tasks using the GPU than the Mac Pro, at least on paper, but there are other factors to consider.
For example, while the iMac Pro has a great cooling system, the Mac Pro's construction allows for practically silent running while at maximum load for long periods of time. It is likely that, over time, the Mac Pro will be able to withstand heavier workloads for far longer than the iMac Pro before resorting to throttling, giving it a potential advantage in specific scenarios.
Also, as the Mac Pro is upgradable in so many ways, whereas the iMac Pro isn't, it is the only one of the two that could practically be upgraded to provide better performance down the line.
Battleground
Add that LG screen to a base Mac Pro and you're looking at spending $7,298.95. That's $2,299.95 more than an iMac Pro, which, as we've shown, has remarkably similar specifications.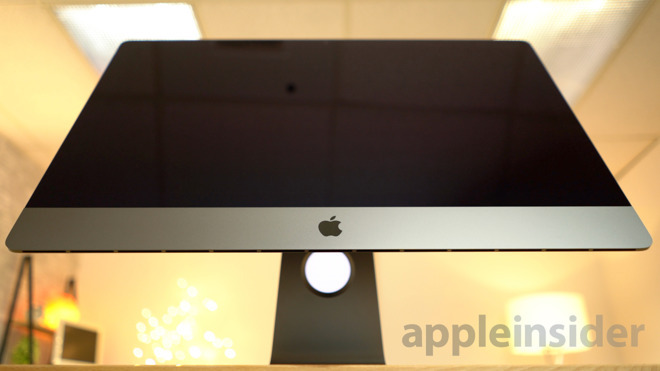 You can make the Mac Pro gigantically more powerful by choosing higher specification, and higher price, options. You can equally choose the make the iMac Pro more powerful in the same way, just not to the same extent.
At this "entry-level" point, though, the lines are blurred.
| | iMac Pro | Mac Pro |
| --- | --- | --- |
| Price | $4,999.99 | $5,999.99 |
| Processor | 3.2Ghz 8-core Intel Xeon W | 3.5Ghz 8-core Intel Xeon W |
| Memory | 32GB DDR4 EEC 2666MHz | 32GB DDR EEC 2666MHz |
| Storage | 1TB SSD | 256GB SSD |
| Graphics | Radeon Pro Vega 56, 8GB HBM2 | Radeon Pro 580X, 8MB GDDR5 |
| Display | 27-inch Retina 5K | None |
| Networking | 10Gb Ethernet | 2 x 10GB Ethernet |
| Ports | 4 x USB 3, 4 x Thunderbolt 3, Headphone, SDXC card slot | 2 x USB 3, 4 x Thunderbolt 3, Headphone |
Buying a Mac Pro gets you a new design that will last longer and which you can upgrade at any time. The iMac Pro gets you a powerful machine with an excellent screen practically thrown in for free. However, the Mac Pro costs a lot more, and the iMac Pro has effectively no room for future upgrades.
Perhaps the fact that the iMac Pro is now a two-year-old design is enough to tip your decision in favor of the Mac Pro. But apart from that, the price to performance of an iMac Pro is compelling.
If you work with a lot of video, Mac Pro probably has the edge, though we would point out that video producers have been very pleased with the iMac Pro over the last two years. Depending on workload, video editors should seriously look at the
Afterburner
card to the Mac Pro to speed up their workflow.
While the Afterburner won't accelerate every possible workflow, it is focused on those that use Apple's Pro codecs and will dramatically speed up nearly every activity involving them. We'll be talking more about this later, but the Afterburner compatibility alone may be enough to go Mac Pro instead of iMac Pro.
If you're a photographer, the iMac Pro will likely suit you best. The additional performance in the Mac Pro could be alluring. Still, there's only really so far you can go with hardware changes before you start seeing minimal meaningful improvements for high expenses.
What and where you buy
Apple is not going to sell millions of Mac Pro machines, but of all the people who are most likely to buy a Mac for that power, you can bet that many previously bought the iMac Pro for the same reason.
This means you can bet at least a few of them will be
selling their iMac Pro machines
to help fund their Mac Pro purchase. We haven't seen many iMac Pro sales on
eBay
yet, but we've seen some and more will come.
Much as we are praising the iMac Pro, we haven't come here to bury the Mac Pro. If you definitely need that power, and you need it right now, that's the only Mac for you. And if you only occasionally push your machine to its limits, then the regular 27-inch iMac 5K is a sweet spot in the entire Mac range for most people.
There is just this overlap between the two Pro machines that means even with their price difference, you need to think as much about your specific needs as you do your budget. More is not always better.
For deals on every desktop Mac, be sure visit the AppleInsider Mac Price Guide.