Dark blue 'iPhone 12' could help Apple sell up to 68 million 5G models in 2020
A new research forecast estimates that Apple will sell between 63 million and 68 million "
iPhone 12
" units before the end of the year, and the forecast's researchers believe there will be a dark blue model.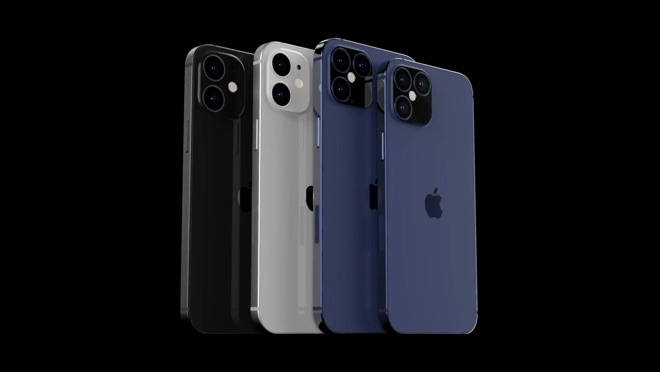 Concept based on CAD images from EverythingApplePro
Following
previous reports
of "iPhone 12" orders being cut in 2020 because of late shipping, a new forecast predicts that Apple will sell between 63 million and 68 million phones. Given that Apple doesn't report sales volumes, similar numbers from the supply chain for the iPhone 11, suggest that this is five million units less year-over-year.
The research is from
Digitimes
,
which says
that Apple's figures will be down because of up to a 6 week delay in the release of the "iPhone 12." Apple has already confirmed that the launch will be a few weeks behind schedule because of coronavirus-induced
production issues
.
However,
Digitimes
expects that reduced sales may not just be made up with increased ones in early 2021. It says that extra unemployment benefits from the US government may affect purchasing of iPhones.
Plus it cautions that
if WeChat is banned
from the Chinese App Store, iPhone shipments in total will fall almost 10%.
Digitimes
has a poor record for predicting Apple's products, however it has a much stronger track record for data involving sources within the supply chain. Alongside the shipment forecast figures,
Digitimes
is reporting that Apple will introduce a dark blue color to the "iPhone 12" range for the first time.
This
backs up a rumor
from January 2020 which said a dark blue version may be available. That prior report claimed that the color would be limited to the higher-end "iPhone 12" models. Rumors about a dark blue color coming to the iPhone
have circulated
since the iPhone 7.
Apple has previously introduced new colors and limited them to certain models. The most prominent of these was Midnight Green on the iPhone 11 Pro. Apple credited Japan's Seiko Advance for the ability to
add that particular color
.
The "iPhone 12" launch
is may still be held in September, even if actual shipping of the models may be some weeks later than usual. However, leakers have given various claims, seeing it happening on either
September 8
or
October 12
.