What to expect from Apple's 'Hi, Speed' new 'iPhone 12' event on October 13
Apple's second fall special event, "Hi, Speed," has been announced , and is expected to feature new "
iPhone 12
" models alongside some other products. Here's what Apple could offer up during the presentation.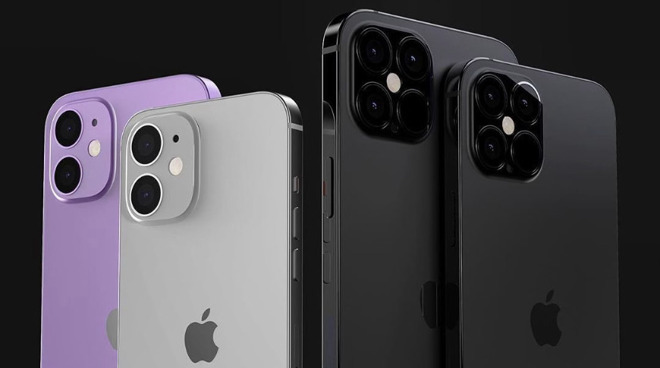 On September 15, Apple held its "Time Flies event, revealing the new
iPad Air 4
,
10.2-inch iPad
,
Apple Watch Series 6
, and the
Apple Watch SE
. With the announcement of a second event set to take place on October 13, speculation now turns to what Apple products Apple has yet to announce.
The presentation, most likely a virtual one similar to its previous "Time Flies" show and the WWDC 2020 keynote. As the earlier two examples were highly produced and filmed in advance without a live audience, it is highly probable the next one will follow the same pattern.
iPhone 12
Probability: Near certainty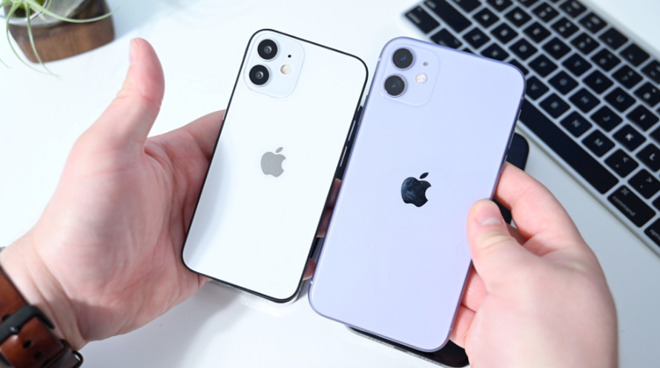 Mock-ups of the 'iPhone 12' and 'iPhone 12 Max,' though the names may change.
The fall special events are known primarily to be the launch venue of that year's
new iPhone
models. Four models are anticipated: The "iPhone 12," the "
iPhone 12 Max
," the "
iPhone 12 Pro
," and the "
iPhone 12 Pro Max
," though there is the
suggestion
the non-Pro models may be the "iPhone 12 mini" and the 'iPhone 12."
Regardless of names, the standard models are expected to have 5.4-inch and 6.1-inch OLED displays, while the Pro pair have 6.1-inch and 6.7-inch versions. Pro models are also anticipated to have support for 120Hz ProMotion, and 10-bit color.
Around the back will be either two or three cameras, depending on the model. The non-Pro will have two 12-megapixel cameras covering wide-angle and ultra-wide photography, while the Pro adds another camera for telephoto shooting.
Pro models may also gain a
LiDAR
sensor, similar to the version used on the iPad Pro, for depth tracking. In theory this will benefit both AR applications and in photography, such as by providing accurate distance measurements for focussing cameras.
All models may have better camera optics, with rumors pointing to the use of a
seven-element plastic lens
instead of a six-element version. Further enhancements are also expected in the field of computational photography.
Video capabilities may be boosted with the addition of slo-mo recording at a 4K resolution in both 120fps and 240fps frame rates. An "Enhanced Night Mode" and "Advanced Noise Reduction" have also been brought up in reports.
The infamous notch on the front may
shrink in size
to lessen its appearance, while the rest of the body could use a flattened stainless steel edge instead of a gradually curving corner. The material of the chassis may vary between models, with the Pro models benefiting from the use of stainless steel instead of aluminum.
A
late leak
put forward the idea that the "iPhone 12" could use a hardened "Ceramic Shield" coating on the glass, to enhance strength. This would also include the use of a "Ceramic Shield Front Cover," which is described as "ceramic substrate glass" to perform similar protection duties.
Powering the devices will be the A14 SoC, supported by either
4GB or 6GB
of memory, depending on the model. Storage capacities are possibly going to be at 128GB and 256GB for the "iPhone 12," with an additional 512GB option for the Pro.
5G connectivity
is expected on all models, though there are questions about how it will be implemented. It is believed sub-6GHz support will be across the board, but
mmWave
may not be offered on all models.
Currently, the "iPhone 12" is speculated to start from $649 for the smallest model rising to $749 for the bigger version. The "iPhone 12 Pro" may launch at $999, and the Max could raise the cost to start from $1,099.
Rumors suggest Apple may not ship all of the models at once, with the
proposal
Apple could bring out two models at first, before shipping the other half of the range at a later time.
One leaker claimed some models of "iPhone 12" would start to ship to distributors on October 5, though this isn't necessarily the same date as units are shipped to stores or consumers.
It is
also claimed
the "iPhone 12 mini" and the "iPhone 12 Pro Max" may end up shipping in mid-November, with preorders for the "mini" on November 6 or 7 and shipments on November 13 or 14. The other "Max" model is suggested to start preorders on November 13 or 14 for shipment November 20 or 21.
As part of the same leak, the "iPhone 12" and "iPhone 12 Pro" will apparently start preorders from October 16 or 17, for shipment October 23 or October 24.
HomePod
Probability: Maybe
The recent elimination of rival earphones, headphones, and speakers from Apple Stores certainly suggests the introduction of new AirPods products, but also opens up the possibility of other products, such as a new
HomePod
.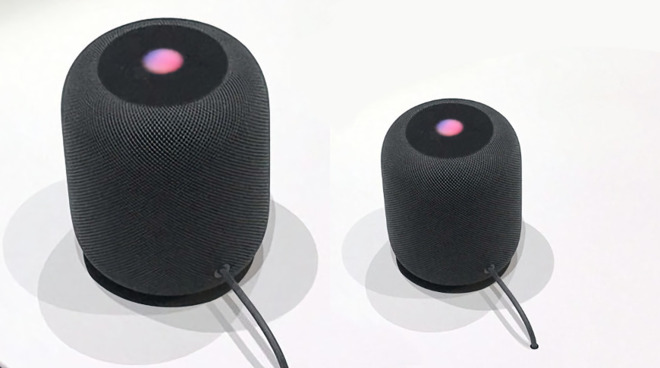 Rumors claim a new HomePod will be half the size of the original.
Since the launch in 2017, the HomePod hasn't seen any real changes to its design or main functionality, but there have been suggestions in the past of Apple releasing a revised version of the smart speaker.
In April, a
report
claimed Apple was preparing a new HomePod to launch alongside iPhones, which would be around half the size of the original but remain similar in terms of design and functionality.
This seems to be a reasonable progression for the speaker into a range, similar to Amazon's Echo family of models.
AirTags
Probability: Unlikely
A long-rumored accessory, "
AirTags
" are Tile-like item-tracking accessories. In short, you attach them to items, and if they get lost, you can relocate them via an app.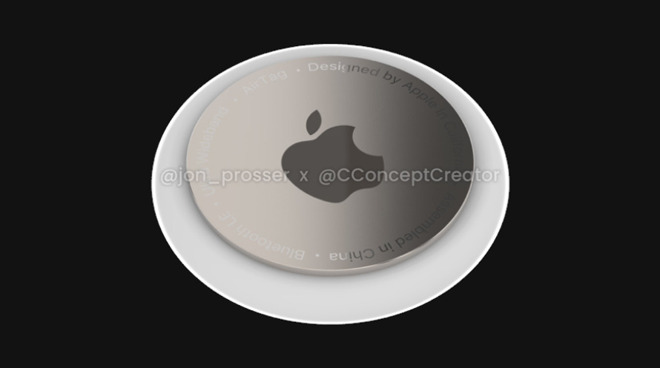 A render of Apple's AirTags [via Jon Prosser]
In the case of "AirTags," it is thought it would work with the Find My app, with some rumors suggesting it may even include a form of augmented reality view to show the precise location of a lost item.
It is believed Apple will use both Bluetooth and Ultra-Wideband technology for the tracker. If lost in public, other passing iPhones will be able to pick up an encrypted ping from the tracker, which can then be reported back to the owner securely via iCloud.
Earlier leaks and a recent render based on a leaked video point to the "AirTags" having a circular design with a metal back, making it similar to a button or badge. It is probable that there will be some extra accessories available for attaching it to items, such as a keychain.
It is likely Apple will price "AirTags" higher than competing systems like Tile, which can sell for between $25 and $35.
A report on
October 9
suggested that Apple is holding the AirTags until release in 2021.
AirPods Studio
Probability: Unlikely
Accessories intended to be used with iPhones stand a good chance of making an appearance during an iPhone event, which means there's a possibility of seeing something from the
AirPods
range. A strong candidate for that would be the "
AirPods Studio
."
Given the purging of rival personal audio products from its stores in October, the path is seemingly set for the introduction of "AirPods Studio" in the near future.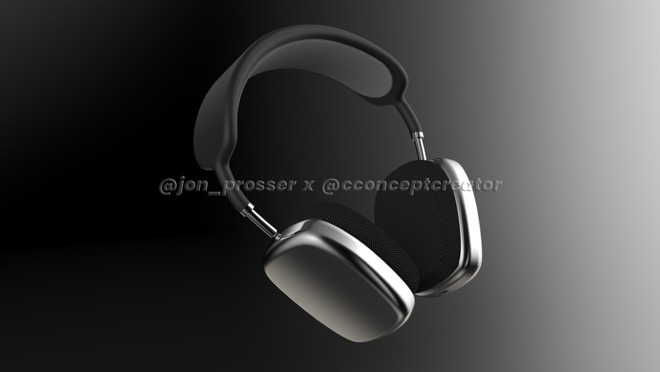 A render of the 'AirPods Studio' based on a video leak [via Jon Prosser]
A long-rumored headset, the "AirPods Studio" are thought to be premium over-the-ear headphones that will offer the audio quality of AirPods, and the Active Noise Cancellation and Transparency Mode of
AirPods Pro
. By offering them as headphones, Apple will be able to enter a new market for AirPods, beyond the current in-ear wireless earphone market.
Powered the H1 chipset, the headphones will also offer AirPods signature "Hey Siri" support and strong connectivity, but rumors do suggest it will include other sensors enabling other features. These include proximity sensors in the headband to determine if they are worn on the head or neck, as well as possibly determining which way the headphones are being worn in terms of left and right audio channels.
The use of the
U1 chip
has also been proposed, which will enable it to be used with the "Find My" app if they are misplaced. The enclosed nature of the over-ear headphones should also help to create an immersive audio experience, as well as enhancing noise cancellation features.
Rumors have suggested there could be interchangeable parts on the "AirPods Studio," such as the ear cups, headband, and other elements held on by magnets. This could allow for different variations of the headphones to be made for specific needs, such as a sport-centric version using plastic and rubber while a luxury configuration could use
leather and metal
.
A report on
October 9
says that there are likely two versions, with neither arriving at the "iPhone 12" event.
In terms of how much the "AirPods Studio" could cost, rumors point to it being priced at around $350 to start, with a luxury configuration coming in at $599. This is in the same ballpark of the
Beats Studio3
, which is sold in a variety of color options and uses the W1 chip for $349.
Apple Silicon
Probability: Very unlikely
Apple used WWDC to tell developers it was moving from Intel processors to its own
Apple Silicon
, and that the first Mac sporting the chip will arrive by the
end of 2020
. The move is being made as part of an aggressive two-year timeline for transition.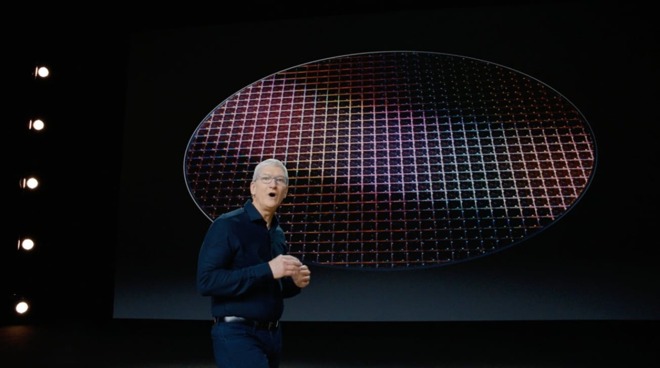 Apple CEO Tim Cook presenting Apple Silicon at WWDC 2020
The move is important, but while it may be big enough to warrant
its own event
, it is also equally likely for Apple to reveal something about the effort during another presentation for its major product releases. It seems more likely that Apple will err towards the separate Apple Silicon event, but the chance of an appearance is still there.
A
Bloomberg
report
from October 9 claims the event won't include an Apple Silicon Mac, but that the first model will instead "emerge at another launch in November." It is also suggested that the Apple Silicon version will launch alongside other products, potentially including other Intel-based Macs.
Reports have
claimed
the first Apple Silicon device will be either a 12-inch MacBook or some form of
MacBook Pro
. It will be light at 1kg, and is expected to use the A14X processor with a custom GPU, use USB Type-C, and have a battery life of between 15 and 20 hours.
On
October 10
, leaker "l0vetodream" quelled suggestions of it being a new model of HomePod, claiming it will only be the launch of a "mini" model.
Another from
October 9
claimed the "HomePod mini" will cost $99, have a 3.3-inch speaker, and use the S5 processor. Current expectations are for its preorder to take place around November 6 or 7, with a release on November 16 or 17.