Apple's claims about M1 Mac speed 'shocking,' but 'extremely plausible'
Comparing Apple's claims for the
Apple Silicon
M1 chip to what it has already achieved in the A-series, Anandtech says it "believes" the quoted speed results.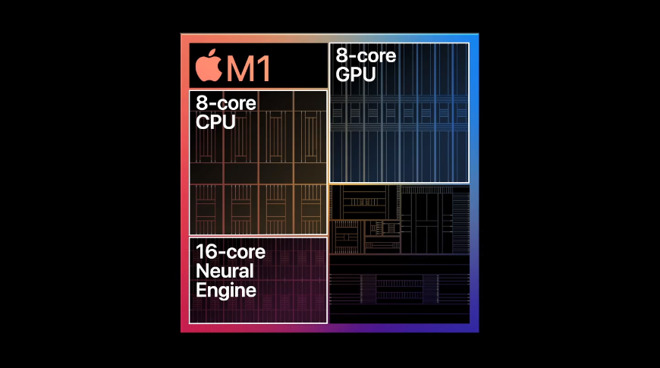 Apple's new M1 processor
During Apple's
November 10 event
launching new Macs with Apple Silicon
M1 processors
, the company made very many claims about the chip's performance and low-power capabilities. As is
AppleInsider
, tech deep-dive site
Anandtech
is waiting to test the new machines, but concludes that it "certainly believes" Apple's claims.
"The new Apple Silicon is both shocking, but also very much expected," says
Anandtech
in a
detailed technical review
of what information is available. "Intel has stagnated itself out of the market, and has lost a major customer today. AMD has shown lots of progress lately, however it'll be incredibly hard to catch up to Apple's power efficiency."
"If Apple's performance trajectory continues at this pace," it continues, "the x86 performance crown might never be regained."
This conclusion is also based on direct testing of Apple's A-series processors. "What we do know is that in the mobile space, Apple is absolutely leading the pack in terms of performance and power efficiency," it says.
Anandtech
does note, however, that since it last tested the Apple A12Z, we've seen more significant jumps from both AMD and Intel." It is also critical of Apple's choice of statistics and data shown in the presentation.
"Apple's comparison of random performance points is to be criticized," it says. "However the 10W measurement point where Apple claims 2.5x the performance does make some sense, as this is the nominal TDP [Thermal Design Power] of the chips used in the Intel-based MacBook Air."
Apple's M1 is the first of its Apple Silicon processors, and marks the beginning of the company's move away from using Intel in its Macs. Apple has started its transition to exclusively using its own processors by bringing out a new M1-based
Mac mini
,
MacBook Air
, and
13-inch MacBook Pro
.