Apple fans line up worldwide for iPhone 7, iPhone 7 Plus & Apple Watch Series 2
Posted:
in iPhone
edited December 2019
The iPhone 7 and 7 Plus rolled out to 28 regions around the world on Friday, and was anxiously awaited by crowds picking up pre-orders, with others disregarding Apple's warnings of low stock.
AppleInsider
reader Ryan from
Traced, Inc.
noted large crowds were awaiting the the Fifth Avenue, New York City store opening at 8 a.m.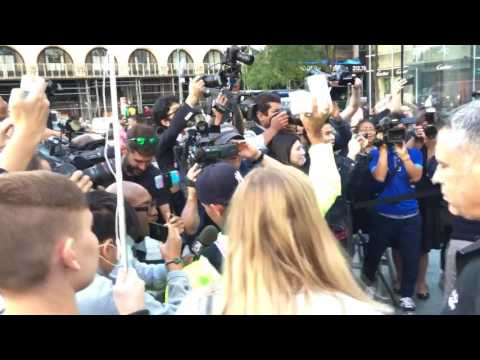 AppleInsider
was on the scene at the Williamsburg, NYC store. Pre-orders started being fulfilled at 8 a.m., with the stand-by line for walk-in customers processing at 10 a.m. We've been told that there is sufficient walk-in stock of the Apple Watch at that location, and no need to line up.
In line for #iPhone7 or #AppleWatch Series 2? Tweet us your pics! Our @thisisneil is at #Apple's Williamsburg store. pic.twitter.com/NlHNNJVkU6
Apple's Grand Central Station store was packed as well, with the line filling nearly the entire upper deck outside.
Rachael Rafanelli
took a shot of the crowd at 5 a.m. local time in Portland, Ore.
Azzura Lalani, of the
Toronto Star
, is on the scene at the Eaton Centre Apple store, and noted
about 150 people
waiting. At the time the picture was taken, the line had not been separated into pre-orders for store pickup, and for people waiting for the phone for retail sale.
In Detroit, John Gottschalk spotted Apple employees
handing out snacks
to line-goers.
CNET
documented the Apple faithful
queueing outside London's Covent Garden store, despite late-summer rains.
While Apple has said that it will not announce launch-day figures, by all accounts the event is going well. Apple
has noted
that it has sold through the entire launch stock of
iPhone 7 Plus
in all finishes, and the iPhone 7 in Jet Black. Online orders for
in-store pickup
will resume on Sept. 17.