Editorial: Apple just told you that they aren't going to make an 'iPhone SE 2' any time so...
We didn't expect an "iPhone SE 2" at Tuesday's Apple Event, but what Tim Cook and company did show is a line-up with pricing that leaves no room for the return of the old style 4-inch iPhone.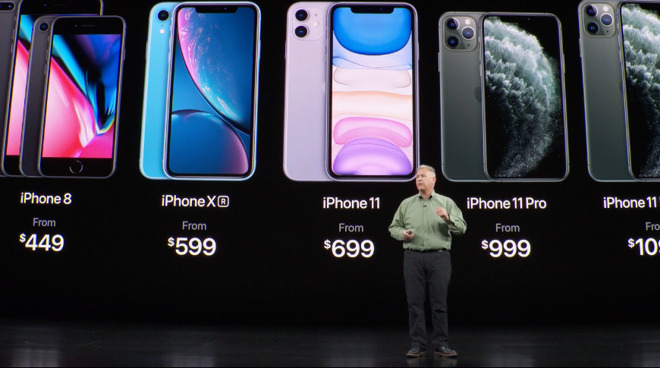 Phil Schiller summarizes Apple's current iPhone lineup
If Apple brought out a new 4-inch
iPhone SE
, you might buy one. If you want a smaller
iPhone
, you really want it. You may even be finding that the very smallest and lightest of Apple's current range is too big and cumbersome for you.
Passion for that small size, compact iPhone is so great that it's probably the entire reason we keep hearing
wishful rumors
about it coming back. However, it's probably not so great that it represents a market Apple thinks is worth addressing. That's partly through pure pragmatism, in that you need to sell so many units to make all that development, design, manufacture, and even shipping worldwide worth while.
Yet there is always another side to this, which is that any one product Apple sells has a knock-on impact on at least some others. Sales of a 4-inch iPhone would, at least a little, dent the sales of the
iPhone 8
which is now available for $449, and is the current smallest model Apple sells.
Apple has to weigh up how much of a dent. It has to judge whether the number of sales of an "
iPhone SE 2
" would make up for the drop in sales of the iPhone 8. And apart from the wild west days of the early 1990s when Apple made sixteen thousand different Macs in the hope that one of them would sell, Apple has always been really smart about its product mix.
With these resources and this amount of time, Apple puts a lot of effort into calculating the optimum range of products -- and their prices. In every sense, it is calculating demand.
Before she was head of retail,
Deirdre O'Brien
worked on that very issue. She was reportedly
so skilled in forecasting demand
that she was a key factor in helping Apple reduce its stockpile of unsold devices.
Love doesn't come into it
In 2016, when the company launched the iPhone SE, Apple's
Greg Joswiak
addressed the issue of people's passion for this smaller size phone. He revealed that in the previous year, when the
iPhone 5s
was still on sale, Apple had sold 30 million 4-inch phones.
"So why are people buying 4-inch iPhones?" he said. "Well, there's two reasons. First, for some people, they simply love smaller phones. They want the most compact iPhone design."
It was definitely true, but that was that. He didn't try quantifying it, he just acknowledged it, and then went on to what mattered to Apple.
"Second, we found that for a lot of these customers, it's their first iPhone," he continued.
That one, he did quantify -- or at least a little. He showed a pie chart where approximately 40% of sales worldwide were listed as being to people who were "New to iPhone."
He then showed that same chart restricted to just
China
, where it was approximately 60% of customers.
Apple wants new buyers and in 2016, more than three years ago, it recognized that an iPhone SE should get them this market. In 2019, the world has changed.
Switchers and newcomers
Some proportion of those customers that Joswiak said were new to iPhone, were actually switchers from
Android
. It's only surprising now, in retrospect, that this was true because at the time, Android phones had already tended to go much larger than 4 inches.
Perhaps that was part of the attraction, but overall, anyone now thinking of switching probably has an Android phone that is considerably bigger than the old iPhone SE screen size.
Then the rest of the new customers were ones for whom the 4-inch model was their first smartphone. And here, Joswiak had something very key to say back in 2016.
"Whether they're switching from Android or it's their first smartphone," he said, "it's the first time they're experiencing
iOS
and our hardware and software integration and our amazing ecosystem."
Spot the word he didn't use. He didn't mention the word "phone."
In 2016, the then-new iPhone SE sold from $399, and it was the cheapest iPhone they'd ever sold. Flash-forward to 2019, and the iPhone price lineup is more expensive. The cheapest iPhone you can currently buy new from Apple is the iPhone 8 and that sells for $50 more at $449.
It also comes with 64GB storage instead of the SE's measly 16GB, but in terms of price points, it still occupies the low end of Apple's range.
Apple's iPhone range, that is.
For a way to get people into "iOS and our hardware and software integration and our amazing ecosystem," there is the
iPod touch
.
That currently sells for $199, even lower than the iPhone SE ever was.
And then, broadly speaking, the
iPod touch
only lacks two things that an iPhone SE 2 could bring. There's obviously no phone in the iPod touch, but you also can't pair an
Apple Watch
to one.
Maybe we're wrong
There are these persistent, recurring rumors than Apple will produce an iPhone SE 2, and maybe it is because of this Apple Watch integration. Only, all other signs say that Apple is trying to free the Apple Watch from the iPhone.

L-R: iPhone SE, iPod touch, iPhone 8. The differences are smaller than they seem.
Apple is not expecting people who buy a (comparatively) cheap device to want to pair it with an Apple Watch. It is expecting them to be attracted by iOS and, you can presume, it is hoping that once they're hooked, they'll move up to more expensive iPhones. Not to only slightly more expensive iPhones.
What we left behind
No question, the 4-inch iPhone SE was a great phone. There is some question over how many were sold, but in the pantheon of beloved Apple devices, the iPhone SE is up there.
People who miss it, tend to miss the convenience not so much of the smaller screen, but of the smaller device that it was housed in. They tend to miss the lightness of the iPhone SE as well. It wasn't the lightest-ever iPhone -- even the iPhone 5S was a sliver lighter at 112g (3.95oz) compared to the SE's 113g (3.99oz) -- but it was very light.
For comparison, the iPhone 8 is 148g (5.22oz), which is a really clear difference when you're holding the two.
However, the current iPod touch trumps all of this at just 88g (3.1oz). It has the same width as the iPhone SE and is within millimeters of the same height. But the iPod touch is also 0.6-inches (16mm) less in depth. So if you want a small device, Apple has you covered with the iPod touch, but less so if you want wireless beyond Wi-Fi.
If you want a small phone, Apple is surely comparing the old SE with the current iPhone 8 and concluding that there isn't much in the difference.
And Apple is right. There is the issue of weight, where the iPhone 8 is around 2oz heavier than the iPod touch, and there is the screen which is 4.7-inches instead of 4.
Otherwise, though, the iPhone 8, for all that it appears bigger than an iPhone SE, isn't that much different at all.
The height of an iPhone 8 is 5.45-inches compared to the 4.87 inches of an iPhone SE, and the width is 2.65 inches instead of 2.31 inches. But the depth is actually slightly less at 0.29 inches instead of 0.30.
These differences are enough that when you see images of the two phones, you think the iPhone 8 is far bigger. They're not enough that you think that it seems quite so great when you hold both.
Which is good, since the
same rumors that say Apple is making a new iPhone SE 2
, are also saying that it will really be the size of an iPhone 8.
We've already got one of those, it's already the cheapest current iPhone Apple sells. Apple clearly thinks that there's little or no market for a 4-inch model.
Keep up with AppleInsider by downloading the AppleInsider app for iOS, and follow us on YouTube, Twitter @appleinsider and Facebook for live, late-breaking coverage. You can also check out our official Instagram account for exclusive photos.